Abstract
Leptomeningeal dissemination of an oligodendroglioma is rarely reported in the neurosurgical literature, especially in cases with a classical 1p19q deletion. The authors describe a case wherein a 1p19q deletion in a disseminated tumor with mixed immunohistochemical features of oligodendroglioma and neurocytoma was encountered and treated. Stereotactic right frontal craniotomy was undertaken for obtaining definitive histological diagnosis. The results revealed a neuroectodermal neoplasm with histologic and immunohistochemical features of oligodendroglioma and neurocytoma. FISH analysis confirmed classical 1p19q deletion. The patient was treated postoperatively with chemotherapy and radiation therapy. He showed good clinical response and remains alive 16 months after diagnosis.
Access options
Buy single article
Instant access to the full article PDF.
USD 39.95
Price excludes VAT (USA)
Tax calculation will be finalised during checkout.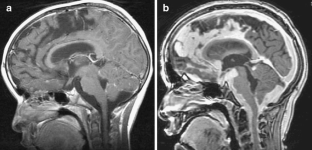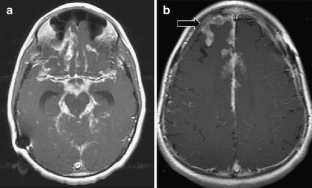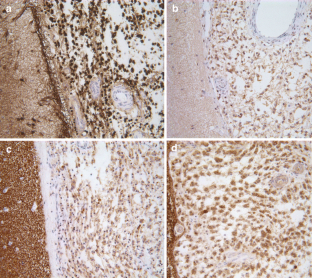 References
Ando K, Ishikura R, Morika T, Nakao N, Matsumoto T, Arita N (2002) Central neurocytoma with craniospinal dissemination. Magn Reson Med Sci 1(3):179–182

Armaoa DM, Stonea J, Castillo M, Mitchella KM, Bouldina TW, Suzukia K (2000) Diffuse leptomeningeal oligodendrogliomatosis: radiologic/pathologic correlation. Am J Neuroradiol 21:1122–1126

Bailey P, Cushing H (1926) A classification of the tumors of the glioma group on a histogenetic basis with a correlated study of prognosis. Lippincott, Philadelphia

Beck DJK, Russell DS (1942) Oligodendrogliomatosis of the cerebrospinal fluid pathway. Brain 65:352–372

Bharny D, Murphy GM, Horenstein S, Silbert SW (1974) Diffuse periventricular and meningeal glioma. Acta Neuropathol 30(3):243–249

Cairncross JG, Ueki K, Zlatescu MC, Lisle DK, Finkelstein DM, Hammond RR, Silver JS, Stark PC, Macdonald DR, Ino Y, Ramsay DA, Louis DN (1998) Specific genetic predictors of chemotherapeutic response and survival in patients with anaplastic oligodendrogliomas. J Natl Cancer Inst 7;90(19):1473–1479

Cooper IS, Kernohan JW (1951) Heterotopic glial nests in the subarachnoid space; histopathologic characteristics, mode of origin and relation to meningeal gliomas. J Neuropathol Exp Neurol 10(1):16–29

Eberth CJ (1970) Zur Entwicklung des Epitheliomas dur Pia under der Lung. Virchow's Arch 49:51–63

Eng DY, DeMonte F, Ginsberg L, Fuller GN, Jaeckle K (1997) Craniospinal dissemination of central neurocytoma. Report of two cases. J Neurosurg 86(3):547–552

Horoupian DS, Lax F, Suzuki K (1979) Extracerebral leptomeningeal astrocytoma mimicking a meningioma. Arch Pathol Lab Med 103(13):676–679

Mrak RE, Yasargil MG, Mohapatra G, Earel J Jr, Louis DN (2004) Atypical neurocytoma with oligodendroglioma-like spread and an unusual pattern of chromosome 1p and 19q loss. Hum Pathol 35(9):1156–1159

Perilongo G, Gardiman M, Bisaglia L, Rigobello L, Calderone M, Battistella A, Burnelli R, Giangaspero F (2002) Spinal low-grade neoplasms with extensive leptomeningeal dissemination in children. Childs Nerv Syst 18(9-10):505–512, Epub 2002 Aug 17

Perilongo G, Garre ML, Giangaspero F (2003) Low-grade gliomas and leptomeningeal dissemination: a poorly understood phenomenon. Childs Nerv Syst 19(4):197–203

Perry A, Scheithauer BW, Macaulay RJ, Raffel C, Roth KA, Kros JM (2002) Oligodendrogliomas with neurocytic differentiation. A report of 4 cases with diagnostic and histogenetic implications. J Neuropathol Exp Neurol 61(11):947–955

Polmeteer FE, Kernohan JW (1947) Meningeal gliomatosis. A study of forty-two cases. Arch Neurol Psychiatry 57:593–616

Preusser M, Budka H, Rössler K, Hainfellner JA (2007) OLIG2 is a useful immunohistochemical marker in differential diagnosis of clear cell primary CNS neoplasms. Histopathology 50(3):365–370

Psarros TG, Mulne SD, AF BDK (2005) Neurocytoma-like neoplasm of the thorasic spine in a 15 month-old child presenting with diffuse leptomeningeal dissemination and communicating hydrocephalus. Case report. J Neurosurg 103(2 Suppl):184–190

Takao H, Nakagawa K, Ohtomo K (2003) Central neurocytoma with craniospinal dissemination. J Neuro-oncol 61(3):255–259

Wolbach S (1907) Congenital rhabdomyoma of the heart: report of a case associated with multiple nests of neuroglial tissue in the meninges of the spinal cord. J Med Res 16:495–519
Acknowledgements
Special thanks to Dr. Peter Burger (Johns Hopkins Univ.) and Dr. Paul McKeever (Univ. of Michigan—Ann Arbor) for serving as neuropathology experts in the review of histologic preparations.
About this article
Cite this article
Rhiew, R.B., Manjila, S., Lozen, A. et al. Leptomeningeal dissemination of a pediatric neoplasm with 1p19q deletion showing mixed immunohistochemical features of an oligodendroglioma and neurocytoma. Acta Neurochir 152, 1425–1429 (2010). https://doi.org/10.1007/s00701-010-0674-x
Received:

Accepted:

Published:

Issue Date:

DOI: https://doi.org/10.1007/s00701-010-0674-x
Keywords