Abstract
Background
The advent of stent-assisted coil embolization has revolutionized the endovascular management of complex intracranial aneurysms. Although performed routinely in most cerebrovascular centers, there are not many case series reported about the Y-stent technique for coil placement in cerebral aneurysms. The authors present the second largest series available within the neurosurgical literature.
Methods
The authors have retrospectively reviewed the medical records and angiographic data of six patients who were diagnosed as having unruptured cerebral aneurysms and subsequently treated using "Y" stent-assisted coil embolization. Five out of six cerebral aneurysms in this study were located at the basilar tip while the remaining one was at the left MCA trifurcation. Aneurysms ranged in size from 8–22 mm. All patients were female with ages ranging from 37–70 years. One patient presented with recurrence of an aneurysm previously managed with a balloon-assisted coil embolization. Another patient presented after a failed trial of a balloon-assisted procedure. One patient had originally been diagnosed with multiple aneurysms of varying size and location.
Results
A "Y" configuration was successfully established in all six patients. Five patients have had a symptom-free recovery period at average follow-up period of 36.7 months. The remaining patient is notable for recurrence that was discovered on angiogram 32 months postoperatively.
Conclusions
The proposed Y-stent technique is a safe and effective option that can be employed in the endovascular reconstruction of unruptured intracranial aneurysms of complex location and orientation. These methods serve as an acceptable alternative in the management of aneurysms traditionally managed with microsurgery. Hemodynamic assessment has shown Y-stenting to be an advantageous therapy option, yet further studies are required to assess these parameters in alternative therapies.
This is a preview of subscription content,
to check access.
Access this article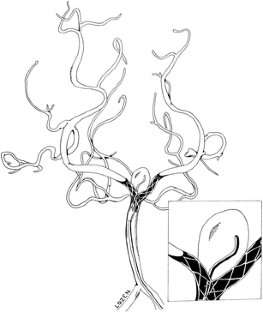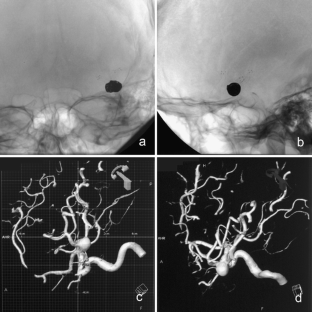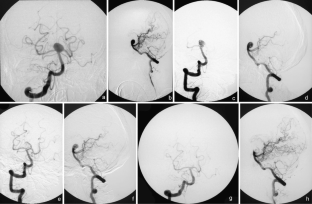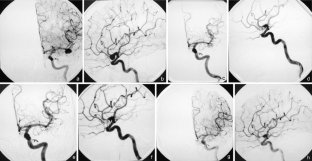 Similar content being viewed by others
References
Ahlhelm F, Roth C, Kaufmann R, Schulte-Altedorneburg G, Romeike B, Reith W (2007) Treatment of wide-necked intracranial aneurysms with a novel self-expanding two-zonal endovascular stent device. Neuroradiology :17703295. PSEBD

Aletich VA, Debrun GM, Misra M, Charbel F, Ausman JI (2000) The remodeling technique of balloon-assisted detachable coil placement in wide-necked aneurysms: experience at the University of Chicago. J Neurosurg 93(3):388–396

Banerjee RK, Gonzalez CF, Cho YI, Picard L (1996) Hemodynamic changes in recurrent intracranial terminal aneurysm after endovascular treatment. Acad Radiol 3(3):202–211. doi:10.1016/S1076-6332(96)80441-7

Cantón G, Levy DI, Lasheras JC (2005) Hemodynamic changes due to stent placement in bifurcating intracranial aneurysms. J Neurosurg 103(1):146–155

Cha KS, Balaras E, Lieber BB, Sadasivan C, Wakhloo AK (2007) Modeling the interaction of coils with the local blood flow after coil embolization of intracranial aneurysms. J Biomech Eng 129(6):873–879. doi:10.1115/1.2800773

Cohen JE, Gomori JM, Umansky F (2003) Endovascular management of symptomatic vertebral artery dissection achieved using stent angioplasty and emboli protection device 25:418–422

Cross DT, Moran CJ, Derdeyn CP, Mazumdar A, River D, Chicoine MM (2005) Neroform stent deployment for treatment of a basilar tip aneurysm via posterior communicating artery route. AJNR Am J Neuroradiol 26:2578–2581

de Paula Lucas C, Piotin M, Spelle L, Moret J (2008) Sten-jack technique in stent-assisted coiling of wide-necked aneurysms. Neurosurgery 62(2):ONS414–ONS416 ONS416-7

Fiehler J, Byrne JV (2009) Factors effecting outcome after endovascular treatment of intracranial aneurysms. Curr Opin Neurosurg 22(1):103–108. doi:10.1097/WCO.0b013e32831af1c1

Fiorella D, Albuquerque FC, Felipe C, Woo H, Rasussen PA, Peter A, Masaryk TJ, Cameron G (2006) Neuroform in-stent stenosis: incidence, natural history and treatment strategies. Neurosurgery 59(1):34–42. doi:10.1227/01.NEU.0000219853.56553.71

Fiorella D, Albuquerque FC, Masaryk TJ, Rasmussen PA, McDougall CG (2005) Balloon-in-stent technique for the constructive endovascular treatment of "ultra-wide necked" circumferential aneurysms. Neurosurgery 57(6):1218–1227. doi:10.1227/01.NEU.0000186036.35823.10

Fineschi M, Gori T (2008) Vary late thrombosis in a bare metal stent: an under-recognized problem. Can J Cardiol 24(2):e6–e7

Flores-Ríos X, Marzoa-Rivas R, Abugattás-de Torres JP, Piñón-Esteban P, Aldama-López G, Salgado-Fernández J, Calviño-Santos R, Vázquez-Rodríguez JM, Vázquez-González N, Castro-Beiras A (2008) Late thrombosis of paclitaxel-eluting stents: long-term incidence, clinical consequences, and risk factors in a cohort of 604 patients. Am Coll Cardiol 51(16):1543–1552. doi:10.1016/j.jacc.2008.01.020

Gomez CR, Misra VK, Liu MW et al (2000) Elective stenting of basilar artery stenosis. Stroke 31:95–99

Hayashi K, Kitagawa N, Yoshioka T, Morikawa M, Ochi M, Kaminogo M, Shibata S (2002) A case of basilar artery stenosis treated by stent placement. No To Shinkei 54:527–531

He Y, Duraiswamy N, Frank AO, Moore JE Jr (2005) Blood flow in stented arteries: a parametric comparison of strut design patterns in three dimensions. J Biomech Eng 127(4):637–647. doi:10.1115/1.1934122

Heros RC (2006) Complications of balloon-assisted coil embolization of intracranial aneurysms. J Neurosurg 105(3):396–399. doi:10.3171/jns.2006.105.3.393

Horowitz M, Levy E, Sauvageau E, Genevro J, Guterman LR, Hanel R, Wehman C, Gupta R, Jovin T (2006) Inta/extra-aneurysmal stent placement for management of complex and wide-necked bifurcation aneurysms: eight cases using the waffle cone technique. Neurosurgery 58(2):258–262

Horowitz MB, Pride GL, Graybeal DF, Purdy PD (1999) Percutaneous transluminal angioplasty and stenting of midbasilar stenosis: three case reports and literature review. Neurosurgery 45:925–930. doi:10.1097/00006123-199910000-00043

Howington JU, Hanel RA, Harringan MR, Levy EI, Guterman LR, Hopkins LN (2004) The Neuroform stent, the first microcatheter-delivered stent for use in the intracranial circulation. Neurosurgery 54(1):2–5. doi:10.1227/01.NEU.0000099370.05758.4D

Molyneux AJ, Kerr RS, Mee Yu L, Clarke M, Sneade M, Yarnold JA, Sandercock P (2005) International subarachnoid aneurysm trial (ISAT) of neurological clippings versus endovascular coiling in 2143 patients with ruptured intracranial aneurysm: a randomized comparison of effects on survival, dependency, seizures, rebleeding, subgroups, and aneurysm occlusion. Lancet 366:809–817. doi:10.1016/S0140-6736(05)67214-5

Irie K, Kawanishi M, Nagao S (2000) Balloon-assisted placement in wide-necked cerebral aneurysms: preliminary experience. Neurol Med Chir (Tokyo) 40(12):603–608. doi:10.2176/nmc.40.603

Joseph GJ, Goldstein J, Cloft H, Tong F, Dion J (2000) Endovascular stenting of arthrosclerotic stenosis in a basilar artery after successful angioplasty. AJR Am J Roentgenol 174:383–385

Kelly ME, Turner R, Gonugunta V, Woo HH, Rasumussen PA, Masaryk TJ, Fiorella D (2007) Stent reconstruction of wide-necked aneurysms across the circle of Willis. Neurosurgery 61(5):249–254. doi:10.1227/01.neu.0000303977.04128.3e Suppl 2

Kim M, Levy EI, Meng H, Hopkins L (2007) Quantification of hemodynamic changes induced by virtual placement of multiple stents across a wide-necked basilar trunk aneurysm. Neurosurgery 61(6):1305–1312. doi:10.1227/01.neu.0000306110.55174.30

Kipshidze N, Dangas G, Tsapenko M, Moses J, Leon MB, Kutryk M, Serruys P (2004) Role of endothelium in modulating neointimal formation: vasculoprotective approaches to attenuate restenosis after percutaneous coronary interventions. J Am Coll Cardiol 44:733–739

Lanzino G, Wakhloo AK, Fessler RD, Hartney ML, Guterman LR, Hopkins LN (1999) Efficacy and current limitations of internal carotid, vertebral, and basilar artery aneurysms. J Neurosurg 91(4):538–546

Lee YJ, Kim DJ, Suh SH, Lee SK, Kim J, Kim DI (2005) Stent-assisted embolization of intracranial wide-necked aneurysms. Neuroradiology 47(9):680–689. doi:10.1007/s00234-005-1402-8

Levy DI, Ku A (2007) Balloon-assisted coil placement in wide-necked aneurysms. Technical note. J Neurosurg 86(4):724–727

El L, Boulos AS, Bendok BR et al (2002) Brainstem infarction after delayed thrombosis of a stented vertebral artery fusiform aneurysm case report. Neurosurgery 51:1280–1284. doi:10.1097/00006123-200211000-00026

Lefkowitz MA, Gobin YP, Akiba Y, Duckwiler GR, Murayama Y, Gulielmi G, Martin NA, Vinuela F (1999) Balloon-assisted Guglielmi detachable coiling of wide-necked aneurysms: Part II-clinical results. Neurosurgery 45(3):531–537. doi:10.1097/00006123-199909000-00024

Lopes DK, Ringer AJ, Boulos AS, Qureshi AI, Lieber BB, Guterman LR, Hopkins LN (2003) Fate of branch arteries after intracranial stenting. Neurosurgery 52(6):1275–1278. doi:10.1227/01.NEU.0000064567.15270.27

Lusseveld E, Brilstra EH, Nijssen PC et al (2002) Endovascualr coiling versus neurosurgical clipping in patients with ruptured basilar tip aneurysm. J Neurosurg Psychiatry 73:591–593. doi:10.1136/jnnp. 73.5.591

Lylyk P, Cohen JE, Ceratto R, Ferrario A, Miranda C (2002) Endovascular reconstruction of intracranial arteries by stent placement and combined technique. J Neurosurg 97:1306–1313

Malek AM, Higasha RT, Halbach VV, Phatouros CC, Meyers PM, Dowd CF (1999) Tandem intracranial stent deployment for treatment of an iatrogenic, flow-limiting, basilar artery dissection: technical case report. Neurosurgery 45(4):919–924. doi:10.1097/00006123-199910000-00042

Mericle RA, Wakhloo AK, Rodriguez R, Guterman LR, Hopkins LN (1997) Temporary balloon protection as an adjunct to endovascular coiling of wide-necked aneurysms: a technical note. Neurosurgery 41(4):975–978. doi:10.1097/00006123-199710000-00045

Meyers FB (2006) Balloon-assisted coil embolization of intracranial aneurysms. J Neurosurg 105(3):392. doi:10.3171/jns.2006.105.3.392

Mitchell P, Kerr R, Mendelow AD, Molyneux A (2008) Could late rebleeding overturn the superiority of cranial aneurysm coil embolization over clip ligation seen in the International Subarachnoid Aneurysm Trial? J Neurosurg 108(3):437–442. doi:10.3171/JNS/2008/108/3/0437

Nakahara T, Sakamoto S, Hamasaki O, Sakoda K (2002) Stent-assisted angioplasty for intracranial atherosclerosis. Neuroradiology 44:706–710. doi:10.1007/s00234-002-0794-y

Nelson PK, Levy DI (2001) Balloon-assisted coil embolization of a wide-necked aneurysms of the internal carotid artery: medium-term angiographic and clinical follow-up in 22 patients. AJNR Am J Neuroradiol 22(1):19–26

Phatouros CC, Higashida RT, Malek AM et al (1999) Endovascualr stenting of an acutely thrombosed basilar artery: technical case report and review of literature. Neurosurgery 44:667–673. doi:10.1097/00006123-199903000-00134

Phatouros CC, Sasaki TY, Higashida RT (2000) Stent-supported coil embolization: the treatment of fusiform and wide-necked aneurysms and pseudo-aneurysms. Neurosurgery 47:107–115. doi:10.1097/00006123-200007000-00023

Perez-Arjona E, Fessler RD (2004) Basilar artery to bilateral posterior cerebral artery 'Y stenting' for endovascular reconstruction of wide-necked basilar apex aneurysms: report of three cases. Neurol Res 26(3):276–281. doi:10.1179/016164104225013969

Price RF, Sellar R, Leung C, O'Sullivan MJ (1998) Traumatic arterial dissection and vertibrobasilar thrombosis successfully treated with endovascular thrombolysis and stenting. AJNR Am J Neuroradiol 19:1677–1680

Ross IB, Gurmeet SD (2006) Balloon assistance as a routine adjunct to the endovascular treatment of cerebral aneurysms. Surg Neurol 66(6):593–601. doi:10.1016/j.surneu.2006.03.050

Ross IB, Gurmeet SD (2005) Complications of endovascular treatment of cerebral aneurysms. Surg Neurol 64(1):12–18. doi:10.1016/j.surneu.2004.09.045

Sani S, Lopes DK (2005) Treatment of a middle cerebral artery bifurcation aneurysm using a double neuroform stent "Y" configuration and coil embolization: technical case report. Neurosurgery 57(1):E209. doi:10.1227/01.NEU.0000163684.75204.CD

Spreer J, Els T, Hetzel A et al (2002) Primary stenting as emergency therapy in acute basilar artery occlusion. Neuroradiology 44:791–795. doi:10.1007/s00234-002-0798-7

Sluzewski M, van Rooij WJ, Beute GN, Nijssen PC (2006) Balloon-assisted coil embolization of intracranial aneurysms: incidence, complications, and angiography result. J Neurosurg 105(3):396–399. doi:10.3171/jns.2006.105.3.396

Suzuki S, Tateshima S, Jahan R, Duckwiler GR, Murayama Y, Gonzalez NR, Frazee JG, Vinuela F (2009) Endovascular treatment of middle cerebral artery aneurysms with detachable coils: angiographic and clinical outcomes in 115 consecutive patients. Neurosurgery (March):6. E pub

Thorell WE, Chow MM, Woo HH, Masaryk TJ, Ramussen PA (2005) Y-configured stent-assisted coil embolization for the treatment of wide-necked basilar tip aneurysms. Neurosurgery 56(5):1035–1040

Vanninen R, Manninen H, Ronkainen A (2003) Broad-based intracranial aneurysms: thrombosis induced by stent placement. AJNR Am J Neuroradiol 24(2):263–266

Vallee JN, Aymard A, Vicaut E, Reis M, Merland JJ (2003) Endovascular treatment of basilar tip aneurysms with Guglielmi detachable coils: predictors of immediate and long-term results with multivariate analysis 6-year experience. Radiology 226(3):867–879. doi:10.1148/radiol.2263011957

Wanke I, Doerfler A, Schoch B, Stolke D, Forsting M (2003) Treatment of wide-necked intracranial aneurysms with a self expanding stent system: initial clinical experience. AJNR Am J Neuroradiol 24:1192–1199

Wanke I, Gizewski E, Forsting M (2006) Horizontal stent placement plus coiling in a broad-based basilar tip aneurysm: an alternative to the Y-stent technique. Neuroradiology 48(11):817–820. doi:10.1007/s00234-006-0128-6

Wells-Roth D, Biondi A, Janardhan V, Chapple K, Gobin YP, Riina HA (2005) Endovascular procedures for treating wide-necked aneurysms. Neurosurg Focus 15 18(2):E7

Yahia AM, Gordon V, Whapham J, Malek A, Steel J, Fessler RD (2008) Complications of Neuroform stent in endovascular treatment of intracranial aneurysms. Neurocrit Care 8(1):19–30. doi:10.1007/s12028-007-9001-7

Yano S, Houkin K, Abe S et al (2001) Angioplasty with stenting for intracranial vertebral and basilar artery stenosis: three technical case reports and literature review. No Shinkei Geka 29:1081–1090

Zenteno M, Modensi Freitas JM, Aburto-Murrieta Y, Koppe G, Machado E, Lee A (2006) Balloon-expandable stenting with and without coiling for wide-necked and complex aneurysms. Surg Neurol 66(6):603–610. doi:10.1016/j.surneu.2006.05.058
Additional information
Comment
So far, microsurgery has been in most cases of large and giant aneurysms the treatment of choice because of the high risk of re-canalization after endovascular treatment which may furthermore be contraindicated because of an existing thrombus. With new development of stents some of the previously uncoilable aneurysms that may have also been difficult to treat with microsurgery may become coilable. However, very promising early results and enthusiasm may turn into disappointments after long-term follow-up. As the techniques and recommendations in endovascular therapy are constantly changing with new equipment coming to the market every month, it may be difficult to look back after 10–20 years as the current stents may be considered to be from the time of dinosaurs and not even worth analyzing at that time. During this time, so many other new techniques/devices will be used in different combinations each with a relatively small number of patients. Most likely, no real comparison between different methods will ever be done and only the latest equipment will be recommended by the endovascular society and industry. It will be interesting and important to see what happens inside and around the stent after several decades. Will we see parental artery occlusions or stents migrating out of the vessel wall? However, if the new stents and technology also work in the long-run, they are a welcome adjunct in the treatment of these challenging lesions and may even replace microsurgical treatment in many cases.
Mika Niemelä
Juha Hernesniemi
Helsinki, Finland
About this article
Cite this article
Lozen, A., Manjila, S., Rhiew, R. et al. Y-stent-assisted coil embolization for the management of unruptured cerebral aneurysms: report of six cases. Acta Neurochir 151, 1663–1672 (2009). https://doi.org/10.1007/s00701-009-0436-9
Received:

Accepted:

Published:

Issue Date:

DOI: https://doi.org/10.1007/s00701-009-0436-9
Keywords