Abstract
Background
The aim of the study was to evaluate the results of instrumented rod and wire fusion in children with craniovertebral junction (CVJ) instability and os odontoideum.
Methods
We evaluated seven children (mean age 9.85 years) with Down and Morquio's syndromes and primary os odontoideum. X-ray, computerized tomography (CT) scan and magnetic resonance (MR) imaging of the CVJ showed reducible instability in all of the cases but one. All the children underwent surgical correction by means of posterior wiring, instrumentation, fusion and external orthosis. A posterior wiring technique was also utilized in the only child with irreducible preoperative atlantoaxial instability, which, however, proved to be reducible under general anesthesia.
Findings
At maximum follow-up (observation range 28 to 106 months, mean 59.42 months), the clinical picture was improved in all the patients. The postoperative neuroradiological investigations demonstrated satisfactory bony fusion with neural decompression in all patients.
Conclusions
A wiring technique to correct atlantoaxial instabilities has been shown to be more relevant in these children with syndromic atlantoaxial dislocation and os odontoideum due to its simplicity, safety (continuous fluoroscopic assistance is not necessary and there is no risk of neuro-vascular injuries) and lower costs (no complex hardware devices; no neuronavigation systems are required). Preoperative irreducibility of the C1-C2 shift is not an absolute criterion for transoral decompression in children since os odontoideum can be reduced under general anesthesia.
Access options
Buy single article
Instant access to the full article PDF.
USD 39.95
Price excludes VAT (USA)
Tax calculation will be finalised during checkout.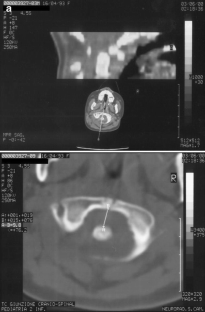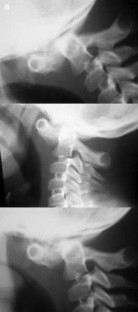 References
American Academy of Paediatrics, Committee on Sports Medicine (1984) Atlanto-axial instability in Down syndrome. Paediatrics 74:152–154

Ashraf J, Crokard HA, Ransford AO (1991) Transoral decompression and posterior stabilization in Morquio's disease. Arch Dis Child 66:1318–1321. doi:10.1136/adc.66.11.1318

Bailey D (1952) The normal cervical spine in infants and children. Radiology 69:712–719

Behari S, Bhargava V, Nayak S, Kirankumar MV, Banerji D, Chhabra DK, Jain VK (2002) Congenital reducible atlantoaxial dislocation: classification and surgical considerations. Acta Neurochir (Wien) 144(11):1165–1177. doi:10.1007/s00701-002-1009-3

Brockmeyer D, Apfelbaum RI (2000) A new occipitocervical fusion construct in paediatric patients with occipitocervical instability. J Neurosurg Spine 90:271–275

Brockmeyer D, Yok JE, Apfelbaum RI (2000) Anatomical suitability of C1-C2 transarticular screw placement in paediatric patients. J Neurosurg Spine 92:7–11

Cahill D (2000) Posterior occipital reconstruction using cervical pedicle screw and plate—rod system. Spine 15; 24(14):1425–34

Chirossel JP, Passagia JG, Gay E, Palombi O (2000) Management of craniocervical junction dislocation. Childs Nerv Syst 16:697–701. doi:10.1007/s003810000324

Crockard HA, Stevens JM (1995) Craniovertebral junction anomalies in inherited disorders: part of the syndrome or caused by the disorders? Eur J Pediatr 154(7):504–512. doi:10.1007/BF02074823

Currarino G (2002) Segmentation defect in the midodontoid process and its possible relationship to the congenital type of os odontoideum. Paediatr Radiol 32:34–40. doi:10.1007/s00247-001-0579-1

Diaz JH, Belani KG (1993) Perioperative management of children with mucopolysaccharidoses. Anesth Analg 77:1261–1270. doi:10.1213/00000539-199312000-00028

Dickman CA (1998) Occipitocervical wiring techniques in Surgery of the craniovertebral junction. New York, Thieme pp 795–808

Lorenzo D (1992) Craniocervical junction malformation treated by transoral approach. A survey of 25 cases with emphasis on postoperative instability and outcome. Acta Neuroch 118:112–116. doi:10.1007/BF01401296

Fielding JW, Hensinger RN, Hawkins RJ (1980) Os odontoideum. J Bone Joint Surg 62A:376–383

Frankel HC, Hancock DO, Hyslop G (1969) The value of postural reduction in the initial management of closed injures of the spine with paraplegia and tetraplegia. Paraplegia 7:179–1932

Gluf WM, Brockmeyer DL (2005) Atlantoaxial transarticular screw fixation: a review of surgical indications, fusion rate, complications and lessons learned in 67 paediatric patients. J Neurosurg Spine 2:164–169

Grob D (1999) Occipitocervical fusion in patients with rheumatoid arthritis. Clin Orthop Relat Res 366:46–53. doi:10.1097/00003086-199909000-00007

Grob D, Janneret B, Aebi M (1991) Atlantoaxial fusion with transarticular screw fixation. J Bone Joint Surg 73B:972–976

Grob D, Dvorak J, Panjabi M (1991) Posterior occipitocervical fusion. A preliminary report of a new technique. Spine 16(3 suppl):17–24

Grob D, Dvorak J, Panjabi MM, Antinnes JA (1994) The role of plate and screw fixation in occipitocervical fusion in rheumatoid arthritis. Spine 15:2545–2551

Hensinger RN (1991) Congenital anomalies of the cervical spine. Clin Orthop 64:16–38

Lipson SJ (1977) Fractures of the atlas associated with fractures of the odontoid precess and transverse ligamentum ruptures. J Bone Joint Surg 59A:940–943

Magerl F, Seman PS (1987) Stable posterior fusion of the atlas and axis by transarticular screw fixation. In: Kehr P (ed) Cervical spine. Springer Werlag, New York, pp 322–327

Marcotte P, Dickman CA, Sonntag VHK (1993) Posterior atlantoaxial facet screw fixation. J Neurosurg 79:234–237

Menezes AH, Ryken TC (192) Craniovertebral abnormalities in Down's syndrome. Paediatr Neurosurg 18(1):24–33. doi:10.1159/000120638

Menezes AH, Van Gilder JC, Clark CR (1985) Odontoid upward migration in rheumatoid arthritis: an analysis of 45 patients with cranial settling. J Neurosurg 63:500–509

Menezes AH (1994) Occipito-cervical fusion: indications, technique and avoidance of complications. In: Hitchon PW (ed) Techniques of spinal fusion and stabilisation. Thieme, New York, pp 82–91

Menezes AH (1996) Rheumatological disorders. In Principles of spinal surgery. New York, Mc Graw Hill, pp 705–722

Menezes AH (1996) Posterior occipital C1-C2 fusion. In Principles of spinal surgery. New York, Mc Graw Hill, pp 1051–1065

Michejda M, Menolascino F (1975) Skull base abnormalities in Down's syndome. Ment Retard 13(1):24–26

Oda I, Abumi K, Sell LC, Haggerty CJ, Cunningham BW, Mc Afee PC (1999) Biomechanical evaluation of five different occipito-atlanto-axial fixation techniques. Spine 24:2377–2382. doi:10.1097/00007632-199911150-00015

Pouliquen JC, Pennecot GF, Beneux J, Chadoutaud F, Lacert P, Duval-Beaupere G, Durand J (1982) Craniovertebral junction and Morquio disease. a propos of 6 cases. Chir Paediatr 23(4):247–255

Reilly CW, Choit RL (2006) Transarticular screws in the management of C1-C2 instability in children. J Paediatr Orthop 26:582–588

Ricciardi LE, Kaufer H, Louis DS (1976) Acquired os odontoideum following acute ligament injury. J Bone Joint Surg 58A:410–412

Ryken TC, Menezes AH (1995) Abnormailities of the craniovertebral junction in Down's syndrome. In Principles of spinal surgery. Mc Graw Hill, New York, pp 395–409

Salunke P, Behari S, Kirankmar MV, Sharma MS, Jaiswal AK, Jain VK (2006) Paediatric congenital atlatoaxial dislocation: differences between the irreducible and reducible varieties. J Neurosurg 104(2 suppl):115–122

Segal LE, Drummond DS, Zanotti RM (1991) Complications of posterior arthrodesis of the cervical spine in patients who have Down syndrome. J Bone Joint Surg Am 73:1547–1554

Sherman L (1994) The craniovertebral junction in Rao KCVG. In MRI and CT of the spine. Baltimore, Williams & Wilkins, pp 71–97

Sherk H, Nicholson J, Chung S (1978) Fractures of the odontoid process in young children. J Bone Joint Surg Am :921–924

Smith MD, Anderson P, Grady MS (1993) Occipitocervical arthrodesis using contoured plate fixation, an early report on a versatile fixation technique. Spine 18(14):1984–1990

Smoker WR (1994) Craniovertebral junction: normal anatomy, craniometry and congenital anomalies. Radiographics 14(2):255–277

Sonntag WHK, Dickman CA (1996) Posterior occipital C1-C2 instrumentation. In: Menezes AH (ed) Principles of spinal surgery. Mc Graw Hill, New York, pp 1067–1079

Spitzer R, Rabinowith JY, Wibar KC (1961) A study of the abnormalities of the skull, theet, and lenses in mongolism. Can Med Assoc J 84:567–572

Stevens JM, Kendall BE, Crokard HA (1991) The odontoid process in Morquio-Brailsford's disease. The effects of occipitocervical fusion. J Bone Joint Surg Br 73:851–858

Taggard DA, Menezes AH, Rycken TC (2000) Treatment of Down syndrome-associated craniovertebral junction abnormalities. J Neurosurg 93(2 suppl):205–213

Tippets RH, Alvis MA (1996) Tratment of axis fractures. In: Menezes AH, Sonntag VHK (eds) Principles of spinal surgery. Mc Graw Hill, New York, pp 871–883

Vale E (1999) Rigid occipitocervical fusion. J Neurosurg 91(2 suppl):144–150

Visocchi M, Di Rocco F, Meglio M (2003) Craniocervical junction instability: instrumentation and fusion with titanium rods and sublaminar wires. Effectiveness and failures in personal experience. Acta Neurochir (Wien) 145:265–272. doi:10.1007/s00701-002-1067-6

Visocchi M, Cabezas Cuevas D, Di Rocco C, Meglio M (2001) Craniocervical instability, instrumentation and fusion: personal experience with contoured titanium bar and sublaminar wires. In: GAJ Mc Culloch, PL Reilly (ed) Proceedings of the World Federation of Neurosurgical Societies 12th World Congress of Neurosurgery. Sidney Australia pp 279–283

White A, Panjabi M (1990) Kinematics of the spine. In: White AA (ed) Clinical biomechanics of the spine. JB Lippincot, Philadelphia, pp 85–126
Additional information
Comment
The authors evaluated the outcome of contoured rod with wiring in six children with syndromic and one child with primary os odontoideum and showed excellent results. There are few publications on syndromic atlantoaxial dislocation with wiring and instrumented fusion; therefore, this paper merits publication.
Sanjay Behari
Sanjay Gandhi Post Graduate Institue of Medical Science Lucknow, India
About this article
Cite this article
Visocchi, M., Fernandez, E., Ciampini, A. et al. Reducible and irreducible os odontoideum in childhood treated with posterior wiring, instrumentation and fusion. Past or present?. Acta Neurochir 151, 1265–1274 (2009). https://doi.org/10.1007/s00701-009-0277-6
Received:

Accepted:

Published:

Issue Date:

DOI: https://doi.org/10.1007/s00701-009-0277-6
Keywords
Craniocervical junction instability

Sublaminar wiring

Mucopolysaccaridosis

Down syndrome

Os odontoideum