Zusammenfassung
Es ist seit Jahren durch Studien belegt und mittlerweile auch von den Versorgungsverantwortlichen anerkannt, dass im Bereich funktioneller Therapien Versorgungsmängel in Österreich bestehen. Auch die vom Hauptverband jüngst erhobenen (noch nicht öffentlich zugänglichen) LEICON-Daten* bilden diese Mängel deutlich ab. Funktionelle Therapien (Ergotherapie, Physiotherapie und Logopädie) sind laut Allgemeinem Sozialversicherungsgesetz (ASVG) Pflichtleistungen der Krankenkassen und diesbezüglich der ärztlichen Leistung gleichgestellt.
Erschwerend für strukturelle Verbesserungen sind aber inhomogene und unübersichtliche Vertrags- und Verrechnungssysteme. Anstatt – wie im ASVG vorgesehen – eine flächendeckende ausreichende Versorgung durch Verträge sicherzustellen, gibt es in fast allen Bundesländern und bei allen Krankenversicherungsträgern unterschiedliche Verrechnungs- und Versorgungsvarianten für Ergotherapie, Physiotherapie und teilweise auch Logopädie im niedergelassenen Bereich.
Die Bandbreite reicht von völligem Fehlen vertraglicher Regelungen für Niedergelassene über Poolverträge bis hin zu ausreichender Versorgung durch Kassenverträge. Darüber hinaus existieren noch zahlreiche institutionelle Anbieter (Vereine, Ambulatorien usw.), die ebenfalls Therapien mit Kassen abrechnen, jeweils aber wieder unterschiedliche Verrechnungsmodalitäten haben (Pauschalen, geteilte Finanzierungen usw.). Regionale Vergleiche der Versorgungsquantität sind daher schwierig und die vorhandenen Daten lückenhaft.
Diese inhomogene Versorgungssituation geht eindeutig an der Intention des ASVG vorbei, führt zu Ungerechtigkeiten und Unsicherheit für die Patienten und zu Umständlichkeit und Unklarheiten in der Verrechnung. Die von der Regierung angekündigte Harmonisierung der Kassenleistungen greift im Bereich der funktionellen Therapien leider bisher viel zu kurz.
Anhand der Darstellung der regional unterschiedlichen Versorgungsvarianten im niedergelassenen Bereich (Verträge, vertragslose Zustände und Poolverträge) werden die Auswirkungen auf die Versorgungswirksamkeit (qualitativ und quantitativ) und die daraus entstehenden Probleme aufgezeigt.
*LEICON ist ein modular aufgebautes gesundheitsökonomisches Datenerhebungs- und Controlling-Instrument, das von den Sozialversicherungsträgern entwickelt wurde, um fundierte Krankheitsversorgungs- und Behandlungsdaten zu erhalten.
Abstract
For years, it has been proved by studies and then also recognized by those responsible for providing care that in the area of functional therapies, there is a lack of provision in Austria. The recently compiled LEICON* data from the main organization (not yet publicly accessible) also clearly show this shortfall. Functional therapies (occupational therapy, physiotherapy, and speech therapy) are according to the General Social Insurance Law (ASVG) equal obligations of the health insurance schemes and thus, medical service.
However, heterogeneous and confusing contract and charging systems make structural improvements difficult. Instead of establishing comprehensive, adequate care through agreements, as provided for in the ASVG, in almost all regions and all health insurance providers there are diverse variations in charging and care with regard to occupational therapy, physiotherapy, and, partly, speech therapy, in the licensed field.
The spectrum ranges from a complete absence of contractual regulations for those registered, through pooling agreements, to sufficient care through agreements with insurance contracts. Furthermore, countless institutional suppliers (associations, outpatient clinics, etc.) exist that also bill insurance schemes for therapies, but each of which has diverse methods of charging (fixed rates, shared financing, etc.). Regional comparisons of the quality of care are therefore difficult and the data available are fragmented.
This heterogeneous care situation clearly bypasses the intention of the ASVG, leads to injustices and uncertainty for patients, and to laborious and ambiguous charging. The coordination of health benefits announced by the government has so far affected the field of functional therapies unfortunately much too little.
Based on the representation of regionally diverse care variants in the registered area (contracts, noncontractual conditions, and pooling agreements), the effects on the efficacy of care (qualitative and quantitative) and the problems that arise from them are shown.
*LEICON is a modularly constructed data analysis and control instrument for collecting and analyzing financial data on the care of patients and their treatment developed by health insurance schemes.
This is a preview of subscription content, log in to check access.
Access options
Buy single article
Instant access to the full article PDF.
US$ 39.95
Price includes VAT for USA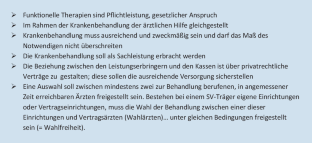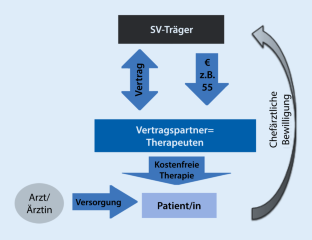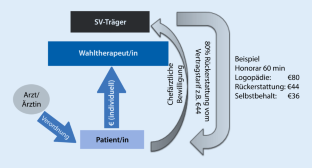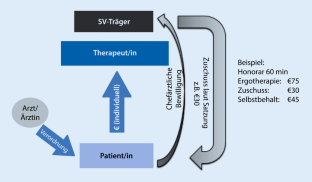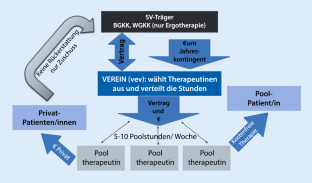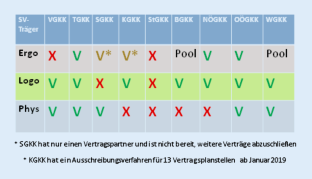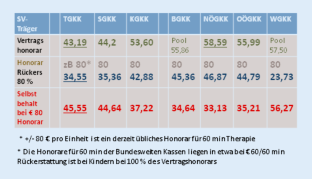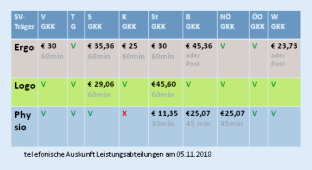 Notes
1.

2.

Aus: Allgemeines Sozialversicherungsgesetz Band 1, Stand 01.09.2010.

3.

4.

In der Satzung sind u. a. die Rechte und Pflichten der Versicherten (Anspruchsberechtigten) sowie der Beitragsschuldner geregelt.

5.

Obwohl der Hauptverband der österreichischen Sozialversicherungsträger in einer eigenen Pressekonferenz im September 2018 die Vereinheitlichung der satzungsmäßigen Zuschüsse auf 30 € verkündete, wurde diese Vereinheitlichung von der Wiener Gebietskrankenkasse bis Januar 2019 nicht umgesetzt.

6.

Erhebungsdatum November 2018.

7.

Österreichische Liga für Kinder- und Jugendgesundheit.

8.

9.
Ethics declarations
Interessenkonflikt
I. Himmelbauer ist Wahltherapeutin aller Kassen und Pooltherapeutin der Wiener Gebietskrankenkasse.
Dieser Beitrag beinhaltet keine von den Autoren durchgeführten Studien an Menschen oder Tieren.
Additional information
Hinweis des Verlags
Der Verlag bleibt in Hinblick auf geografische Zuordnungen und Gebietsbezeichnungen in veröffentlichten Karten und Institutsadressen neutral.
About this article
Cite this article
Himmelbauer, I. Das Chaos in der Finanzierung funktioneller Therapien. Paediatr. Paedolog. 54, 37–43 (2019). https://doi.org/10.1007/s00608-019-0663-0
Schlüsselwörter
Ergotherapie

Logopädie

Physiotherapie

Behandlungskosten

Österreich
Keywords
Occupational Therapy

Speech Therapy

Physiotherapy

treatment expenses

Austria