Zusammenfassung
Meningokokkenerkrankungen sind in Österreich, Deutschland und der Schweiz selten, können aber schwerwiegende Folgen haben. Verschiedene Polysaccharidkonjugatimpfstoffe zum Schutz vor Erkrankungen durch die Serogruppen A, C, W und Y sind verfügbar, bis vor Kurzem war aber kein Impfstoff zum Schutz vor einer Erkrankung durch die Serogruppe B erhältlich, die für etwa 70 % der Meningokokkenerkrankungen verantwortlich ist. Nunmehr ist der proteinbasierte Meningokokkenserogruppe-B-Impfstoff 4CMenB verfügbar, der in klinischen Studien ein akzeptables Verträglichkeits- und Sicherheitsprofil aufwies. Hiermit ergeben sich erweiterte Möglichkeiten, um Säuglinge, Kleinkinder, Jugendliche und Erwachsene vor Meningokokkenerkrankungen zu schützen. Für den neuen Impfstoff 4CMenB sind verschiedene Impfschemata entwickelt worden. Zudem wurde er bereits in den Österreichischen Impfplan integriert.
Abstract
In Austria, Germany, and Switzerland, invasive meningococcal disease is rare; however, it may cause severe illness, death, and sequelae. Various polysaccharide conjugate vaccines are available to help protect against serogroups A, C, W, and Y, but so far none against serogroup B, which is the most important serogroup causing about 70 % of meningococcal disease. A new protein-based meningococcal serogroup B vaccine (4CMenB) which has an acceptable tolerability and safety profile in clinical studies has been developed; this offers new opportunities to protect infants, children, adolescents, and adults against meningococcal disease. Various vaccination schedules have been developed and the new vaccine 4CMenB has been integrated into the latest Austrian vaccination schedule.
Access options
Buy single article
Instant access to the full article PDF.
USD 39.95
Price excludes VAT (USA)
Tax calculation will be finalised during checkout.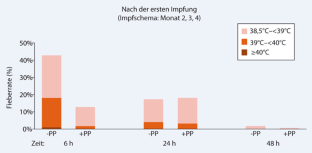 Literatur
Zwiauer KFM, Bröker M, Banzhoff A (2014) Der neue Mehrfachkomponentenimpfstoff 4CMenB zum Schutz vor Erkrankungen durch Meningokokken der Serogruppe B. Teil 1: Klinische Daten zur Immunogenität. Pädiatr Pädol 49

Gossger N, Snape MD, Yu LM et al (2012) Immunogenicity and tolerability of recombinant serogroup B meningococcal vaccine administered with or without routine infant vaccinations according to different immunization schedules: a randomized controlled trial. JAMA 307:573–582

Vesikari T, Esposito S, Prymula R et al (2013) Immunogenicity and safety of an investigational multicomponent, recombinant, meningococcal serogroup B vaccine (4CMenB) administered concomitantly with routine infant and child vaccinations: results of two randomised trials. Lancet 381:825–835

Prymula R, Esposito S, Zuccotti GV et al (2014) A phase 2 randomized controlled trial of a multicomponent meningococcal serogroup B vaccine. (I) Effects of prophylactic paracetamol on immunogenicity and reactogenicity of routine infant vaccines and 4CMenB. Hum Vaccin Immunother 10:1992–2003

Dull P, Banzhoff A, Toneatto D (2013) Concomitant administration of meningococcal serogroup B vaccine with routine infant vaccines including rotavirus vaccines. 8th World Congress of the World Society for Pedriatric Infectious Diseases. Cape Town, Südafrika, 19.–22. November, 2013, Poster

Holst J, Oster P, Arnold R et al (2013) Vaccines against meningococcal serogroup B disease containing outer membrane vesicles (OMV): Lessons from past programs and implications for the future. Hum Vacc Immunother 9:1–13

Snape MD, Philip J, John TM et al (2013) Bacterial antibody persistence 2 years after immunization with 2 investigational serogroup B meningococcal vaccines at 6, 8 and 12 months and immunogenicty of preschool booster doses. A follow-on study to a randomized clinical trial. Pediatr Infect Dis J 32:1116–1121

Santolaya ME, O'Ryan ML, Valenzuela MT et al (2012) Immunogenicity and tolerability of a multicomponent meningococcal serogroup B (4CMenB) vaccine in healthy adolescents in Chile: a phase 2b/3 randomised, observer-blind, placebo-controlled study. Lancet 379:617–624

O'Ryan M, Stoddard J, Toneatto D et al (2014) A multi-component meningococcal serogroup B vaccine (4CMenB): the clinical development program. Drugs 74:15–30

Centers for Disease Control and Prevention (2014) Princeton University meningococcal disease outbreak. http://www.cdc.gov/meningococcal/outbreaks/princeton.html

Schaffner W, Baker CJ, Bozof L et al (2014) Addressing the challenges of serogoup B meningococcal disease outbreaks on campuses. Infect Dis Clin Pract 22:245–252

Centers for Disease Control and Prevention (2014) University of California, Santa Barbara meningococcal disease outbreak. http://www.cdc.gov/meningococcal/outbreaks/ucsb.html

Institut National de Santé Publique du Quebec (2014) Rapport intérimaire de surveillance de la sécurité de la première dose du vaccin contre le méningocoque de serogroupe B au Saguenay-Lac-Saint-Jean. http://www.inspq.qc.ca/pdf/publications/1885_Vaccin_Menincogoque_SerogroupeB.pdf. ISBN 978-2-550-71345-6
Einhaltung ethischer Richtlinien
Interessenkonflikt. K.F.M. Zwiauer gibt an, dass kein Interessenkonflikt besteht. M. Bröker und A. Banzhoff sind Angestellte der Novartis Vaccines and Diagnostics GmbH, Marburg.
Dieser Beitrag enthält keine Studien an Menschen oder Tieren.
Additional information
Für Teile dieser Arbeit wurde das Manuskript der Publikation von O'Ryan et al. [9] in Drugs herangezogen. Diese Abschnitte wurden modifiziert und um neuere Daten erweitert.
About this article
Cite this article
Zwiauer, K., Bröker, M. & Banzhoff, A. Der neue Mehrfachkomponentenimpfstoff 4CMenB zum Schutz vor Erkrankungen durch Meningokokken der Serogruppe B. Paediatr. Paedolog. Austria 49 (Suppl 3), 13–19 (2014). https://doi.org/10.1007/s00608-014-0212-9
Published:

Issue Date:

DOI: https://doi.org/10.1007/s00608-014-0212-9
Schlüsselwörter
Invasive Meningokokkeninfektionen

Proteinbasierte Meningokokkenvakzine

Bakterizide Antikörper

Säuglinge

Sicherheit
Keywords
Meningococcal infections, invasive

Meningococcal vaccine, protein-based

Antibodies, bactericidal

Infants

Safety