Abstract
Journey planners support users in the organization of their trips, by presenting them results with multimodal solutions. While the benefits for the users are straightforward, other stakeholders (such as transport operators and planners) might benefit from understanding how users behave. In this paper, we analyze and characterize user behavior in journey planners, with the aim of getting insights from different perspectives (namely, trip search and both sorting and selection actions related to trip options). Our results show that, in order to characterize user behavior, multiple perspectives have to be taken into account, and that users speaking different languages behave differently.
Access options
Buy single article
Instant access to the full article PDF.
US$ 39.95
Tax calculation will be finalised during checkout.
Subscribe to journal
Immediate online access to all issues from 2019. Subscription will auto renew annually.
US$ 79
Tax calculation will be finalised during checkout.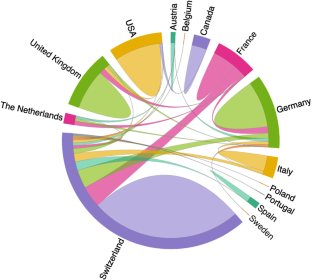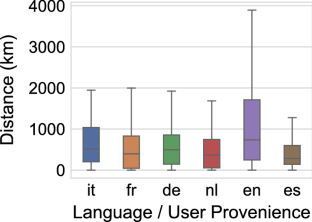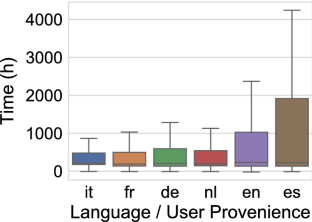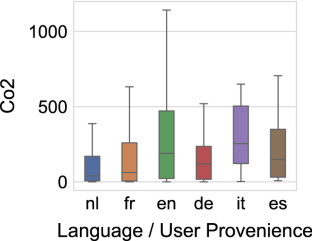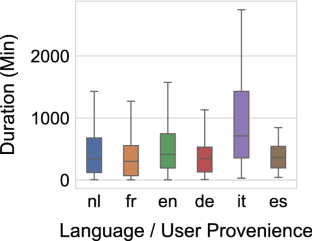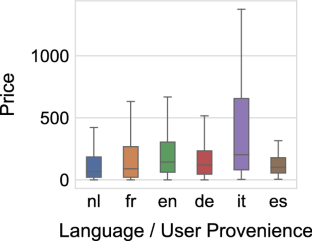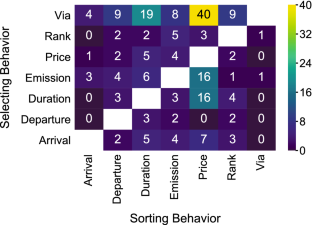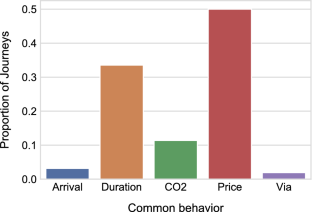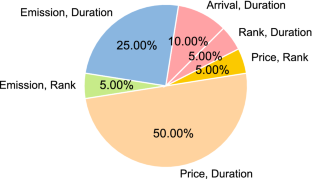 Notes
1.

2.

In this paper, we will use the terms "journey" and "trip" interchangeably.

3.

Both departure and arrival locations can be constituted of a specific address, thus indicating a door-to-door trip.

4.

5.

6.

With this term, we refer to those who select English in the RouteRANK platform.

7.

Note that the sum of the elements is not 103 because the same journey can be sorted and selected by multiple (not corresponding) criteria. For instance, a search \(s_1\) may be sorted by (Price, Duration), while the selected journey is the one with lowest (departureTime, arrivalTime). In this case this single journey will appear four times in the plot, as: Price-departureTime, Price-arrivalTime, duration-departureTime and duration-arrivalTime.

8.
References
1.

Agrawal R, Srikant R (1998) Readings in database systems, 3rd edn. chap. Fast algorithms for mining association rules, pp 580–592. Morgan Kaufmann Publishers Inc., San Francisco, CA, USA

2.

Aguinis H, Forcum LE, Joo H (2013) Using market basket analysis in management research. J Manag 39(7):1799–1824

3.

Calabrese F, Diao M, Di Lorenzo G, Ferreira J, Ratti C (2013) Understanding individual mobility patterns from urban sensing data: a mobile phone trace example. Transp Res Part C Emerg Technol 26:301–313

4.

Chen JV, Ross WH, Yen DC, Akhapon L (2009) The effect of types of banner ad, web localization, and customer involvement on internet users' attitudes. Cyberpsychol Behav Soc Netw 12(1):71–73

5.

Cheung P, Sengupta U (2016) Analysis of journey planner apps and best practice features. Tech. Rep. 12.6.1, Manchester School of Architecture, Manchester

6.

Codina V, Mena J, Oliva L (2015) Context-aware user modeling strategies for journey plan recommendation. In: 23rd International conference on user modeling, adaptation and personalization, UMAP 2015, Dublin, Ireland, June 29–July 3, 2015. Proceedings, Lecture Notes in Computer Science, vol 9146, pp 68–79. Springer. https://doi.org/10.1007/978-3-319-20267-9_6

7.

Colpaert P, Compernolle MV, Walravens N, Mechant P, Adriaenssens J, Ongenae F, Verborgh R, Mannens E (2017) Open transport data for maximising reuse in multimodal route planners: a study in flanders. IET Intell Transp Syst. https://doi.org/10.1049/iet-its.2016.0269

8.

Esztergár-Kiss D, Csiszár C (2015) Evaluation of multimodal journey planners and definition of service levels. Int J Intell Transp Syst Res 13(3):154–165

9.

Esztergár-Kiss D (2016) Optimization of multimodal travel chains. Ph.D. thesis, Budapest University of Technology and Economics, Kandó Kálmán Doctoral School

10.

González MC, Hidalgo CA, Barabási A-L (2008) Understanding individual human mobility patterns. Nature 453(7196):779

11.

Goulias KG (2018) Travel behavior models. In: Handbook of behavioral and cognitive geography, chap. 5, pp 56–73. Edward Elgar Publishing Limited, USA

12.

Humphreys L, Pape TV, Karnowski V (2013) Evolving mobile media: uses and conceptualizations of the mobile internet. J Comput Mediat Commun 18:491–507

13.

Jakob M, Hrncir J, Oliva L, Ronzano F, Zilecky P, Finnegan J (2014) Personalized fully multimodal journey planner. In: Proceedings of the twenty-first European conference on artificial intelligence, ECAI'14, pp 1225–1226. IOS Press, Amsterdam, The Netherlands, The Netherlands

14.

Karadimce A, Lugano G, Cornet Y (2018) Modelling the quality of user-perceived travel experience. In: 1st International conference applied computer technologies (ACT 2018), pp 142–148

15.

Katona G, Juhász J (2017) User habits and multimodal route planning. Prod Eng Arch 16:22–27

16.

Kováčiková T, Lugano G, Pourhashem G (2018) From travel time and cost savings to value of mobility. In: Reliability and statistics in transportation and communication. Springer International Publishing, Cham, pp 35–43

17.

Lanzendorf M (2002) Mobility styles and travel behavior: application of a lifestyle approach to leisure travel. Transp Res Rec 1807(1):163–173

18.

Lugano G, Kurillova Z, Hudák M, Pourhashem G (2019) Beyond travel time savings: conceptualizing and modelling the individual value proposition of mobility. In: Data analytics: paving the way to sustainable urban mobility. Springer International Publishing, Cham, pp 714–721

19.

Manca M, Boratto L, Roman VM, i Gallissà OM, Kaltenbrunner A (2017) Using social media to characterize urban mobility patterns: state-of-the-art survey and case-study. Online Soc Netw Media 1:56–69

20.

Mohamad I, Usman D (2013) Standardization and its effects on k-means clustering algorithm. Res J Appl Sci Eng Technol 6:3299–3303

21.

Nagy E, Csiszar C (2018) Revealing influencing factors of check-in time in air transportation. Acta Polytech Hung 17:225–243

22.

Osadchiy T, Poliakov I, Olivier P, Rowland M, Foster E (2019) Recommender system based on pairwise association rules. Expert Syst Appl 115:535–542

23.

Pan B, Zhang L, Smith K (2011) A mixed-method study of user behavior and usability on an online travel agency. J IT Tour 13(4):353–364

24.

Schrammel J, Prost S, Mattheiss EE, Bothos E, Tscheligi M (2015) Using individual and collaborative challenges in behavior change support systems: findings from a two-month field trial of a trip planner application. In: 10th International conference on persuasive technology, PERSUASIVE 2015, Chicago, IL, USA, June 3–5, 2015, Proceedings, Lecture Notes in Computer Science, vol 9072, pp 160–171. Springer

25.

Sierpiński G, Staniek M (2017) Heuristic approach in a multimodal travel planner to support local authorities in urban traffic management. Transp Res Proc 27:640–647 (20th EURO Working Group on Transportation Meeting, EWGT 2017, 4–6 September 2017, Budapest, Hungary)

26.

Sourlas D, Nathanail E (2019) A thorough review and analysis of journey planners. In: Data analytics: paving the way to sustainable urban mobility. Springer International Publishing, Cham, pp 690–697

27.

Vargas A, Weffers H, da Rocha HV (2011) Analyzing user interaction logs to evaluate the usability of web applications. In: 2011 3rd Symposium on Web Society, pp 61–67

28.

Zografos KG, Androutsopoulos KN, Apospori E (2012) User acceptance and willingness to pay for the use of multimodal trip planning systems. Proc Soc Behav Sci 48:2405–2414 (Transport Research Arena 2012)
Acknowledgements
This work was supported by project MoTiV (Mobility and Time Value), funded by the Horizon 2020 research and innovation programme, under Grant Agreement No. 770145. The authors would like to thank Viet Hang Nguyen for the dataset, and Marc Torrent and Yonas Kassa for their contributions.
Additional information
Publisher's Note
Springer Nature remains neutral with regard to jurisdictional claims in published maps and institutional affiliations.
About this article
Cite this article
Boratto, L., Manca, M., Lugano, G. et al. Characterizing user behavior in journey planning. Computing 102, 1245–1258 (2020). https://doi.org/10.1007/s00607-019-00775-8
Received:

Accepted:

Published:

Issue Date:
Keywords
User behavior

Journey planners

Data analytics

Transport
Mathematics Subject Classification