Abstract
Transmission delay, throughput and energy are important criterions to consider in wireless sensor networks (WSN). In this way, IEEE 802.15.4 standard was conceived with the objective to reduce resource's consumption in both WSN and wireless personal area networks. In such networks, the slotted CSMA/CA still occupies a prominent place as a channel control access mechanism with its inherent simplicity and reduced complexity. In this paper, we propose to introduce a network allocation vector (NAV), to reduce energy consumption and collisions in IEEE 802.15.4 networks. A Markov chain-based analytical model of the fragmentation mechanism, in a saturated traffic, is given as well as a model of the energy consumption using the NAV mechanism. The obtained results show that the fragmentation technique improves at the same time the throughput, the access delay and the bandwidth occupation. They, also, show that using the NAV allows reducing significantly the energy consumption when applying the fragmentation technique in slotted CSMA/CA under saturated traffic conditions.
Access options
Buy single article
Instant access to the full article PDF.
US$ 39.95
Tax calculation will be finalised during checkout.
Subscribe to journal
Immediate online access to all issues from 2019. Subscription will auto renew annually.
US$ 79
Tax calculation will be finalised during checkout.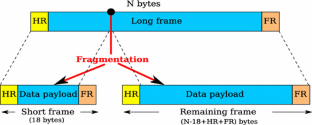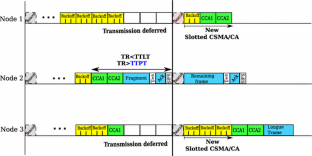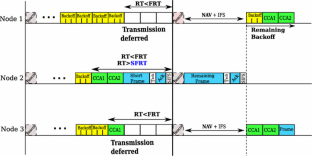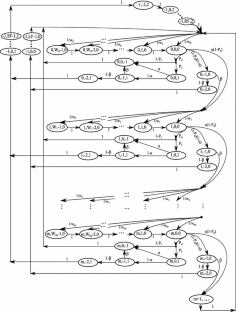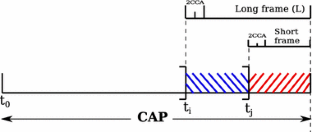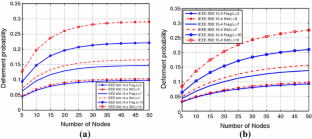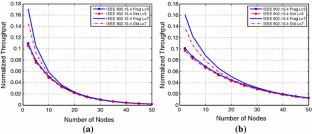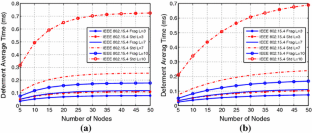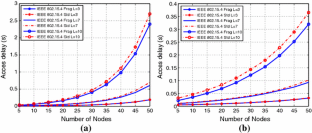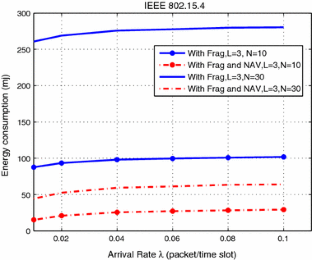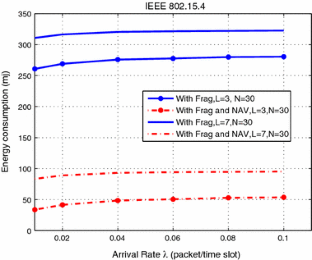 Notes
1.

The concept of short and long frames already exists in the IEEE 802.15.4 standard.

2.

IEEE 802.15.4 standard defined the biggest length of the short and the long frames.
References
1.

Sohrabi K, Gao J, Ailawadhi V, Pottie GJ (1999) Protocols for self-organization of a wireless sensor network. In: 37th allerton conference on communication, computing and control, vol 7, No 5, pp 16–27

2.

Lee CY, Cho HI, Hwang GU, Doh Y, Park N (2011) Performance modeling and analysis of IEEE 802.15.4 slotted CSMA/CA protocol with ACK mode. Int J Electron Commun 65(2):123–131

3.

IEEE Std 802.15.4. Part 15.4, Wireless medium access control (MAC) and physical layer (PHY) specifications for low-rate wireless area sensor networks (WPANs) (2003)

4.

IEEE std 802.15.4, Part 15.4, Wireless medium access control (MAC) and physical layer (PHY) specifications for low-rate wireless personal area networks (WPANs) (2006)

5.

Pollin S, Ergen M, Ergen SC, Bougard B, Perre LV, Moerman I, Bahai A, Varaiya P, Catthoor F (2008) Performance analysis of slotted carrier sense IEEE 802.15.4 medium access layer. IEEE Trans Wirel Commun 7(9):3359–3371

6.

Park P, Di Marco P, Soldati P, Fischione C, Johansson KH (2009) A generalized Markov chain model for effective analysis of slotted IEEE 802.15.4. In: IEEE 6th international conference on mobile ad hoc and sensor system (MASS), pp 130–139

7.

Patro RK, Raina M, Ganapathy V, Shamaiah M, Thejaswi C (2007) Analysis and improvement of contention access protocol in IEEE 802.15.4 star network. In: The fourth IEEE international conference on mobile ad-hoc and sensor systems, Pisa, Italy

8.

Wong CM, Lee BH (2012) An improvement of slotted CSMA/CA algorithm in IEEE 802.15.4 medium access layer. Wirel Pers Commun 63(4):807–822

9.

Rehman SU, Bhatti FA, Iqbal MY, Sabir Z (2011) Modeling the impact of deferred transmission in CSMA/CA algorithm for IEEE 802.15.4 using Markov chain model. In: Multitopic conference (INMIC). 2011 IEEE 14th international, pp 334–339

10.

IEEE Part 11, Wireless LAN medium access control (MAC) and physical layer (PHY) specifications. IEEE Std 802.11 (2007)

11.

Yazid M, Bouallouche-Medjkoune L, Aissani D, Ziane-Khodja L (2013) Analytical analysis of applying packet fragmentation mechanism on IEEE 802.11b DCF network in non ideal channel with infinite load conditions. Wirel Netw 20(5):917–934

12.

Li T, Ni Q, Malone D, Leith D (2009) Aggregation with fragment retransmission for very high-speed WLANs. IEEE/ACM Trans Netw 17(2):591–604

13.

Yoon J, Kim H, Ko JG (2007) Data fragmentation scheme in IEEE 802.15.4 wireless sensor networks. In: IEEE 65th vehicular technology conference, Dublin, Ireland, pp 26–30

14.

Atmani M, Aïssani D, Hadjadj-Aoul Y (2014) Applying data fragmentation in IEEE 802.15.4: modeling and analysis under unsaturated traffic. In: Proceedings of the VECoS'2014 [8th international workshop on verification and evaluation of computer and communication systems], Bejaia, pp 121–130. ISBN : 978-9931-9140-3-7. http://ceur-ws.org/vol-1256

15.

Fourty N, Bossche AVD, Val T (2012) An advanced study of energy consumption in an IEEE 802.15.4 based network: everything but the truth on 802.15.4 node lifetime. Comput Commun 35(14):1759–1767

16.

IEEE Std 802.15.4a, Part 15.4: wireless medium access control (MAC) and physical layer (PHY) specifications for low-rate wireless personal area networks (WPANs) (2007)

17.

IEEE Std 802.15.4c, Part 15.4: wireless medium access control (MAC) and physical layer (PHY) specifications for low-rate wireless personal area networks (WPANs) (2009)

18.

IEEE Std 802.15.4d, Part 15.4: wireless medium access control (MAC) and physical layer (PHY) specifications for low-rate wireless personal area networks (WPANs) (2009)

19.

IEEE Std 802.15.4f, Part 15.4: low-rate wireless personal area networks (LR-WPANs) (2012)

20.

Rehman SU, Berber S, Swain A (2010) Performance analysis of CSMA/CA algorithm for wireless sensor network. In: TENCON 2010–2010 IEEE region 10 conference, pp 2012–2017

21.

Yoon J, Kim H, Ko J-G (2007) Data fragmentation scheme in IEEE 802.15.4 wireless sensor networks. In: Vehicular technology conference, 2007. VTC2007-Spring. IEEE 65th, pp 26–30

22.

Bianchi G (2000) Performance analysis of the IEEE 802.11 distributed coordination function. IEEE J Sel Areas Commun 18(3):535–547

23.

Wen H, Lin C, Chen ZJ et al (2009) An improved Markov model for IEEE 802.15.4 slotted CSMA/CA mechanism. J Comput Sci Technol 24(3):495–504

24.

Kohvakka M, Kuorilehto M, Hnnikinen M, Hmlinen TD (2000) Performance analysis of IEEE 802.15.4 and ZigBee for large-scale wireless sensor network applications, PE-WASUN, Malaga, Spain

25.

Lee TJ, Lee HR, Chung MY (2006) MAC throughput limit analysis of slotted CSMA/CA in IEEE 802.15.4 WPAN. IEEE Commun Lett 10(7):561–563
About this article
Cite this article
Atmani, M., Aïssani, D. & Hadjadj-Aoul, Y. Towards bandwidth and energy optimization in IEEE 802.15.4 wireless sensor networks. Computing 100, 597–620 (2018). https://doi.org/10.1007/s00607-017-0583-4
Received:

Accepted:

Published:

Issue Date:
Keywords
IEEE 802.15.4

Slotted CSMA/CA

Data fragmentation

NAV

Markov chains

Energy consumption

Bandwidth occupation
Mathematics Subject Classification