Abstract
Trillium apetalon (4×) and T. tschonoskii (4×) hybridize commonly where both species grow sympatrically, leading to the formation of tetraploid T. miyabeanum in Hokkaido, Japan. The present study aimed to determine which isolation factor is responsible for the frequency and asymmetry of hybrid T. miyabeanum formation in a sympatric population of T. apetalon and T. tschonoskii. We examined the contributions and strengths of four reproductive isolation barriers of T. miyabeanum formation: flowering phenology, breeding system, genetic isolation, and hybrid inviability. In addition, we also investigated the effect of flowering phenology on reproductive success (i.e., seed production and outcrossing rates) and outputs (i.e., ovule production) for T. apetalon and T. tschonoskii. We calculated the absolute contribution of each isolation barrier to the total reproductive isolation and found that flowering phenology and differences in breeding systems between the two parental species were more effective when T. apetalon was the maternal parent. Furthermore, hybrids with T. apetalon as the maternal parent had lower viability than those of the reciprocal cross and did not reach the flowering stage. Particularly, absolute contribution of premating isolation, especially by flowering phenology and breeding system, was higher than that of other isolation factors for both crossing directions. For the formation of T. miyabeanum, we concluded that asymmetry of hybridization between T. apetalon and T. tschonoskii would be caused by strong premating isolations. The asymmetry of the isolating barriers may promote T. tschonoskii as the maternal parent of T. miyabeanum.
Access options
Buy single article
Instant access to the full article PDF.
USD 39.95
Price excludes VAT (USA)
Tax calculation will be finalised during checkout.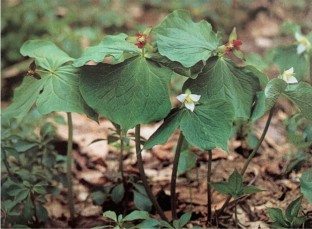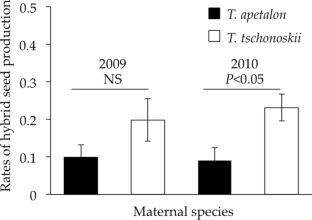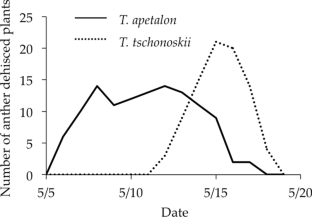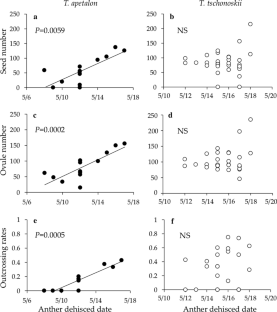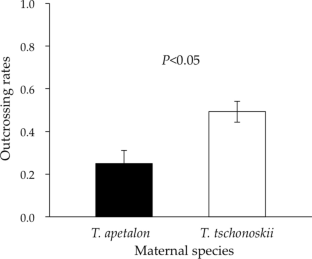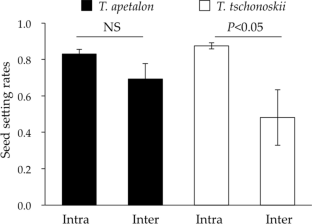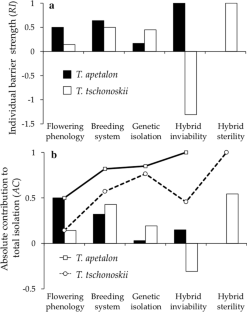 References
Abadie P, Roussel G, Dencausse B, Bonnet C, Bertocchi E, Louvet JM, Kremer A, Garnier-Géré P (2012) Strength, diversity and plasticity of postmating reproductive barriers between two hybridizing oak species (Quercus robur L. and Quercus petraea (Matt) Liebl.). J Evol Biol 25:157–173. https://doi.org/10.1111/j.1420-9101.2011.02414.x

Alix K, Gérard PR, Schwarzacher T, Heslop-Harrison JS (2017) Polyploidy and interspecific hybridization: partners for adaptation, speciation and evolution in plants. Ann Bot (Oxford) 120:183–194. https://doi.org/10.1093/aob/mcx079

Baack E, Melo MC, Rieseberg LH, Ortiz-Barrientos D (2015) The origins of reproductive isolation in plants. New Phytol 207:968–984. https://doi.org/10.1111/nph.13424

Baily PC (1951) A study of the chromosome morphology of some species of Trillium. Bull Torrey Bot Club 78:324–330

Baily PC (1954) Differential reactivity in chromosomes as an indicator of species in Trillium. Bot Gaz 115:241–248

Coyne JA, Orr HA (1989) Patterns of speciation in Drosophila. Evolution 43:362–381. https://doi.org/10.1111/j.1558-5646.1989.tb04233.x

Coyne JA, Orr HA (1997) Patterns of speciation in Drosophila' revisited. Evolution 51:295–303. https://doi.org/10.1111/j.1558-5646.1997.tb02412.x

Coyne JA, Orr HA (2004) Speciation. Sinauer Associates, Sunderland

Darlington CD, Shaw GW (1959) Parallel polymorphism in the heterochromatin of Trillium species. Heredity 13:89–121

Dell'Olvio A, Hoballah ME, Gubitz T, Kuhlemeier C (2011) Isolation barriers between Petunia axillaris and Petunia integrifolia (Solanaceae). Evolution 65:1979–1991. https://doi.org/10.1111/j.1558-5646.2011.01279.x

Ferguson CJ, Levin DA, Jansen RK (1999) Natural hybridization between an outcrossing and a selfing Phlox (Polemoniaceae): the maternal species of F1 hybrids. Pl Syst Evol 218:153–158. https://doi.org/10.1007/BF01087043

Freeman JD (1975) Revision of Trillium subgenus Phyllantherum (Liliaceae). Brittonia 27:1–62

Grant V (1981) Plant speciation, 2nd edn. Columbia University Press, New York

Goulet BE, Roda F, Hopkins R (2017) Hybridization in plants: old ideas, new techniques. Pl Physiol 173:65–78. https://doi.org/10.1104/pp.16.01340

Haga T (1951) Genome and polyploidy in the genus Trillium III. Origin of the polyploidy species. Cytologia 16:243–258

Haga T (1956) Genome and polyploidy in the genus Trillium VI. Hybridization and speciation by chromosome doubling nature. Heredity 10:85–89

Hornych O, Ekrt L, Riedel F, Koutecký P, Košnar J (2019) Asymmetric hybridization in Central European populations of the Dryopteris carthusiana group. Amer J Bot 106:1477–1486. https://doi.org/10.1002/ajb2.1369

Husband BC, Sabara HA (2003) Reproductive isolation between autotetraploids and their diploid progenitors in fireweed, Chamerion angustifolium. (Onagraceae). New Phytol 161:703–713. https://doi.org/10.1046/j.1469-8137.2004.00998.x

Ishizaki S, Abe T, Ohara M (2013) Mechanisms of reproductive isolation of interspecific hybridization between Trillium camschatcense and T. tschonoskii (Melanthiaceae). Pl Spec Biol 28:204–214. https://doi.org/10.1111/j.1442-1984.2012.00378.x

Kelly MG, Levin DA (2000) Directional selection on initial flowering date in Phlox drummondii (Polemoniaceae). Amer J Bot 87:382–391. https://doi.org/10.2307/2656634

Kubota S, Kameyama Y, Ohara M (2006) Characterization of six microsatellite markers in Trillium camschatcense using a dual-suppression-polymerase chain reaction technique. Molec Ecol Notes 6:1135–1137. https://doi.org/10.1111/j.1471-8286.2006.01462.x

Kurabayashi M (1958) Evolution and variation in Japanese species of Trillium. Evolution 12:286–310

Lafon-Placette C, Johannessen IM, Hornslien KS, Ali MF, Bjerkan KN, Bramsiepe J, Glöckle BM, Rebernig CA, Brysting AK, Grini PE, Köhler C (2017) Endosperm-based hybridization barriers explain the pattern of gene flow between Arabidopsis lyrate and Arabidopsis arenosa in Central Europe. Proc Natl Acad Sci USA 114:E1027–E1035. https://doi.org/10.1073/pnas.1615123114

Lepais O, Roussel G, Hubert F, Kremer A, Gerber S (2013) Strength and variability of postmating reproductive isolating barriers between four European white oak species. Tree Genet Genomes 9:841–853. https://doi.org/10.1007/s11295-013-0602-3

Levin DA (1978) The origin of isolating mechanisms in flowering plants. Evol Biol 11:185–315

Liao WJ, Zhu BR, Li YF, Li XM, Zeng YF, Zhang DY (2019) A comparison of reproductive isolation between two closely related oak species in zones of recent and ancient secondary contact. BMC Evol Biol 19:70. https://doi.org/10.1186/s12862-019-1399

Lowry DB, Modliszewski JL, Wright KM, Wu CA, Willis JH (2008) The strength and genetic basis of reproductive isolating barriers in flowering plants. Philos Trans Ser B 363:3009–3021. https://doi.org/10.1098/rstb.2008.0064

Martin NH, Willis JH (2007) Ecological divergence associated with mating system causes nearly complete reproductive isolation between sympatric Mimulus species. Evolution 61:68–82. https://doi.org/10.1111/j.1558-5646.2007.00006.x

Melo MC, Grealy A, Brittain B, Walter GM, Ortiz-Barrientos D (2014) Strong extrinsic reproductive isolation between parapatric populations of an Australian groundsel. New Phytol 203:323–334. https://doi.org/10.1111/nph.12779

Mitani T (2005) Ecological and genetic mechanisms of speciation in the Japanese Trillium species. MSc Thesis, Graduate School of Environmental Science, Hokkaido University, Sapporo

Morinaga S, Tsuji K, Sakai S (2003) Consequences of differences in flowering date on seed production in Heloniopsis orientalis (Liliaceae). Amer J Bot 90:1153–1158. https://doi.org/10.3732/ajb.90.8.1153

Ohara M, Kawano S (1986) Life history studies on the genus Trillium (Liliaceae) IV. Stage class structures and spatial distribution of four Japanese species. Pl Spec Biol 1:147–161. https://doi.org/10.1111/j.1442-1984.1986.tb00023.x

Ohara M, Takada T, Kawano S (2001) Demography and reproductive strategies of a polycarpic perennial, Trillium apetalon (Trilliaceae). Pl Spec Biol 16:209–2171. https://doi.org/10.1046/j.1442-1984.2001.00062.x

Ohara M, Kawano S (2006) Life history monographs of Japanese plants. 5: Trillium tschonoskii Maxim. (Trilliaceae). Pl Spec Biol 21:53–60. https://doi.org/10.1111/j.1442-1984.2006.00151.x

Ollerton J, Lack A (1998) Relationships between flowering phenology, plant size and reproductive success in Lotus corniculatus (Fabaceae). Pl Ecol 139:35–47

Pieper SJ, Nicholls AA, Freeland JR, Dorken ME (2017) Asymmetric hybridization in cattails (Typha spp.) and its implications for the evolutionary maintenance of native Typha latifolia. J Heredity 108:479–487. https://doi.org/10.1093/jhered/esx036

Ramsey J, Schemske DW (1998) Pathways, mechanisms and rates of polyployd formation in flowering plants. Annual Rev Ecol Syst 29:467–501. https://doi.org/10.1146/annurev.ecolsys.29.1.467

Ramsey J, Bradshaw HD Jr, Schemske DW (2003) Components of reproductive isolation between the Monkeyflowers Mimulus lewisii and M. Cardinalis (Phrymaceae). Evolution 57:1520–1534. https://doi.org/10.1111/j.0014-3820.2003.tb00360.x

Ritland K (2002) Extensions of models for the estimation of mating systems using n independent loci. Heredity 88:221–228. https://doi.org/10.1038/sj.hdy.6800029

Ritland K, Jain SK (1981) A model for the estimation of outcrossing rate and gene frequencies using n independent loci. Heredity 43:221–241. https://doi.org/10.1038/hdy.1981.57

Rodríguez-Pérez J, Traveset A (2016) Effects of flowering phenology and synchrony on the reproductive success of a long-flowering shrub. AoB PLANTS. https://doi.org/10.1093/aobpla/plw007

Samejima J, Samejima K (1962) Studies on the Eastern Asiatic Trillium (Liliaceae). Acta Horti Gothob 25:157–257

Samejima K, Samejima J (1987) Trillium genus illustrated. Hokkaido University Press, Sapporo

Sobel JM, Chen GF (2014) Unification of methods for estimating the strength of reproductive isolation. Evolution 68:1511–1522. https://doi.org/10.1111/evo.12362

Stebbins GL (1950) Variation and evolution in plants. Columbia University Press, New York

Stewart CN Jr, Via LE (1993) A rapid CTAB DNA isolation technique useful for RAPD fingerprinting and other PCR applications. Biotechniques 14:748–750

Tarayre M, Bowman G, Schermann-Legionnet A, Barat M, Atlan A (2007) Flowering phenology of Ulex europaeus: ecological consequences of variation within and among populations. Evol Ecol 21:395–409. https://doi.org/10.1007/s10682-006-9109-9

Tiffin P, Olson MS, Moyle LC (2001) Asymmetrical crossing barriers in angiosperms. Proc Roy Soc Biol Sci Ser B 268:861–867. https://doi.org/10.1098/rspb.2000.1578

Thomson JD (2010) Flowering phenology, fruiting success and progressive deterioration of pollination in an early-flowering geophyte. Philos Trans Ser B 365:3187–3199. https://doi.org/10.1098/rstb.2010.0115

Vallejo-Marín M, Cooley AM, Lee MY, Folmer M, McKain MR, Puzey JR (2016) Strongly asymmetric hybridization barriers shape the origin of a new polyploid species and its hybrid ancestor. Amer J Bot 103:1272–1288. https://doi.org/10.3732/ajb.1500471

Waters SM, Chen WLC, Lambers JHR (2020) Experimental shifts in exotic flowering phenology produce strong indirect effects on native plant reproductive success. J Ecol 108:1–12. https://doi.org/10.1111/1365-2745.13392

Weising K, Gardner RC (1999) A set of conserved PCR primers for the analysis of simple sequence repeat polymorphisms in chloroplast genomes of dicotyledonous angiosperms. Genome 42:9–19. https://doi.org/10.1139/g98-104

Widen B (1991) Phenotypic selection on flowering phenology in Senecio integrifolius, a perennial herb. Oikos 61:205–215

Widmer A, Lexer C, Cozzolino S (2009) Evolution of reproductive isolation in plants. Heredity 102:31–38. https://doi.org/10.1038/hdy.2008.69

Wu DY, Wright DA, Wetzel C, Voytas DF, Rodermel S (1999) The immutans variegation locus of Arabidopsis defines a mitochondrial alternative oxidase homolog that functions during early chloroplast biogenesis. Pl Cell 11:43–55. https://doi.org/10.1105/tpc.11.1.43

Yan LJ, Burges KS, Milne R, Fu CN, Li DZ, Gao LM (2017) Asymmetrical natural hybridization varies among hybrid swarms between two diploid Rhododendron species. Ann Bot (Oxford) 120:51–61. https://doi.org/10.1093/aob/mcx039

Zhang WL, Gao JY (2017) Multiple factors contribute to reproductive isolation between two co-existing Habenaria species (Orchidaceae). PLoS ONE 27:e0188594
Acknowledgements
This study was supported by Grants-in Aid for Scientific Research from the Japan Society for the Promotion of Science (JSPS) (19H03294, 20K06821). We would like to thank Mr. Shun Umezawa for his kind permission to use an original photograph for Figure 1.
Additional information
Handling editor: Mike Thiv.
Publisher's Note
Springer Nature remains neutral with regard to jurisdictional claims in published maps and institutional affiliations.
About this article
Cite this article
Maekawa, R., Mitani, T., Ishizaki, S. et al. Asymmetrical hybridization between Trillium apetalon and T. tschonoskii for the formation of a hybrid T. miyabeanum (Melanthiaceae). Plant Syst Evol 308, 13 (2022). https://doi.org/10.1007/s00606-022-01806-2
Received:

Accepted:

Published:

DOI: https://doi.org/10.1007/s00606-022-01806-2
Keywords
Asymmetric hybridization

Flowering phenology

Reproductive isolation

Trillium