Abstract
Studies on insular organisms provide an important framework for investigating patterns of genetic differentiation and reproductive isolation. By focusing on populations of the same species, we have the opportunity to study the mechanisms operating during the earliest stages of speciation, as reproductive barriers can be examined among divergent lineages in a geographic context. We investigated the genetic differentiation and the evolution of early stages of intrinsic postmating reproductive isolation between continental and insular populations of Epidendrum fulgens, a neotropical orchid distributed in southeastern Brazil. Genetic diversity and structure were estimated for both nuclear and plastid markers by using genetic differentiation measures and model-based assignment test. Furthermore, two components of reproductive isolation were examined by analyzing fruit set and seed viability in interpopulation crosses. Strong plastid genetic structure (FST = 0.679) was found between insular and remaining populations, indicating that E. fulgens reduced gene flow via seed dispersal, although significant nuclear genetic structure was lower (DST = 0.179), likely due to the smaller effective population size of the plastid genome. Significant differences in seed viability between self- and cross-pollinated plants were found, indicating the occurrence of inbreeding depression in all populations. Seed viability was significantly lower in crosses between insular and remaining populations, suggesting a late postzygotic reproductive barrier due to low migration associated with genetic drift (i.e., bottleneck) and its consequences. Our results confirm the importance of islands as drivers for populational differentiation and suggest a central role for outbreeding depression during the early stages of lineage diversification.
Access options
Buy single article
Instant access to the full article PDF.
US$ 39.95
Tax calculation will be finalised during checkout.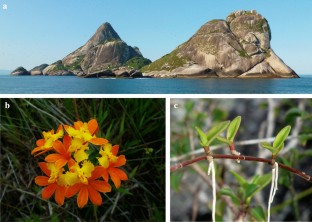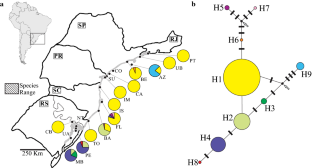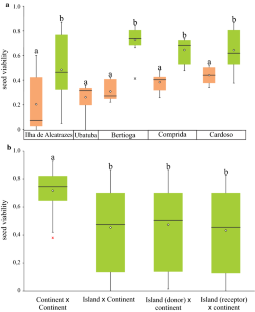 Data availability
The datasets generated during and/or analyzed during the current study will be deposited on Dryad upon acceptance.
References
Baack E, Melo MC, Rieseberg LH, Ortiz-Barrientos D (2015) The origins of reproductive isolation in plants. New Phytol 207:968–984. https://doi.org/10.1111/nph.13424

Baker HG (1955) Self-compatibility and establishment after 'long distance' dispersal. Evolution 9:347–348. https://doi.org/10.2307/2405656

Ballesteros-Mejia L, Lima NE, Lima-Ribeiro MS, Collevatti RG (2016) Pollination mode and mating system explain patterns in genetic differentiation in neotropical plants. PLoS ONE 11:e0158660. https://doi.org/10.1371/journal.pone.0158660

Bandelt HJ, Forster P, Roehl A (1999) Median-joining networks for inferring intraspecific phylogenies. Molec Biol Evol 16:37–48. https://doi.org/10.1093/oxfordjournals.molbev.a026036

Barnard-Kubow KB, Galloway LF (2017) Variation in reproductive isolation across a species range. Ecol Evol 7:9347–9357. https://doi.org/10.1002/ece3.3400

Barnard-Kubow KB, So N, Galloway LF (2016) Cytonuclear incompatibility contributes to the early stages of speciation. Evolution 70:2752–2766. https://doi.org/10.1111/evo.13075

Barrett SC (1996) The reproductive biology and genetics of island plants. Philos Trans Roy Soc London B Biol Sci 351:725–733. https://doi.org/10.1098/rstb.1996.0067

Barrett SC (2002) The evolution of plant sexual diversity. Nat Rev Genet 3:274–284. https://doi.org/10.1038/nrg776

Bates D, Maechler M, Boker B, Walker B (2015) Fitting linear mixed-effects models using lme4. J Stat Softw 67:1–48

Bolnick DI, Near TJ (2005) Tempo of hybrid inviability in centrarchid fishes (Teleostei: Centrarchidae). Evolution 59:1754–1767. https://doi.org/10.1111/j.0014-3820.2005.tb01824.x

Brasileiro CA, Haddad CFB, Sawaya RJ, Sazima I (2007) A new and threatened island-dwelling species of Cycloramphus (Anura: Cycloramphidae) from Southeastern Brazil. Herpetologica 63:501–510. https://doi.org/10.1655/0018-0831(2007)63[501:ANATIS]2.0.CO;2

Cabral JS, Wiegand K, Kreft H (2019) Interactions between ecological, evolutionary and environmental processes unveil complex dynamics of insular plant diversity. J Biogeogr 46:1582–1597. https://doi.org/10.1111/jbi.13606

Charlesworth D, Charlesworth B (1987) Inbreeding depression and its evolutionary consequences. Annual Rev Ecol Syst 18:273–268

Coelho MAN, Catharino ELM (2008) Duas espécies novas de Anthurium (Araceae) endêmicas do litoral de São Paulo, Brasil. Rodriguésia 59:829–833

Coyne JA, Orr HA (2004) Speciation. Sinauer Associates, Sunderland

Crawford DJ, Archibald JK (2017) Island floras as model systems for studies of plant speciation: prospects and challenges. J Syst Evol 55:1–5. https://doi.org/10.1111/jse.12234

Crawford DJ, Stuessy TF (1997) Plant speciation on oceanic islands. In: Iwatsuki K, Raven PH (eds) Evolution and diversification of land plants. Springer, Tokyo

Cruz MV, Mori GM, Signori-Müller C, Silva CC, Oh DH, Dassanayake M, Zucchi MI, Oliveira RS, Souza AP (2019) Local adaptation of a dominant coastal tree to freshwater availability and solar radiation suggested by genomic and ecophysiological approaches. Sci Rep 9:1–15. https://doi.org/10.1038/s41598-019-56469-w

Eckert CG, Lui K, Bronson K, Corradini P, Bruneau A (2003) Population genetic consequences of extreme variation in sexual and clonal reproduction in an aquatic plant. Molec Ecol 12:331–344. https://doi.org/10.1046/j.1365-294X.2003.01737.x

Ellstrand NC (2014) Is gene flow the most important evolutionary force in plants? Amer J Bot 101:737–753. https://doi.org/10.3732/ajb.1400024

Fuhro D, Araújo AMD, Irgang BE (2010) Are there evidences of a complex mimicry system among Asclepias curassavica (Apocynaceae), Epidendrum fulgens (Orchidaceae), and Lantana camara (Verbenaceae) in Southern Brazil? Revista Brasil Bot 33:589–598. https://doi.org/10.1590/S0100-84042010000400007

Herlihy CR, Eckert CG (2002) Genetic cost of reproductive assurance in a self-fertilizing plant. Nature 416:320–323. https://doi.org/10.1038/416320a

Hoehne FC (1958) Novidades da família das Gesneriaceae do Brasil. Sellowia 9:37–79

Hothorn T, Bretz F, Westfall P (2008) Simultaneous inference in general parametric models. Biom J 50:346–363. https://doi.org/10.1002/bimj.200810425

Jost L (2008) GST and its relatives do not measure differentiation. Molec Ecol 17:4015–4026. https://doi.org/10.1111/j.1365-294X.2008.03887.x

Leimu R (2004) Variation in the mating system of Vincetoxicum hirundinaria (Asclepiadaceae) in peripherial island populations. Ann Bot (Oxford) 93:107–113. https://doi.org/10.1093/aob/mch012

Leite YLR, Costa LP, Loss AC, Rocha RG, Batalha-Filho H, Bastos AC, Quaresma VS, Fagundes V, Paresque R, Passamani M, Pardini R (2016) Neotropical forest expansion during the last glacial period challenges refuge hypothesis. Proc Natl Acad Sci USA 113:1008–1013. https://doi.org/10.1073/pnas.1513062113

Lennartsson T (2002) Extinction thresholds and disrupted plant–pollinator interactions in fragmented plant populations. Ecology 83:3060–3072. https://doi.org/10.1890/0012-9658(2002)083[3060:ETADPP]2.0.CO;2

Lhuillier E, Butaud JF, Bouvet JM (2006) Extensive clonality and strong differentiation in the insular pacific tree Santalum insulare: implications for its conservation. Ann Bot (Oxford) 98:1061–1072. https://doi.org/10.1093/aob/mcl190

Marques OAV, Martins M, Sazima I (2002) A new insular species of pitviper from Brazil, with comments on evolutionary biology and conservation of the Bothrops jararaca group (Serpentes, Viperidae). Herpetologica 58:303–312. https://doi.org/10.1655/0018-0831(2002)058[0303:ANISOP]2.0.CO;2

Martin H, Touzet P, Dufay M, Godé C, Schmitt E, Lahiani E, Delph LF, Van Rossum F (2017) Lineages of Silene nutans developed rapid, strong, asymmetric postzygotic reproductive isolation in allopatry. Evolution 71:1519–1531. https://doi.org/10.1111/evo.13245

Meirmans PG, Van Tienderen PH (2004) GENOTYPE and GENODIVE: two programs for the analysis of genetic diversity of asexual organisms. Molec Ecol Notes 4:792–794. https://doi.org/10.1111/j.1471-8286.2004.00770.x

Meloni M, Reid A, Caujapé-Castells J, Marrero A, Fernández-Palacios JM, Mesa-Coelo RA, Conti E (2013) Effects of clonality on the genetic variability of rare, insular species: the case of Ruta microcarpa from the Canary Islands. Ecol Evol 3:1569–1579. https://doi.org/10.1002/ece3.571

Moraes AP, Chinaglia M, Palma-Silva C, Pinheiro F (2013) Interploidy hybridization in sympatric zones: the formation of Epidendrum fulgens × E. puniceoluteum hybrids (Epidendroideae, Orchidaceae). Ecol Evol 3:3824–3837. https://doi.org/10.1002/ece3.752

Nürk NM, Atchison GW, Hughes CE (2019) Island woodiness underpins accelerated disparification in plant radiations. New Phytol 224:518–531. https://doi.org/10.1111/nph.15797

Olmos F (1996) Missing species in São Sebastião Island, southeastern Brazil. Pap Avulsos Zool 39:329–349

Osborne OG, Ciezarek A, Wilson T, Crayn D, Hutton I, Baker WJ, Turnbull CGN, Savolainen V (2019) Speciation in Howea palms occurred in sympatry, was preceded by ancestral admixture, and was associated with edaphic and phenological adaptation. Molec Biol Evol 36:2682–2697. https://doi.org/10.1093/molbev/msz166

Palma-Silva C, Wendt T, Pinheiro F, Barbará T, Fay MF, Cozzolino S, Lexer C (2011) Sympatric bromeliad species (Pitcairnia spp.) facilitate tests of mechanisms involved in species cohesion and reproductive isolation in Neotropical inselbergs. Molec Ecol 20:3185–3201. https://doi.org/10.1111/j.1365-294X.2011.05143.x

Pannell JR, Auld JR, Brandvain Y, Burd M, Busch JW, Cheptou PO, Conner JK, Goldberg EE, Grant A, Grossenbacher DL, Hovick SM, Igic B, Kalisz S, Petanidou T, Randle AM, Casas RR, Pauw A, Vamosi JC, Winn AA (2015) The scope of Baker's law. New Phytol 208:656–667. https://doi.org/10.1111/nph.13539

Peakall R, Smouse PE (2012) GenAlEx 6.5: genetic analysis in excel. population genetic software for teaching and research–an update. Bioinformatics 28:2537–2539. https://doi.org/10.1111/j.1471-8286.2005.01155.x

Petit RJ, El Mousadik A, Pons O (1998) Identifying populations for conservation on the basis of genetic markers. Conservation Biol 12:844–855. https://doi.org/10.1111/j.1523-1739.1998.96489.x

Petit RJ, Duminil J, Fineschi S, Hampe A, Salvini D, Vendramin GG (2005) Comparative organization of chloroplast, mitochondrial and nuclear diversity in plant populations. Molec Ecol 14:689–701. https://doi.org/10.1111/j.1365-294X.2004.02410.x

Pinheiro F, Cozzolino S (2013) Epidendrum (Orchidaceae) as a model system for ecological and evolutionary studies in the neotropics. Taxon 62:77–88. https://doi.org/10.1002/tax.621007

Pinheiro F, Santos MO, Barros F, Meyer D, Salatino A, Souza AP, Cozzolino S (2008a) Isolation and characterization of microsatellite loci in the Brazilian orchid Epidendrum fulgens. Conservation Genet 9:1661–1663. https://doi.org/10.1007/s10592-008-9514-4

Pinheiro F, Santos MO, Palma-Silva C, Barros F, Meyer D, Salatino A, Souza AP, Cozzolino S (2008b) Isolation and characterization of microsatellite loci in Epidendrum puniceoluteum, an endemic orchid from the Atlantic Rainforest. Molec Ecol Resources 8:1114–1116. https://doi.org/10.1111/j.1755-0998.2008.02175.x

Pinheiro F, Palma-Silva C, Barros F, Félix LP, Lexer C, Cozzolino S, Fay MF (2009) Chloroplast microsatellite markers for the Neotropical orchid genus Epidendrum, and cross-amplification in other Laeliinae species (Orchidaceae). Conservation Genet Resources 1:505–511. https://doi.org/10.1007/s12686-009-9121-9

Pinheiro F, Barros F, Palma-Silva C, Fay MF, Lexer C, Cozzolino S (2011) Phylogeography and genetic differentiation along the distributional range of the orchid Epidendrum fulgens: a Neotropical coastal species not restricted to glacial refugia. J Biogeogr 38:1923–1935. https://doi.org/10.1111/j.1365-2699.2011.02539.x

Pinheiro F, Cozzolino S, Barros F, Gouveia TMZM, Suzuki RM, Fay MF, Palma-Silva C (2013) Phylogeographic structure and outbreeding depression reveal early stages of reproductive isolation in the Neotropical orchid Epidendrum denticulatum. Evolution 67:2024–2039. https://doi.org/10.1111/evo.12085

Pinheiro F, Cozzolino S, Munt DD, Barros F, Félix LP, Fay M, Palma-Silva C (2014) Rock outcrop orchids reveal the genetic connectivity and diversity of inselbergs of northeastern Brazil. BMC Evol Biol 14:49. https://doi.org/10.1186/1471-2148-14-49

Pinheiro F, Cardoso-Gustavson P, Suzuki RM, Abrao MCR, Guimaraes LR, Draper D, Moraes AP (2015) Strong postzygotic isolation prevents introgression between two hybridizing Neotropical orchids, Epidendrum denticulatum and E. fulgens. Evol Ecol 29:229–248. https://doi.org/10.1007/s10682-015-9753-z

Pompéia SL, Ferreira A, Rossi L, Aidar MPM, Moraes RP, Santos RP (1993) A vegetação da Ilha dos Alcatrazes. In: Anonymous (ed.) III Simpósio de Ecossistemas da Costa Brasileira. ACIESP, São Paulo, pp 54–67

Porembski S, Barthlott W (2000) Inselbergs. biotic diversity of isolated rock outcrops in tropical and temperate regions. Springer, Berlin

Rocha Filho LC, Cerântola NCM, Garófalo CA, Imperatriz-Fonseca VL, Lama MA (2013) Genetic differentiation of the Euglossini (Hymenoptera, Apidae) populations on a mainland coastal plain and an island in southeastern Brazil. Genetica 141:65–74. https://doi.org/10.1007/s10709-013-9706-9

Sasa MM, Chippindale PT, Johnson NA (1998) Patterns of postzygotic isolation in frogs. Evolution 52:1811–1820. https://doi.org/10.1111/j.1558-5646.1998.tb02258.x

Scopece G, Lexer C, Widmer A, Cozzolino S (2010) Polymorphism of postmating reproductive isolation within plant species. Taxon 59:1367–1374. https://doi.org/10.1002/tax.595004

Stoeckel S, Masson JP (2014) The exact distributions of F IS under partial asexuality in small finite populations with mutation. PLoS ONE 9:e85228. https://doi.org/10.1371/journal.pone.0085228

Suguio K, Louis M, Bittencourt ACSP, Dominguez JML, Flexor J-M, Azevedo AEG (1985) Flutuações do nível relativo do mar durante o Quaternario superior ao longo do litoral Brasileiro e suas implicações na sedimentação costeira. Revista Brasil Geoci 15:273–286

Suguio K, Martin L, Flexor JM (1988) Quaternary sea levels of the Brazilian coast: recent progress. Episodes J Int Geosci 11:203–208

Sujii PS, Cozzolino S, Pinheiro F (2019) Hybridization and geographic distribution shapes the spatial genetic structure of two co-occurring orchid species. Heredity 123:458–469. https://doi.org/10.1038/s41437-019-0254-7

Turissini DA, McGirr JA, Patel SS, David JR, Matute DR (2018) The rate of evolution of postmating-prezygotic reproductive isolation in Drosophila. Molec Biol Evol 35:312–334. https://doi.org/10.1093/molbev/msx271

van Oosterhout C, Hutchinson WF, Wills DPM, Shipley P (2004) MICRO-CHECKER: software for identifying and correcting genotyping errors in microsatellite data. Molec Ecol Resources 4:535–538. https://doi.org/10.1111/j.1471-8286.2004.00684.x

Verity R, Nichols RA (2016) Estimating the number of subpopulations (K) in structured populations. Genetics 203:1827–1839. https://doi.org/10.1534/genetics.115.180992

Via S (2009) Natural selection in action during speciation. Proc Natl Acad Sci USA 106:9939–9946. https://doi.org/10.1073/pnas.0901397106
Acknowledgements
We thank Lucia Rossi and Thais de Beauclair Guimarães for the assistance in sampling plants at Alcatrazes Island. The authors thank Espaço da Escrita – Pró-Reitoria de Pesquisa—UNICAMP—for the language services provided.
Funding
This research was supported by grants from Fundação de Amparo à Pesquisa do Estado de São Paulo (FAPESP-2009/15052–0, 2020/02150–3) to FP, fellowships from CNPq –PIBIC to GSV and FAEPEX (FUNCAMP) to TC. FP and CPS received fellowships in scientific productivity from CNPq (300927/2016–9; 300819/2016–1, respectively).
Ethics declarations
Conflict of interest
The authors declare that they have no conflict of interest.
Additional information
Publisher's Note
Springer Nature remains neutral with regard to jurisdictional claims in published maps and institutional affiliations.
Handing editor: Mario Fernández-Mazuecos.
Supplementary Information
Below is the link to the electronic supplementary material.
Information on Electronic Supplementary Material
Information on Electronic Supplementary Material
Online Resource 1. Results of assignment test performed with the software Maverick.
Online Resource 2. Fruit set of hand pollination experiments.
Online Resource 3. Description of nine plastid microsatellite haplotypes of Epidendrum fulgens.
About this article
Cite this article
Pinheiro, F., Veiga, G.S., Chaves, C.J.N. et al. Reproductive barriers and genetic differentiation between continental and island populations of Epidendrum fulgens (Orchidaceae). Plant Syst Evol 307, 36 (2021). https://doi.org/10.1007/s00606-021-01759-y
Received:

Accepted:

Published:
Keywords
Genetic drift

Gene flow

Inbreeding depression

Outbreeding depression

Reproductive isolation

Speciation