Abstract
The taxonomic identity and phylogenetic relationships of several South African perennial taxa often synonymised to the European Spergularia media are discussed. In particular, the case of Arenaria glandulosa Jacq., a species described as native to the Cape region of South Africa, was revisited. We found this taxon to be a Spergularia, endemic to salt-laden coastal (and rarely also saline inland) habitats of the Western Cape and Eastern Cape provinces of South Africa. This taxon is a prostrate to procumbent caespitose herb, densely glandulous all over, with small flowers solitary at the base of each leaf-like bract or in congested dichasial cymes, producing petals about equalling the sepals and free styles, among other characters. Further, we describe a morphologically similar species (often mistaken for S. media and S. bocconei) occurring in succulent Karoo scrub of Namaqualand, as a new species, named S. namaquensis. Both are glandulous dwarf subshrubs considerably differing from the recently discovered S. quartzicola, a soil-specialist endemic from Namaqualand quartzitic outcrops, by many notable vegetative and reproductive features. Molecular analyses of plastid (trnL–trnF region) and nuclear ribosomal (5.8S-ITS2 region) DNA sequence data support the morphological differentiation between the South African species S. glandulosa, S. namaquensis and S. quartzicola, representing an independent lineage when compared with the Northern Hemisphere members of the S. maritima group. Synonymy, new complete descriptions and ecological and distributional data are provided to facilitate further identification of species within the putative S. media group.
Access options
Buy single article
Instant access to the full article PDF.
USD 39.95
Price excludes VAT (USA)
Tax calculation will be finalised during checkout.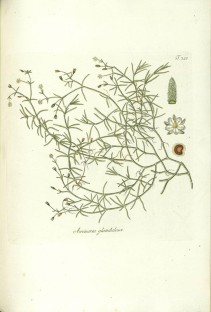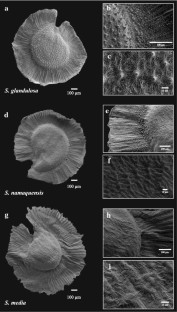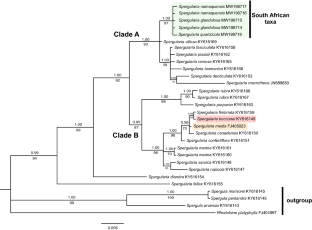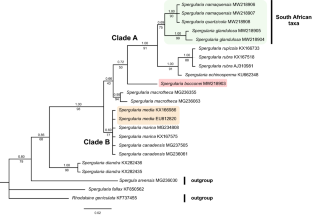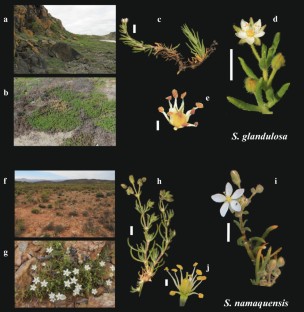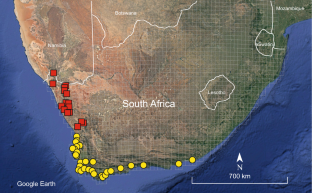 Data availability
Information on voucher sources and GenBank accession numbers for the studied DNA regions is given in Table 2.
References
Abdullah MT (2017) Conserving the biodiversity of Kuwait through DNA barcoding the flora. PhD Thesis, University of Edinburgh, Edinburgh

Adams LG, West JG, Cowley KJ (2008) Revision of Spergularia (Caryophyllaceae) in Australia. Austral Syst Bot 21:251–270. https://doi.org/10.1071/SB08015

Alonso MÁ, Crespo MB, Martínez-Azorín M, Mucina L (2021) Morphological and molecular evidence supports the description of Spergularia quartzicola (Caryophyllaceae) as a new endemic species from South Africa. Pl Biosyst. https://doi.org/10.1080/11263504.2021.1887955

Akaike H (1974) A new look at the statistical model identification. IEEE Trans Autom Control 19:716–723. https://doi.org/10.1109/TAC.1974.1100705

Bidak LMM (2005) On the seed ecology of two life forms of Spergularia (Caryophyllaceae). Ecol Medit 31:55–63

Bittrich V (1993) Caryophyllaceae. In: Kubitzki K, Rohwer JC, Bittrich V (eds) The families and genera of vascular plants, vol. 2. Magnoliid, Hamamelid, and Caryophyllid families. Springer, Berlin, pp 206–236

Briquet J (1906) Règles internationales de la nomenclature botanique adoptées par le Congrès International de Botanique de Vienne 1905. G. Fischer Verlag, Jena

Candau P, Devesa JA (1983) Contribución al conocimiento del polen y de las semillas del género Spergularia en Andalucía occidental. Lazaroa 5:187–200

Chase MW, Hills HH (1991) Silica gel: an ideal material for field preservation of leaf samples for DNA studies. Taxon 40:215–220. https://doi.org/10.2307/1222975

Darriba D, Taboada GL, Doallo R, Posada D (2012) jModelTest 2: more models, new heuristics and parallel computing. Nature Meth 9:772. https://doi.org/10.1038/nmeth.2109

de Vere N, Rich TCG, Ford CR, Trinder SA, Long C, Moore CW, Satterthwaite D, Davies H, Allainguillaume J, Ronca S, Tatarinova T, Garbett H, Walker K, Wilkinson MJ (2012) DNA Barcoding the Native Flowering Plants and Conifers of Wales. PLoS ONE 7:e37945.  https://doi.org/10.1371/journal.pone.0037945

Desvaux NA (1816) Examen critique des Genres Sabline (Arenaria), et Céraiste (Cerastium). J Bot Agric 3:213–228

Dillenberger MS, Kadereit JW (2014) Maximum polyphyly: Multiple origins and delimitation with plesiomorphic characters require a new circumscription of Minuartia (Caryophyllaceae). Taxon 63:64–88. https://doi.org/10.12705/631.5

Doyle JJ, Doyle JL (1987) A rapid DNA isolation procedure for small quantities of fresh leaf tissue. Phytochem Bull 19:11–15

Edgar RC (2004) MUSCLE: multiple sequence alignment with high accuracy and high throughput. Nucl Acids Res 32:1792–1797. https://doi.org/10.1093/nar/gkh340

Felsenstein J (1981) Evolutionary trees from DNA sequences: a maximum likelihood approach. J Molec Evol 17:368–376. https://doi.org/10.1007/BF01734359

Felsenstein J (1985) Confidence limits on phylogenies: an approach using the bootstrap. Evolution 39:783–791. https://doi.org/10.2307/2408678

Fischer FB, Meyer CA (1835) Index Seminum, quae Hortus Botanicus Imperialis Petropolitanus pro mutua commutatione offert. Accedunt animadversiones botanicae nonnullae. Petropoli [St. Petersburg]

Goldblatt P, Manning JC (eds) (2000) Cape plants: a conspectus of the Cape Flora of South Africa. National botanical institute, Cape Town & Missouri Botanical Garden, St Louis

Greenberg AK, Donoghue MJ (2011) Molecular systematics and character evolution in Caryophyllaceae. Taxon 60:1637–1652. https://doi.org/10.1002/tax.606009

Harbaugh DT, Nepokroeff M, Rabeler RK, McNeill J, Zimmer EA, Wagner WL (2010) A new lineage-based tribal classification of the family Caryophyllaceae. Int J Pl Sci 171:185–198. https://doi.org/10.1086/648993

Hartman RL, Rabeler RK (2005) Spergularia. In: Flora of North America Editorial Committee (eds) Flora of North America north of Mexico, vol. 5(2). Oxford University Press, Oxford, pp. 16–23

Hernández-Ledesma P, Berendsohn WG, Borsch T, von Mering S, Akhani H, Arias S, Castañeda-Noa I, Eggli U, Eriksson R, Flores-Olvera H, Fuentes-Bazán S, Kadereit G, Klak C, Korotkova N, Nyffeler R, Ocampo G, Ochoterena H, Oxelman B, Rabeler RK, Sánchez A, Schlumpberger BO, Uotila P (2015) A taxonomic backbone for the global synthesis of species diversity in the angiosperm order Caryophyllales. Willdenowia 45:281–383. https://doi.org/10.3372/wi.45.45301

Heynhold G (1847) Nomenclator botanicus hortensis, oder Alphabetische und Synonymische Aufzahlung der in der Jahren 1840 bis 1846 in den europäischen Gärten eingeführten Gewächse nebst Angabe ihres Autors. ihres Vaterlandes, ihrer Dauer und Cultur. Vol. 2. Arnoldischen Buchhandlung, Dresden

IPNI (2019) The international plant names index. Available at: http://www.ipni.org. Accessed 22 Jun 2019

Jacquin N (1798) Plantarum rariorum horti caesarei schoenbrunnensis descriptiones et icones, vol. 3. C.F. Wappler, Wien

Kindberg NC (1863) Monographia generis Lepigonorum. Nova Acta Regiae Soc Sci Upsal 4(7):3–44

Kool A, Thulin M (2017) A giant spurrey on a tiny island: on the phylogenetic position of Sanctambrosia manicata (Caryophyllaceae) and the generic circumscriptions of Spergula, Spergularia and Rhodalsine. Taxon 66:615–622. https://doi.org/10.12705/663.6

Kounov A, Viola AL, De Wit MJ, Andreoli M (2008) A Mid Cretaceous paleo-Karoo river valley across the knersvlakte plain (northwestern coast of South Africa): evidence from apatite fission-track analysis. S African J Geol 111:409–420. https://doi.org/10.2113/gssajg.111.4.409

Krige J, Dreyer LL, Mucina L (2009) Floristic links between the west Coast and south Coast (South Africa) - is the Breede River valley a migration route? S African J Bot 75:408. https://doi.org/10.1016/j.sajb.2009.02.071

Kumar S, Stecher G, Li M, Knyaz C, Tamura K (2018) MEGA X: molecular evolutionary genetics analysis across computing platforms. Molec Biol Evol 35:1547–1549. https://doi.org/10.1093/molbev/msy096

Kúr P, Košnar J, Koutecký P, Tremetsberger K, Štech M (2016) Origin of Spergularia ×kurkae, a hybrid between the rare endemic S. echinosperma and its widespread congener S. rubra. Preslia 88:391–407

Kuzmina ML, Braukmann TWA, Fazekas AJ, Graham SW, Dewaard SL, Rodrigues A, Bennett BA, Dickinson TA, Saarela JM, Catling PM, Newmaster SG, Percy DM, Fenneman E, Lauron-Moreau A, Ford B, Gillespie L, Subramanyam R, Whitton J, Jennings L, Metsger D, Warne CP, Brown A, Sears E, Dewaard JR, Zakharov EV, Hebert PDN (2017). Using herbarium-derived DNAs to assemble a large-scale DNA barcode library for the vascular plants of Canada. Applic Pl Sci 5:1700079. https://doi.org/10.3732/apps.1700079

Leistner OA, Morris JW (1976) Southern African place names. Ann Cape Prov Mus 12:1–565

Le Roux A (2015) Wild flowers of Namaqualand, 4th edn. Struik Nature, Cape Town

López González G (2010) Sobre el género Spergula L. [incl. Spergularia (Pers.) Pers. ex J. Presl & C. Presl, nom. cons.] (Caryophyllaceae) y sus especies en la península ibérica e Islas Baleares. Lagascalia 30:7–18

Maire R (1963) Flore de l'Afrique du Nord, vol. 9. Paul Lechevalier, Paris

Manning JC, Goldblatt P (eds) (2012) Plants of the greater cape floristic region, 1: the core cape flora. South African National Biodiversity Institute, Pretoria

Midgley GF, Hannah L, Roberts R, McDonald DJ, Allsopp J (2001) Have pleistocene climatic cycles influenced species richness in the greater cape mediterranean region? J Medit Ecol 2:137–144

Monnier P, Ratter JA (1993) Spergularia. In: Tutin TG, Burges NA, Chater AO, Edmondson JR, Heywood VH, Moore DM, Valentine DH, Walters SM, Webb DA (eds) Flora europaea, vol. 1, 2nd edn. Cambridge University Press, Cambridge, pp 186–188

Mucina L, Rutherford MC (eds) (2006) The vegetation of South Africa Lesotho and Swaziland. South African National Biodiversity Institute, Pretoria

National Geospatial Information (2020) SA mapsheet referencing. Available at: http://www.ngi.gov.za/index.php/what-we-do/maps-and-geospatial-information/41-sa-mapsheet-referencing. Accessed 17 Jun 2020

Nei M, Kumar S (2000) Molecular evolution and phylogenetics. Oxford University Press, New York

Oxelman B, Ahlgren B, Thulin M (2002) Circumscription and phylogenetic relationships of Gymnocarpos (Caryophyllaceae-Paronychioideae). Edinburgh J Bot 59:221–237. https://doi.org/10.1017/S0960428602000045

Oxelman B, Kornhall P, Olmstead RG, Bremer B (2005) Further disintegration of scrophulariaceae. Taxon 54:411–425. https://doi.org/10.2307/25065369

Pax F, Hoffmann K (1934) Caryophyllaceae. In: Engler A, Harms H (eds) Die natürlichen Pflanzenfamilien, vol. 16c, 2nd edn. Wilhelm Engelmann, Leipzig, pp 275–364

Rasband WS (2017) ImageJ. U.S. National Institutes of Health, Bethesda, Maryland. Available at: https://imagej.nih.gov/ij/. Accessed 19 Mar 2020

Ratter JA (1990) Spergularia. In: Castroviejo S, Laínz M, López González G, Montserrat P, Muñoz Garmendia F, Paiva J, Villar L (eds) Flora iberica, vol. 2. Real Jardín Botánico. CSIC, Madrid, pp 149–161

Ronquist F, Teslenko M, van der Mark P, Ayres DL, Darling A, Höhna S, Larget B, Liu L, Suchard MA, Huelsenbeck JP (2012) MrBayes 3.2: efficient Bayesian phylogenetic inference and model choice across a large model space. Syst Biol 61:1–4. https://doi.org/10.1093/sysbio/sys029

Rossbach RP (1940) Monograph of Spergularia in North and South America. Rhodora 42:57–83, pl. 589; 105–143, pl. 590–592; 158–193, pl. 593–596; 203–213. [Reprinted with the same pagination in Contrib Gray Herb 130]

Rossbach RP (1943) El género Spergularia (Caryophyllaceae) en Chile. Darwiniana 6:211–256

Saitou N, Nei M (1987) The neighbour-joining method: a new method for reconstructing phylogenetic trees. Molec Biol Evol 4:406–425. https://doi.org/10.1093/oxfordjournals.molbev.a040454

Schmiedel U (2002) The quartz fields of southern Africa flora, phytogeography, vegetation, and habitat ecology. PhD Thesis, Botanisches Institut, Universität zu Köln, Köln

Snijman DA (2013) Caryophyllaceae (= Illicebraceae). In: Snijman DA (ed) Plants of the greater cape floristic region, 2: the extra cape flora. South African National Biodiversity Institute, Pretoria, pp 346–348

Sonder OW (1860) Order XVIII Caryophylleae Juss. In: Harvey WH, Sonder OW (eds) Flora Capensis; being a systematic description of the plants of the Cape Colony, Caffraria, & Port Natal, vol. 1. Hodges. Smith & Co, Dublin, pp 120–151

Tamura K (1992) Estimation of the number of nucleotide substitutions when there are strong transition-transversion and G + C-content biases. Molec Biol Evol 9:678–687. https://doi.org/10.1093/oxfordjournals.molbev.a040752

Thiers B (2020+) Index Herbariorum: a global directory of public herbaria and associated staff. New York Botanical Garden's Virtual Herbarium, Bronx. Available at: http://sweetgum.nybg.org/ih/. Accessed 22 Apr 2020

Turland NJ, Wiersema JH, Barrie FR, Greuter W, Hawksworth DL, Herendeen PS, Knapp S, Kusber W-H, Li D-Z, Marhold K, May TW, McNeill J, Monro AM, Prado J, Price MJ, Smith GF (eds) (2018) International Code of Nomenclature for algae, fungi, and plants (Shenzhen Code) adopted by the Nineteenth International Botanical Congress Shenzhen, China, July 2017. Koeltz Scientific Books, Glashüten. https://doi.org/https://doi.org/10.12705/Code.2018

Visser J, Robinson T, Jansen van Vuuren B (2020) Spatial genetic structure in the rock hyrax (Procavia capensis) across the Namaqualand and western Fynbos areas of South Africa — a mitochondrial and microsatellite perspective. Canad J Zool 98:557–571. https://doi.org/10.1139/cjz-2019-0154

White TJ, Bruns TD, Lee SB, Taylor JW (1990) Amplification and direct sequencing of fungal ribosomal RNA genes for phylogenetics. In: Innis MA, Gelfand DH, Sninsky JJ, White TJ (eds) PCR protocols: a guide to methods and applications. Academic Press, New York, pp 315–322
Acknowledgements
We are grateful to the curators of the herbaria cited in the text, in particular to Ernst Vitek (Naturhistorisches Museum Wien) and Vanessa Rodríguez Invernón (Muséum National d'Histoire Naturelle, Paris) for their help with the collections at W and P, respectively. Franci Siebert, Potchefstroom, kindly helped with some terms in Afrikaans. Two anonymous reviewers and the editors made notable suggestions which improved the final text. Herbarium specimens were collected under permission provided by CapeNature of Western Cape Province (collecting and export permits no. AAA005-00080-0028, AAA008-00031-0028, 0027-AAA008-00699 and 0028-AAA008-00203). L. Mucina acknowledges the logistic support of the Iluka Chair at the Murdoch University, Perth, Australia.
Funding
This work was partly supported by H2020 Research and Innovation Staff Exchange (RISE) Programme of the European Commission, project 645636: "Insect–plant relationships: insights into biodiversity and new applications" (FlyHigh), and the grants ACIE 16–01, ACIE 17–01 and ACIE 18–03 from the University of Alicante.
Ethics declarations
Conflict of interest
The authors declare not having either conflict of interests or competing interests.
Ethical approval
The Department of Environment and Nature Conservation of the Northern Cape Province (collecting and export permits numbers FLORA046/2010, FLORA047/2010, FLORA069/2011, FLORA070/2011, FLORA61/2/2015, FLORA61/2/2015, FLORA0057/2017, FLORA0058/2017) and CapeNature of the Western Cape Province of South Africa (collecting and export permits numbers AAA005-00080–0028, AAA008-00031–0028, 0027-AAA008-00699, 0028-AAA008-00203) provided permission to collect and export herbarium. We also thank all managers of the visited nature reserves for permission to work in areas under their care.
Consent for publication
All authors give their consent to the submission and publication of this paper.
Additional information
Handling Editor: Michal Ronikier.
Publisher's Note
Springer Nature remains neutral with regard to jurisdictional claims in published maps and institutional affiliations.
Information on electronic supplementary material
Information on electronic supplementary material
Information on electronic supplementary material
Online resource 1. Additional studied vouchers of Spergularia.
Online resource 2. Nexus file for trnL-trnF sequence alignment of Spergularia.
Online resource 3. Nexus file for 5.8S-ITS2 sequence alignment of Spergularia.
About this article
Cite this article
Alonso, M., Crespo, M.B., Martínez-Azorín, M. et al. Taxonomic identity and evolutionary relationships of South African taxa related to the Spergularia media group (Caryophyllaceae). Plant Syst Evol 307, 24 (2021). https://doi.org/10.1007/s00606-021-01743-6
Received:

Accepted:

Published:

DOI: https://doi.org/10.1007/s00606-021-01743-6
Keywords
Cape

Molecular phylogenetics

Namaqualand

Nomenclature

Sperguleae

Taxonomy