Abstract
The monophyly of Nymphaeaceae (water lilies) represents an important, but controversial aspect in the effort to understand the evolutionary history of early-diverging angiosperms. Resolving the phylogenetic position of the genus Nuphar appears to be a key to this understanding. A recent plastid phylogenomic investigation claimed new evidence for the monophyly of Nymphaeaceae. However, a preliminary gene-wise re-analysis of the same dataset provides partial support for the paraphyly of the family. The present investigation re-assesses the previous conclusion of monophyly of Nymphaeaceae under the same dataset and determines the congruence of phylogenetic signal across different plastome genes and data partition strategies. Phylogenetic tree inference is conducted on each of 78 protein-coding plastome genes, both individually and upon concatenation, and under four data partitioning schemes. The results of this re-analysis indicate considerable phylogenetic incongruence among different gene trees as well as data partitioning schemes. Hence, the monophyly of Nymphaeaceae remains indeterminate. The importance of archiving all data of an investigation in publicly accessible data repositories, along with sufficient details to replicate the published results, is discussed.
Access options
Buy single article
Instant access to the full article PDF.
US$ 39.95
Tax calculation will be finalised during checkout.
Subscribe to journal
Immediate online access to all issues from 2019. Subscription will auto renew annually.
US$ 119
Tax calculation will be finalised during checkout.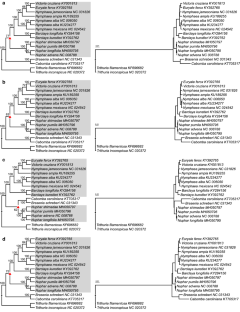 References
Arenas M (2015) Trends in substitution models of molecular evolution. Frontiers Genet 6:319. https://doi.org/10.3389/fgene.2015.00319

Barrett C, Specht C, Leebens-Mack J, Stevenson D, Zomlefer W, Davis J (2014) Resolving ancient radiations: can complete plastid gene sets elucidate deep relationships among the tropical gingers (Zingiberales)? Ann Bot (Oxford) 113:119–133. https://doi.org/10.1093/aob/mct264

Bernhardt N, Brassac J, Kilian B, Blattner F (2017) Dated tribe-wide whole chloroplast genome phylogeny indicates recurrent hybridizations within Triticeae. BMC Evol Biol 17:141. https://doi.org/10.1186/s12862-017-0989-9

Biswal D, Debnath M, Kumar S, Tandon P (2012) Phylogenetic reconstruction in the order Nymphaeales: ITS2 secondary structure analysis and in silico testing of maturase K (matK) as a potential marker for DNA barcoding. BMC Bioinform 13:S26. https://doi.org/10.1186/1471-2105-13-S17-S26

Borsch T, Löhne C, Wiersema J (2008) Phylogeny and evolutionary patterns in Nymphaeales: integrating genes, genomes and morphology. Taxon 57:1052–1081. https://doi.org/10.2307/27756765

Carbonell-Caballero J, Alonso R, Iba V, Terol J, Talon M, Dopazo J (2015) A phylogenetic analysis of 34 chloroplast genomes elucidates the relationships between wild and domestic species within the genus Citrus. Molec Biol Evol 32:2015–2035. https://doi.org/10.1093/molbev/msv082

Chen F, Liu X, Yu C, Chen Y, Tang H, Zhang L (2017) Water lilies as emerging models for Darwin's abominable mystery. Hort Res 4:17051. https://doi.org/10.1038/hortres.2017.51

De Biasse M, Ryan J (2019) Phylotocol: promoting transparency and overcoming bias in phylogenetics. Syst Biol 68:672–678. https://doi.org/10.1093/sysbio/syy090

De Lima C, Dos Santos FdA, Giulietti A (2014) Morphological strategies of Cabomba (Cabombaceae), a genus of aquatic plants. Acta Bot Brasil 28:327–338. https://doi.org/10.1590/0102-33062014abb3439

Friedman W (2008) Hydatellaceae are water lilies with gymnospermous tendencies. Nature 453:94–97. https://doi.org/10.1038/nature06733

Goncalves D, Simpson B, Ortiz E, Shimizu G, Jansen R (2019) Incongruence between gene trees and species trees and phylogenetic signal variation in plastid genes. Molec Phylogen Evol 138:219–232. https://doi.org/10.1016/j.ympev.2019.05.022

Goremykin V, Nikiforova S, Avalieri D, Indo M, Lockhart P (2015) The root of flowering plants and total evidence. Syst Biol 64:879–891. https://doi.org/10.1093/sysbio/syv028

Graham S, Olmstead R, Barrett S (2002) Rooting phylogenetic trees with distant outgroups: a case study from the commelinoid monocots. Molec Biol Evol 19:1769–1781. https://doi.org/10.1093/oxfordjournals.molbev.a003999

Greenberg J, White H, Carrier S, Scherle R (2009) A metadata best practice for a scientific data repository. J Libr Metadata 9:194–212. https://doi.org/10.1080/19386380903405090

Gruenstaeudl M, Nauheimer L, Borsch T (2017) Plastid genome structure and phylogenomics of Nymphaeales: conserved gene order and new insights into relationships. Pl Syst Evol 303:1251–1270. https://doi.org/10.1007/s00606-017-1436-5

Gruenstaeudl M, Gerschler N, Borsch T (2018) Bioinformatic workflows for generating complete plastid genome sequences—an example from Cabomba (Cabombaceae) in the context of the phylogenomic analysis of the water-lily clade. Life 8:25. https://doi.org/10.3390/life8030025

He D, Gichira A, Li Z, Nzei J, Guo Y, Wang Q, Chen J (2018) Intergeneric relationships within the early-diverging angiosperm family Nymphaeaceae based on chloroplast phylogenomics. Int J Molec Sci 19:3780. https://doi.org/10.3390/ijms19123780

Hurvich C, Tsai C (1989) Regression and time series model selection in small samples. Biometrika 76:297–307. https://doi.org/10.1093/biomet/76.2.297

Iles W, Rudall P, Sokoloff D, Remizowa M, Macfarlane T, Logacheva M, Graham S (2012) Molecular phylogenetics of Hydatellaceae (Nymphaeales): sexual-system homoplasy and a new sectional classification. Amer J Bot 99:663–676. https://doi.org/10.3732/ajb.1100524

Kainer D, Lanfear R (2015) The effects of partitioning on phylogenetic inference. Molec Biol Evol 32:1611–1627. https://doi.org/10.1093/molbev/msv026

Katoh K, Standley D (2013) MAFFT multiple sequence alignment software version 7: improvements in performance and usability. Molec Biol Evol 30:772–780. https://doi.org/10.1093/molbev/mst010

Kearse M, Moir R, Wilson A, Stones-Havas S, Sturrock S, Buxton S, Cooper A, Markowitz S, Duran C, Thierer T, Ashton B, Meintjes P, Drummond A (2012) Geneious basic: an integrated and extendable desktop software platform for the organization and analysis of sequence data. Bioinformatics 28:1647–1649. https://doi.org/10.1093/bioinformatics/bts199

Li B, Zheng Y (2018) Dynamic evolution and phylogenomic analysis of the chloroplast genome in Schisandraceae. Sci Rep 8:9285. https://doi.org/10.1038/s41598-018-27453-7

Li Y, Yang Y, Yu L, Du X, Ren G (2018) Plastomes of nine hornbeams and phylogenetic implications. Ecol Evol 8:8770–8778. https://doi.org/10.1002/ece3.4414

Li HT, Yi TS, Gao LM, Ma PF, Zhang T, Yang JB, Gitzendanner M, Fritsch P, Cai J, Luo Y, Wang H, van der Bank M, Zhang SD, Wang QF, Wang J, Zhang ZR, Fu CN, Yang J, Hollingsworth P, Chase M, Soltis D, Soltis P, Li DZ (2019) Origin of angiosperms and the puzzle of the jurassic gap. Nat Pl 5:461–470. https://doi.org/10.1038/s41477-019-0421-0

Löhne C, Borsch T, Wiersema J (2007) Phylogenetic analysis of Nymphaeales using fast-evolving and noncoding chloroplast markers. Bot J Linn Soc 154:141–163. https://doi.org/10.1111/j.1095-8339.2007.00659.x

Löhne C, Wiersema J, Borsch T (2009) The unusual Ondinea, actually just another Australian water-lily of Nymphaea subg. Anecphya (Nymphaeaceae). Willdenowia 39:55–58. https://doi.org/10.3372/wi.39.39104

Ma P, Zhang Y, Zeng C, Guo Z, Li D (2014) Chloroplast phylogenomic analyses resolve deep-level relationships of an intractable bamboo tribe Arundinarieae (Poaceae). Syst Biol 63:933–950. https://doi.org/10.1093/sysbio/syu054

Marechal A, Brisson N (2010) Recombination and the maintenance of plant organelle genome stability. New Phytol 186:299–317. https://doi.org/10.1111/j.1469-8137.2010.03195.x

Paradis E, Schliep K (2018) Ape 5.0: an environment for modern phylogenetics and evolutionary analyses in R. Bioinformatics 35:526–528. https://doi.org/10.1093/bioinformatics/bty633

Parks M, Cronn R, Liston A (2009) Increasing phylogenetic resolution at low taxonomic levels using massively parallel sequencing of chloroplast genomes. BMC Biol 7:84. https://doi.org/10.1186/1741-7007-7-84

Piel W, Donoghue M, Sanderson M (2002) TreeBASE: a database of phylogenetic knowledge. In: Shimura J, Wilson K, Gordon D (eds) To the interoperable 'Catalog of Life' with partners—species 2000 Asia Oceania. In: Proceedings of 2nd international workshop of species 2000, National Institute for Environmental Studies, Ibaraki, Japan, pp 41–47. https://www.nies.go.jp/kanko/kenkyu/pdf/r-171-2002.pdf

R Development Core Team (2013) R: a language and environment for statistical computing. Computing, R Foundation for Statistical, Vienna. Available at:  http://www.r-project.org. Accessed 4 Aug 2019

Roche D, Kruuk L, Lanfear R, Binning S (2015) Public data archiving in ecology and evolution: how well are we doing? PLoS Biol 13:e1002295. https://doi.org/10.1371/journal.pbio.1002295

Ronquist F, Huelsenbeck J (2003) MrBayes 3: Bayesian phylogenetic inference under mixed models. Bioinformatics 19:1572–1574. https://doi.org/10.1093/bioinformatics/btg180

Rota J, Malm T, Chazot N, Pena C, Wahlberg N (2018) A simple method for data partitioning based on relative evolutionary rates. PeerJ 6:e5498. https://doi.org/10.7717/peerj.5498

Ruhfel B, Gitzendanner M, Soltis P, Soltis D, Burleigh J (2014) From algae to angiosperms-inferring the phylogeny of green plants (Viridiplantae) from 360 plastid genomes. BMC Evol Biol 14:23. https://doi.org/10.1186/1471-2148-14-23

Ruhlman T, Zhang J, Blazier J, Sabir J, Jansen R (2017) Recombination-dependent replication and gene conversion homogenize repeat sequences and diversify plastid genome structure. Amer J Bot 104:559–572. https://doi.org/10.3732/ajb.1600453

Saarela J, Rai H, Doyle J, Endress P, Mathews S, Marchant A, Briggs B, Graham S (2007) Hydatellaceae identified as a new branch near the base of the angiosperm phylogenetic tree. Nature 446:5–8. https://doi.org/10.1038/nature05612

Saarela J, Burke S, Wysocki W, Barrett M, Clark L, Craine J, Peterson P, Soreng R, Vorontsova M, Duvall M (2018) A 250 plastome phylogeny of the grass family (Poaceae): topological support under different data partitions. PeerJ 6:e4299. https://doi.org/10.7717/peerj.4299

Schliep K (2011) Phangorn: phylogenetic analysis in R. Bioinformatics 27:592–593. https://doi.org/10.1093/bioinformatics/btq706

Shen XX, Hittinger C, Rokas A (2017) Contentious relationships in phylogenomic studies can be driven by a handful of genes. Nat Ecol Evol 1:0126. https://doi.org/10.1038/s41559-017-0126

Sokoloff D, Remizowa M, Macfarlane T, Rudall P (2008) Classification of the early-divergent angiosperm family Hydatellaceae: one genus instead of two, four new species and sexual dimorphism in dioecious taxa. Taxon 57:179–200. https://doi.org/10.2307/25065959

Sokoloff D, Marques I, Macfarlane T, Remizowa M, Lam V, Pellicer J, Hidalgo O, Graham S (2019) Cryptic species in an ancient flowering-plant lineage (Hydatellaceae, Nymphaeales) revealed by molecular and micromorphological data. Taxon 68:1–19. https://doi.org/10.1002/tax.12026

Stamatakis A (2014) RAxML version 8: a tool for phylogenetic analysis and post-analysis of large phylogenies. Bioinformatics 30:1312–1313. https://doi.org/10.1093/bioinformatics/btu033

Stamatakis A, Hoover P, Rougemont J (2008) A rapid bootstrap algorithm for the RAxML web servers. Syst Biol 57:758–771. https://doi.org/10.1080/10635150802429642

Sullivan A, Schiffthaler B, Thompson S, Street N, Wang X (2017) Interspecific plastome recombination reflects ancient reticulate evolution in Picea (Pinaceae). Molec Biol Evol 34:1689–1701. https://doi.org/10.1093/molbev/msx111

Tarrio R, Rodriguez-Trelles F, Ayala F (2000) Tree rooting with outgroups when they differ in their nucleotide composition from the ingroup: the Drosophila saltans and willistoni groups, a case study. Molec Phylogen Evol 16:344–349. https://doi.org/10.1006/mpev.2000.0813

Taylor M, Cooper R, Schneider E, Osborn J (2015) Pollen structure and development in Nymphaeales: insights into character evolution in an ancient angiosperm lineage. Amer J Bot 102:1685–1702. https://doi.org/10.3732/ajb.1500249

Vialette-Guiraud A, Alaux M, Legeai F, Finet C, Chambrier P, Brown S, Chauvet A, Magdalena C, Rudall P, Scutt C (2011) Cabomba as a model for studies of early angiosperm evolution. Ann Bot (Oxford) 108:589–598. https://doi.org/10.1093/aob/mcr088

Vines T, Andrew R, Bock D, Franklin M, Gilbert K, Kane N, Moore JS, Moyers B, Renaut S, Rennison D, Veen T, Yeaman S (2013) Mandated data archiving greatly improves access to research data. FASEB J 27:1–15. https://doi.org/10.1096/fj.12-218164

Vision T (2010) Open data and the social contract of scientific publishing. BioScience 60:330–331. https://doi.org/10.1525/bio.2010.60.5.2

Whitlock M, McPeek M, Rausher M, Rieseberg L, Moore A (2010) Data archiving. Amer Naturalist 175:2–3. https://doi.org/10.1086/650340

Williams T, Heaps S, Cherlin S, Nye T, Boys R, Embley T (2015) New substitution models for rooting phylogenetic trees. Philos Trans Roy Soc London B Biol Sci 370:20140336

Wolfe A, Randle C (2004) Recombination, heteroplasmy, haplotype polymorphism, and paralogy in plastid genes: implications for plant molecular systematics. Syst Bot 29:1011–1020. https://doi.org/10.1600/0363644042451008

Yang X, Tuskan G, Tschaplinski T, Cheng M (2007) Third-codon transversion rate-based Nymphaea basal angiosperm phylogeny—concordance with developmental evidence. Nat Precedings. https://doi.org/10.1038/npre.2007.320.1

Yoo MJ, Soltis P, Soltis D (2010) Expression of floral MADS-box genes in two divergent water lilies: Nymphaeales and Nelumbo. Int J Pl Sci 171:121–146. https://doi.org/10.1086/648986

Zhang Q, Sodmergen (2010) Why does biparental plastid inheritance revive in angiosperms? J Pl Res 123:201–206. https://doi.org/10.1007/s10265-009-0291-z

Zhong B, Betancur-R R (2017) Expanded taxonomic sampling coupled with gene genealogy interrogation provides unambiguous resolution for the evolutionary root of angiosperms. Genome Biol Evol 9:3154–3161. https://doi.org/10.1093/gbe/evx233

Zhu A, Fan W, Adams R, Mower J (2018) Phylogenomic evidence for ancient recombination between plastid genomes of the Cupressus–Juniperus–Xanthocyparis complex (Cupressaceae). BMC Evol Biol 18:137. https://doi.org/10.1186/s12862-018-1258-2
Acknowledgements
The author wishes to thank Thomas Borsch of the Freie Universität Berlin and the Botanischer Garten und Botanisches Museum Berlin, and Robert K. Jansen of the University of Texas at Austin for valuable discussions. The author also wishes to thank two anonymous reviewers for valuable feedback on a previous version of this manuscript. Furthermore, the author acknowledges the high-performance computing service of the ZEDAT of the Freie Universität Berlin for providing allocations of computing time.
Funding
This investigation was funded by the Deutsche Forschungsgemeinschaft (DFG, German Research Foundation)—Project Number 418670221—and by a start-up grant of the Freie Universität Berlin (Initiativmittel der Forschungskommission), both to MG. The funders had no role in study design, data collection and analysis, decision to publish, or preparation of the manuscript.
Ethics declarations
Conflict of interest
The authors declare that they have no conflict of interest.
Additional information
Publisher's Note
Springer Nature remains neutral with regard to jurisdictional claims in published maps and institutional affiliations.
Handling Editor: Marcus Koch.
Electronic supplementary material
Below is the link to the electronic supplementary material.
Information on Electronic Supplementary Material
Information on Electronic Supplementary Material
All datasets generated and analyzed during the present investigation are available on Zenodo (https://zenodo.org/record/2613673).
Online Resource 1. A list of the best-fitting nucleotide substitution models identified for each of the 78 protein-coding plastome genes under study.
Online Resource 2. Results of gene-wise phylogenetic tree inference via ML on each of the 78 protein-coding plastome genes under study. Bootstrap support values are given above the branches. For easier viewing, all taxa of Nymphaeaceae are indicated by a red bar to the right of their taxon names.
Online Resource 3. Results of phylogenetic tree inference via BI on the multi-gene alignment under four different data partitioning schemes. The layout and settings are as in Fig. 2. Posterior probabilities greater than 0.5 are given above the branches of each cladogram.
About this article
Cite this article
Gruenstaeudl, M. Why the monophyly of Nymphaeaceae currently remains indeterminate: an assessment based on gene-wise plastid phylogenomics. Plant Syst Evol 305, 827–836 (2019). https://doi.org/10.1007/s00606-019-01610-5
Received:

Accepted:

Published:

Issue Date:
Keywords
Gene-wise analysis

Monophyly

Nymphaeaceae

Nymphaeales

Plastid genome

Re-assessment