Abstract
The Ronnbergia Alliance is a recently described lineage composed of two highly supported and identifiable clades with strong geographic correlation: the Pacific and the Atlantic clades. These clades, however, are composed by species currently placed in the polyphyletic genera Aechmea, Hohenbergia, and Ronnbergia. This study aims to reorganize the species that comprise both the Pacific and Atlantic clades into stable and predictable taxonomic categories. In this context, the 26 species that compose the Pacific clade are here circumscribed in the genus Ronnbergia, whereas the 44 species grouped in the Atlantic clade are assigned to the resurrected genus Wittmackia. An updated circumscription of these two genera is presented, including a taxonomic key to recognize the species. Additionally, the respective taxonomic transferences and general information to the species are presented in the form of a synopsis. This taxonomic treatment will facilitate future approaches on the study of the systematics, conservation, and evolution of the Ronnbergia Alliance.
Access options
Buy single article
Instant access to the full article PDF.
US$ 39.95
Tax calculation will be finalised during checkout.
Subscribe to journal
Immediate online access to all issues from 2019. Subscription will auto renew annually.
US$ 119
Tax calculation will be finalised during checkout.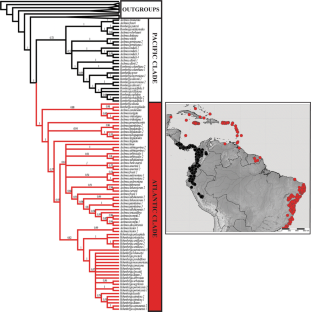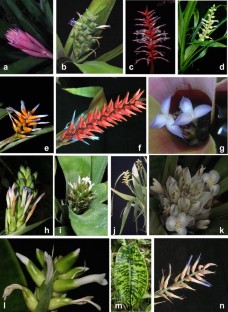 References
Acevedo-Rodríguez P, Strong MT (2005) Monocotyledons and gymnosperms of Puerto Rico and the Virgin Islands. Contr US Natl Herb 52:1–415

Aguirre-Santoro J, Betancur J (2011) Cinco especies nuevas de Aechmea (Bromeliaceae: Bromelioideae) para Colombia. Brittonia 63:300–313

Aguirre-Santoro J, Michelangeli FA, Stevenson DW (2016) Molecular Phylogenetics of the Ronnbergia Alliance (Bromeliaceae, Bromelioideae) and insights into their morphological evolution. Molec Phylogen Evol 100:1–20. doi:10.1016/j.ympev.2016.04.007

Evans TM, Jabaily RS, de Faria APG, de Sousa LDOF, Wendt T, Brown GK (2015) Phylogenetic Relationships in Bromeliaceae subfamily Bromelioideae based on chloroplast DNA sequence data. Syst Bot 40:116–128. doi:10.1600/036364415X686413

Faria APG, Wendt T (2004) The real identity of Aechmea turbinocalyx. J Bromeliad Soc 54:2–8

Faria APG, Wendt T, Brown GK (2004) Cladistic relationships of Aechmea (Bromeliaceae, Bromelioideae) and allied genera. Ann Missouri Bot Gard 91:303–319

Heller S, Leme EM, Schulte K, Benko-Iseppon AM, Zizka G (2015) Elucidating phylogenetic relationships in the Aechmea alliance: AFLP analysis of Portea and the Gravisia complex (Bromeliaceae, Bromelioideae). Syst Bot 40:716–725. doi:10.1600/036364415X689177

Horres R, Schulte K, Weising K, Zizka G (2007) Systematics of Bromelioideae (Bromeliaceae)—evidence from molecular and anatomical studies. Aliso 23:27–43

Leme EMC (1997) Rediscovering Aechmea bicolor. J Bromeliad Soc 47:8–10

Leme EMC, Siqueira Filho JA (2006) Considerações taxonômicas correlacionadas às bromélias de Pernambuco e Alagoas. In: Siqueira Filho JA, Leme EMC (eds) Fragmentos de Mata Atlântica do Nordeste. Andrea Jakobsson Estúdio, Rio de Janeiro, pp 383–407

Leme EMC, Till W, Kollmann LJC et al (2014) Miscellaneous new species of Brazilian Bromeliaceae—III. Phytotaxa 177:61–100

Manzanares JM (2002) Joyas en la Selva, Bromeliaceae del Ecuador, Parte I. Bromeliodeae, Imprenta Mariscal, Quito, Ecuador

Ramírez-Morillo IM, Carnevali G, Cetzal-Ix W (2010) Hohenbergia mesoamericana (Bromeliaceae), first record of the genus for Mesoamerica. Revista Mex Biodivers 81:21–26

Sass C, Specht CD (2010) Phylogenetic estimation of the core Bromelioids with an emphasis on the genus Aechmea (Bromeliaceae). Molec Phylogen Evol 55:559–571. doi:10.1016/j.ympev.2010.01.005

Schulte K, Horres R, Zizka G (2005) Molecular phylogeny of Bromelioideae and its implications on biogeography and the evolution of CAM in the family (Poales, Bromeliaceae). Senckenberg Biol 85:113–125

Schulte K, Barfuss MHJ, Zizka G (2009) Phylogeny of Bromelioideae (Bromeliaceae) inferred from nuclear and plastid DNA loci reveals the evolution of the tank habit within the subfamily. Molec Phylogen Evol 51:327–339. doi:10.1016/j.ympev.2009.02.003

Silva BR (2003) Contributions to the understanding of Andean and Amazonian Aechmea subgenus Chevaliera (Bromeliaceae). Selbyana 24:46–63

Silvestro D, Zizka G, Schulte K (2014) Disentangling the effects of key innovations on the diversification of Bromelioideae (Bromeliaceae). Evolution 68:163–175. doi:10.1111/evo.12236

Smith LB (1956) The Bromeliaceae of Brazil. Smithsonian Misc Collect 126:1–290

Smith LB (1960) Notes on Bromeliaceae, XV. Phytologia 7:249–257

Smith LB, Downs RJ (1979) Flora neotropica monograph no. 14, part 3. Bromelioideae (Bromeliaceae). Organization Flora Neotropica, New York Botanical Garden, New York

Utley J (1995) Bromeliaceae. In: Davidse G, Sousa M, Chater A (eds) Flora Mesoamericana, Volume 6: Alismataceae to Cyperaceae. Universidad Autonoma de Mexico, Mexico City

Weigend M (2002) Observations on the biogeography of the Amotape-Huancabamba Zone in northern Peru. Bot Rev 68:38–54. doi:10.1663/0006-8101(2002)068[0038:OOTBOT]2.0.CO;2
Acknowledgements
I am thankful to the New York Botanical Garden, CUNY-Graduate Center, COLCIENCIAS, the American Society of Plant Taxonomists, The Explorers Club of America, and The Systematic Association and Linnaean Society of London for providing funds and resources to carry out this project. I am especially thankful to Fabián A. Michelangeli, Dennis W. Stevenson, Lawrence Kelly, Barbara Thiers, and Wayt W. Thomas from the New York Botanical Garden for their logistic and academic support during this study. I am grateful to the curators of the herbaria B, RB, CEPEC, COL, G, GH, JAUM, HB, HUA, IJ, K, NY, P, SEL, UCWI, and US for providing specimens and images for this study. Finally, I want to thank André Amorim, Eldis Becquer, Julio Betancur, Keron Campbell, Tracy Commock, Lukas Daneu, Rafaela Forzza, Bruce K. Holst, Elton Leme, Raquel Monteiro Fernandes, Andreas Oberli, Paola Pedraza, Gregory Plunkett, Ivón Ramírez-Morillo, and Eugenio Santiago, who directly contributed to the laboratory and field components of this project.
Funding
This study was partially funded by the American Society of Plant Taxonomists, the Explorers Club of America, the Systematic Association and Linnaean Society of London, and the National Science Foundation (DEB-1343612, DEB-0818399, DEB-0946618).
Ethics declarations
Conflict of interest
The author declares that he has no conflict of interest.
Additional information
Handling editor: Ricarda Riina.
About this article
Cite this article
Aguirre-Santoro, J. Taxonomy of the Ronnbergia Alliance (Bromeliaceae: Bromelioideae): new combinations, synopsis, and new circumscriptions of Ronnbergia and the resurrected genus Wittmackia . Plant Syst Evol 303, 615–640 (2017). https://doi.org/10.1007/s00606-017-1394-y
Received:

Accepted:

Published:

Issue Date:
Keywords
Atlantic Forest

Caribbean

Chocó-Darién region

Ronnbergia
Wittmackia