Abstract
Chromosomal speciation processes gain increasing attention in plant systematics and evolution, and new approaches revealed a high diversity in chromosome numbers even within recognized taxa. Reliable counts linked to known accessions are thus needed yet often hardly available. We present a new online database for chromosome counts and ploidy estimates of the flora of Germany with a detailed documentation of the examined material, and its sampling locality. The chromosome database builds upon a relational database and includes standardized taxon identification, study date, georeferenced locality and additional collection as well as publication details from which the karyological information was extracted. In order to reach the best compatibility with other botanical publications of the study region, taxonomic concepts and nomenclature follow the "Rothmaler", a widely accepted field flora of vascular plants in Germany. Our online database is available at http://chromosomes.senckenberg.de. The site consists of the main page with project information, a search tool, an interactive map display, a contact and a data submission form. The zoomable map shows the localities of the search result, allows to refine the geographic search as well as to select individual data points.
Access options
Buy single article
Instant access to the full article PDF.
USD 39.95
Price excludes VAT (USA)
Tax calculation will be finalised during checkout.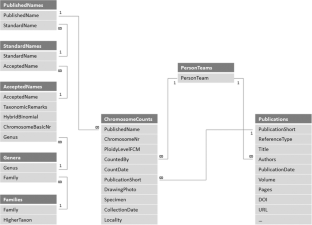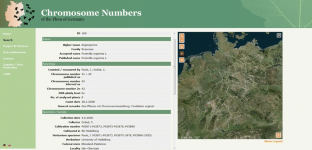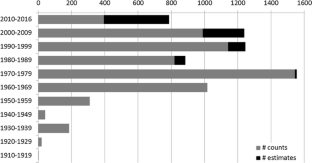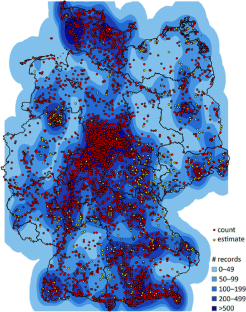 References
Agapova ND, Arkharova KB, Vakhtina LI, Zemskova EA, Tarvis LV (1990) Chromosome numbers in flowering plants of the flora of the USSR: Aceraceae-Menyanthaceae [In Russian with English summary]. Nauka, Leningrad

Agapova ND, Arkharova KB, Vakhtina LI, Zemskova EA, Tarvis LV (1993) Numeri chromosomatum Magnoliophytorum florae URSS: Moraceae-Zygophyllaceae [In Russian with English preface]. Nauka, Sankt-Peterburg

Albers F, Bennert W (1998) Chromosomenzahlen der Farn- und Blütenpflanzen Deutschlands. In: Wisskirchen R, Haeupler H (eds) Standardliste der Farn- und Blütenpflanzen Deutschlands. Verlag Eugen Ulmer, Stuttgart (Hohenheim), pp 562–616

Bareka P, Mitsainas GP, Constantinidis T, Kamari G (2008) PhytoKaryon: a karyological database of European and Mediterranean plants. Fl Medit 18:109–116

Bedini G, Garbari F, Peruzzi L (2010 onwards) Chrobase.it—chromosome numbers for the Italian flora. Available at: http://www.biologia.unipi.it/chrobase. Accessed 14 Jul 2016

Belling J (1921) On counting chromosomes in pollen-mother cells. Amer Naturalist 55:573–574

Bosch M, Simon J, López J-Pujol, Blanché C (2016) DCDB: an updated on-line database of chromosome numbers of tribe Delphinieae (Ranunculaceae). Available at: http://hdl.handle.net/2445/98702. Accessed 14 Jul 2016

Botanical Society of the British Isles (2016) BSBI database—Cytology. Available at: http://rbg-web2.rbge.org.uk/BSBI/cytsearch.php. Accessed 14 Jul 2016

Bräutigam S, Bräutigam E (1996) Determination of the ploidy level in the genus Hieracium L. subgenus Pilosella (Hill) S. F.Gray by flow cytometric DNA analysis. Folia Geobot Phytotax 31:315–321

Buttler KP, Hand R (2008) Liste der Gefäßpflanzen Deutschlands. Kochia Beiheft 3:1–107

Crow EW, Crow JF (2002) 100 years ago: Walter Sutton and the chromosome theory of heredity. Genetics 160:1–4

Dobeš C, Vitek E (2000) Documented chromosome number checklist of Austrian vascular plants. Verlag des Naturhistorischen Museums Wien, Wien

Elling B (2008) Verwilderter Raps im Osnabrücker Land. Erfassung, Charakterisierung & Auskreuzungspotenzial. PhD thesis, Osnabrück University, Osnabrück

Fedorov AA (1969) Chromosome numbers of flowering plants [In Russian with English preface]. Nauka, Leningrad

Goldblatt P, Lowry PP (2011) The index to plant chromosome numbers (IPCN): three decades of publication by the Missouri botanical garden come to an end. Ann Missouri Bot Gard 98:226–227

Góralski G, Lubczyńska P, Joachimiak AJ (2009 onwards).Chromosome number database. Available at: http://chromosomes.binoz.uj.edu.pl. Accessed 14 Jul 2016

Heitz E (1926) Der Nachweis der Chromosomen. Vergleichende Studien über ihre Zahl, Größe und Form im Pflanzenreich I. Z Bot 18:625–681

Jäger E (ed) (2011) Rothmaler—Exkursionsflora von Deutschland. Gefäßpflanzen: Grundband, 20th edn. Spektrum Akademischer Verlag, Heidelberg

Klotz S, Kühn I, Durka W (ed) (2002) BIOLFLOR—Eine Datenbank zu biologisch- ökologischen Merkmalen der Gefäßpflanzen in Deutschland. Schriftenreihe Vegetationsk 38:1–334

Koch MA, Kiefer M, German DA, Al-Shehbaz IA, Franzke A, Mummenhoff K, Schmickl R (2012) BrassiBase: tools and biological resources to study characters and traits in the Brassicaceae—version 1.1. Taxon 61:1001–1009

Kučera J, Valko I, Marhold K (2005) On-line database of the chromosome numbers of the genus Cardamime (Brassicaceae). Biologia (Bratislava) 60:473–476

Lippert E, Heubl GR (1988) Chromosomenzahlen von Pflanzen aus bayern und angrenzenden gebieten. Ber Bayer Bot Ges 59:13–22

Löve Á, Löve D (1961) Chromosome numbers of central and northwest European plants. Opera Bot 5:1–581

Löve Á, Löve D (1974) Cytotaxonomical atlas of the slovenian flora. J Cramer, Lehre

Marhold K, Mártonfi P, Mereďa P, Mráz P (eds) (2007) Chromosome number survey of the ferns and flowering plants of Slovakia. Veda, Bratislava

Měsíček J, Javůrková-Jarolímová V (1992) List of chromosome numbers of the Czech vascular plants. Academia, Praha

Moore DM (1982) Flora Europaea checklist and chromosome index. Cambridge University Press, Cambridge

Nägeli K (1842) Zur Entwicklungsgeschichte des Pollens bei den Phanerogamen. Orell, Füssli und Comp, Zürich

Rédei GP (1974) Steps in the evolution of genetic concepts. Biol Zentralbl 93:385–424

Rice A, Glick L, Abadi S, Einhorn M, Kopelman NM, Salman-Minkov A, Mayzel J, Chay O, Mayrose I (2015) The chromosome counts database (CCDB)—a community resource of plant chromosome numbers. New Phytol 206:19–26

Schuhwerk F (1996) Published chromosome counts in Hieracium. Available at: http://www.botanischestaatssammlung.de/projects/chrzlit.html. Accessed 14 Jul 2016

Simon J, Margelí M, Blanché C (2001) CROMOCAT: the chromosome database of the catalan Countries. Bocconea 13:281–297

Španiel S, Kempa M, Salmerón-Sánchez E, Fuertes-Aguilar J, Francisco Mota J, Al-Shehbaz IA, German DA, Olšavská K, Šingliarová B, Zozomová-Lihová J, Marhold K (2015) Aly—basedatabase of names, chromosome numbers, and ploidy levels of Alysseae (Brassicaceae), with a new generic concept of the tribe. Pl Syst Evol 301:2463–2491

Stebbins GL (1950) Variation and evolution of plants. Columbia University Press, New York

Tischler G (1915) Chromosomenzahl, -Form und -Individualität im Pflanzenreich. Progr Rei Bot 5:164–284

Tischler G (1927) Pflanzliche chromosomenzahlen. Tabulae Biol 4:1–83

Tischler G (1950) Die Chromosomenzahlen der Gefäßpflanzen Mitteleuropas. 's-Gravenhage, Den Haag

van Loon JC (1987) A cytotaxonomic atlas of the Balkan flora. J. Cramer, Berlin/Stuttgart

Watanabe W (2009) Index to chromosome numbers in Asteraceae. Available at: http://www.lib.kobe-u.ac.jp/infolib/meta_pub/G0000003asteraceae_e. Accessed 14 Jul 2016
Funding
This work was supported by Deutsche Forschungsgemeinschaft (DFG), project "Die karyologische Datenbank zur Flora von Deutschland (Gefäßpflanzen)"(Zi 557/13-1).
Ethics declarations
Conflict of interest
The authors declare no conflict of interest.
Additional information
Handling Editor: Ales Kovarik.
Juraj Paule, Thomas Gregor and Marco Schmidt have contributed equally.
About this article
Cite this article
Paule, J., Gregor, T., Schmidt, M. et al. Chromosome numbers of the flora of Germany—a new online database of georeferenced chromosome counts and flow cytometric ploidy estimates. Plant Syst Evol 303, 1123–1129 (2017). https://doi.org/10.1007/s00606-016-1362-y
Received:

Accepted:

Published:

Issue Date:

DOI: https://doi.org/10.1007/s00606-016-1362-y
Keywords