Abstract
Recent cytological and molecular studies have investigated genome size variation and evolution in the homosporous ferns, but representatives of the Ophioglossaceae were largely overlooked, despite their evolutionary singularity. Flow cytometry analysis was performed on 41 individuals of eight species of the genera Botrychium (B.), Botrypus, and Sceptridium to estimate their ploidy level variation. In a subset of individuals, we also estimated the absolute genome size and corresponding C values. Additionally, a classical chromosome count was made on the recently described species B. alaskense. Ploidy level and new genome size records were determined for Botrychium alaskense, B. boreale, B. lanceolatum, B. "neolunaria" ined., B. pinnatum, Botrypus virginianus and Sceptridium multifidum. In addition, we confirmed the genome size of B. matricariifolium, B. minganense and B. lunaria. Two of the three major sub-clades of Botrychium differ slightly in their averaged homoploid genome size (subclade Lanceolatum, 24.72 ± 0.40 pg; subclade Lunaria, 27.51 ± 0.47 pg). Flow cytometry and chromosome counting confirmed that B. alaskense is a tetraploid. A new hexaploid cytotype, putatively formed through an autopolyploidization from the sympatric tetraploid cytotype, was detected in a single individual of B. boreale. This is only the second report of hexaploidy in the genus Botrychium and our data highlight the potential to find other ploidy levels within other Botrychium species. Interestingly, no difference within the monoploid genome sizes was detected between ploidy levels, thus supporting the hypothesis of genome size stability after polyploidization and rejecting the scenario of genome downsizing.
Access options
Buy single article
Instant access to the full article PDF.
USD 39.95
Price includes VAT (USA)
Tax calculation will be finalised during checkout.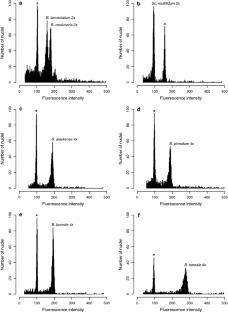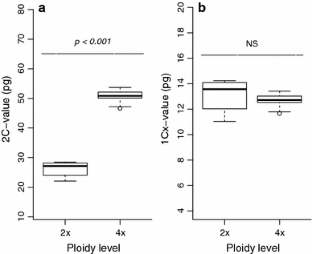 References
Bai C, Alverson WS, Follansbee A, Waller DM (2012) New reports of nuclear DNA content for 407 vascular plant taxa from the US. Ann Bot (Oxford) 110:1623–1629. doi:10.1093/aob/mcs222

Bainard JD, Henry T, Bainard LD, Newmaster SG (2011) DNA content variation in monilophytes and lycophytes: large genomes that are not endopolyploid. Chromosom Res 19:763–775. doi:10.1007/s10577-011-9228-1

Barker MS (2013) Karyotype and genome evolution in pteridophytes. In: Leitch IJ, Greilhuber J, Doležel J, Wendel JF (eds) Plant genome Divers, vol 2. Wien: Springer, pp 245–253. Phys Struct Behav Evol plant genomes. doi:10.1007/978-3-7091-1160-4

Brandes A, Heslop-Harrison JS, Kamm A, Kubis S, Doudrick RL, Schmidt T (1997) Comparative analysis of the chromosomal and genomic organization of Ty1-copia-like retrotransposons in pteridophytes, gymnosperms and angiosperms. Pl Molec Biol 33:11–21. doi:10.1023/A:1005797222148

Casson JI, Shackleford I, Parker I, Schultz J (2002) Conservation approach for goblin fern (Botrychium mormo W.H. Wagner). USDA Forest Service, Eastern Region, Milwaukee

Clausen RT (1936) A monograph of the Ophioglossaceae. Mem Torrey Bot Club 19:1–177

Dalgaard V (1989) Additional chromosome numbers in vascular plants from the Disko Bugt area (west Greenland). Willdenowia 19:199–213

Dauphin B, Vieu J, Grant JR (2014) Molecular phylogenetics supports widespread cryptic species in moonworts (Botrychium s.s., Ophioglossaceae). Amer J Bot 101:128–140. doi:10.3732/ajb.1300154

Development Core Team R (2015) R: a language and environment for statistical computing. R Foundation for Statistical Computing, Vienna

Doležel J, Sgorbati S, Lucretti S (1992) Comparison of three DNA fluorochromes for flow cytometric estimation of nuclear DNA content in plants. Physiol Pl (Copenhagen) 85:625–631. doi:10.1111/j.1399-3054.1992.tb04764.x

Doležel J, Greilhuber J, Lucretti S, Meister A, Lysák MA, Nardi L, Obermayer R (1998) Plant genome size estimation by flow cytometry: inter-laboratory comparison. Ann Bot (Oxford) 82:17–26

Doležel J, Greilhuber J, Suda J (2007) Estimation of nuclear DNA content in plants using flow cytometry. Nat Protoc 2:2233–2244. doi:10.1038/nprot.2007.310

Fabbri F (1963) Primo supplement alle Tavole Cromosomiche delle Pteridophyta di Alberto Chiarugi. Caryologia 16:237–335

Farrar DR (2011) Systematics and taxonomy of genus Botrychium, pp 1–29. Available at: http://www.public.iastate.edu/~herbarium/botrychium.html

Gagnidze RI, Tsn G, Danelia IM, Churadze MV (1998) Chromosome numbers of the species of the Georgian flora. Bot Zhurn (Moscow & Leningrad) 83:143–147

Greilhuber J, Doležel J, Lysák MA, Bennett MD (2005) The origin, evolution and proposed stabilization of the terms 'genome size' and 'C value' to describe nuclear DNA contents. Ann Bot (Oxford) 95:255–260. doi:10.1093/aob/mci019

Hauk WD, Haufler CH (1999) Isozyme variability among cryptic species of Botrychium subgenus Botrychium (Ophioglossaceae). Amer J Bot 86(5):614–633

Hauk WD, Parks CR, Chase MW (2003) Phylogenetic studies of Ophioglossaceae: evidence from rbcL and trnL-F plastid DNA sequences and morphology. Molec Phylogen Evol 28:131–151. doi:10.1016/S1055-7903(03)00032-0

Hauk WD, Kennedy L, Hawke HM (2012) A phylogenetic investigation of Botrychium ss (Ophioglossaceae): evidence from three plastid DNA sequence datasets. Syst Bot 37:320–330. doi:10.1600/036364412X635377

Henry TA, Bainard JD, Newmaster SG (2014) Genome size evolution in Ontario ferns (Polypodiidae): evolutionary correlations with cell size, spore size, and habitat type and an absence of genome downsizing. Genome 57:555–566. doi:10.1139/gen-2014-0090

Hultén E (1968) Flora of Alaska and neighboring territories—a manual of the vascular plants. Stanford University Press, Stanford

Kato M (1987) A phylogenetic classification of Ophioglossaceae. Gard Bull Singapore 40:1–14

Kovács GM, Balázs T, Pénzes Z (2007) Molecular study of arbuscular mycorrhizal fungi colonizing the sporophyte of the eusporangiate rattlesnake fern (Botrychium virginianum, Ophioglossaceae). Mycorrhiza 17:597–605. doi:10.1007/s00572-007-0137-2

Leitch IJ, Bennett MD (2004) Genome downsize in polyploids plants. Biol J Linn Soc 82:651–663. doi:10.1111/j.1095-8312.2004.00349.x

Leitch IJ, Soltis DE, Soltis PS, Bennett MD (2005) Evolution of DNA amounts across land plants (Embryophyta). Ann Bot (Oxford) 95:207–217. doi:10.1093/aob/mci014

Loureiro J, Rodriguez E, Doležel J, Santos C (2007) Two new nuclear isolation buffers for plant DNA flow cytometry: a test with 37 species. Ann Bot (Oxford) 100:875–888. doi:10.1093/aob/mcm152

Löve A, Löve D (1976) IOPB chromosome number reports LIII. Taxon 25:483–500

Paris CA, Wagner FS, Wagner WH (1989) Cryptic species, species delimitation, and taxonomic practice in the homosporous ferns. Amer Fern J 79:46–54. doi:10.2307/1547159

Peruzzi L, Cesca G, Puntillo D (2003) Isoëtes (Isoetaceae), Ophioglossum and Botrychium (Ophioglossaceae) in Calabria (S Italy): more karyological and taxonomical data. Caryologia 56:359–363. doi:10.1080/00087114.2003.10589345

Pryer KM, Schuettpelz E, Wolf PG, Schneider H, Smith AR, Cranfill R (2004) Phylogeny and evolution of ferns (monilophytes) with a focus on the early leptosporangiate divergences. Amer J Bot 91:1582–1598. doi:10.3732/ajb.91.10.1582

Ramsey J, Schemske DW (1998) Pathways, mechanisms, and rates of polyploid formation in flowering plants. Annual Rev Ecol Syst 29:467–501

Sharma AK, Sharma A (1980) Chromosome techniques—theory and practice. Butterworth-Heinemann, Oxford

Shinohara W, Nakato N, Yatabe-Kakugawa Y, Oka T, Kim JK, Murakami N, Noda H, Sahashi N (2013) The use of matK in Ophioglossaceae phylogeny and the determination of Mankyua chromosome number shed light on chromosome number evolution in Ophioglossaceae. Syst Bot 38:564–570. doi:10.1600/036364413X670232

Soltis DE, Soltis PS, Schemske DW, Hancock JF, Thompson JN, Husband BC, Judd WS (2007) Autopolyploidy in angiosperms: have we grossly underestimated the number of species? Taxon 56:13–30. doi:10.2307/25065732

Stensvold MC (2008) A taxonomic and phylogeographic study of the Botrychium lunaria complex. PhD Thesis, University of Iowa, Iowa

Wagner WH (1955) Cytotaxonomic observations on North American ferns. Rhodora 57:219–240

Wagner FS (1993) Chromosomes of North American grapeferns and moonworts (Ophioglossaceae: Botrychium). Contr Univ Michigan Herb 19:83–92

Wagner WH, Grant JR (2002) Botrychium alaskense, a new moonwort from the interior of Alaska. Amer Fern J 92:164–170. doi:10.1640/0002-8444(2002)

Wagner WH, Lord LP (1956) The morphological and cytological distinctness of Botrychium minganense and B. lunaria in Michigan. Bull Torrey Bot Club 83:261–280

Wagner WH, Wagner FS (1986) Three new species of moonworts (Botrychium subg. Botrychium) endemic in western North America. Amer Fern J 76:33–47. doi:10.2307/1547557

Wagner WH, Wagner FS (1990) Notes on the fan-leaflet group of moonworts in North America with descriptions of two new members. Amer Fern J 80:73–81. doi:10.2307/1547172

William JC (1996) Flora of the Yukon Territory. NRC Research Press, Ottawa

Williams EW, Waller DM (2012) Phylogenetic placement of species within the genus Botrychium s.s. (Ophioglossaceae) on the basis of plastid sequences, amplified fragment length polymorphisms, and flow cytometry. Int J Pl Sci 173:516–531. doi:10.1086/664711

Winther JL, Friedman WE (2008) Arbuscular mycorrhizal associations in Lycopodiaceae. New Phytol 177:790–801. doi:10.1111/j.1469-8137.2007.02276.x

Wood TE, Takebayashi N, Barker MS, Mayrose I, Greenspoon PB, Rieseberg LH (2009) The frequency of polyploid speciation in vascular plants. Proc Natl Acad Sci USA 106:13875–13879. doi:10.1073/pnas.0811575106

Zhukova PG, Petrovsky VV (1976) Chromosome numbers in some plant species from West Chukotka. II. Bot Zhurn 61:963–969

Zika PF, Farrar DR (2009) Botrychium ascendens WH Wagner (Ophioglossaceae) in Newfoundland and notes on its origin. Amer Fern J 99:249–259. doi:10.1640/0002-8444-99.4.249
Acknowledgments
This work was supported by the Fonds Marguerite Wüthrich and A. Matthey-Dupraz at the Université de Neuchâtel, the Fonds Dr. Joachim de Giacomi of the Swiss Academy of Natural Sciences, the Bourse de voyages of the Swiss Academy of Natural Sciences, and the Fonds de donations of the Université de Neuchâtel. The authors thank Lennart Stenberg for assistance with fieldwork in Sweden, and Anne-Catherine Pasche and Philippe Küpfer for help with laboratory work.
Ethics declarations
Funding
B. Dauphin received research Grants from the Fonds Marguerite Wüthrich and A. Matthey-Dupraz at the Université de Neuchâtel, the Fonds Dr. Joachim de Giacomi of the Swiss Academy of Natural Sciences, the Bourse de voyages of the Swiss Academy of Natural Sciences, and the Fonds de donations of the Université de Neuchâtel.
Conflict of interest
The authors declare that they have no conflict of interest.
Additional information
Handling editor: Karol Marhold.
About this article
Cite this article
Dauphin, B., Grant, J. & Mráz, P. Ploidy level and genome size variation in the homosporous ferns Botrychium s.l. (Ophioglossaceae). Plant Syst Evol 302, 575–584 (2016). https://doi.org/10.1007/s00606-016-1285-7
Received:

Accepted:

Published:

Issue Date:
Keywords
Botrychium

Chromosome

Homosporous ferns

Flow cytometry

Genome size

Polyploidy