Abstract
An earlier molecular phylogenetic analysis using cpDNA sequence data revealed the non-monophyly of Primula subgenera Auganthus and Carolinella, and the evolutionary implication of the infrageneric division of these two groups remains uncertain. In the present study, 130 new sequences were newly analyzed, with the combination of plastid genes and nrDNA ITS regions through maximum parsimony and Bayesian inference analyses. It confirms that neither subgenus Auganthus nor subgenus Carolinella is monophyletic in its current circumscription. The calyptrate capsule, a diagnostic character for subgenus Carolinella, may have evolved multiple times in Primula. Subgenus Auganthus would be a natural group only with inclusion of subgenus Carolinella and exclusion of P. aromatica. The positions of some infrageneric groups are clarified, but challenges remain regarding relevant morphological characters for sectional delimitations within subgenus Auganthus.
Access options
Buy single article
Instant access to the full article PDF.
USD 39.95
Price excludes VAT (USA)
Tax calculation will be finalised during checkout.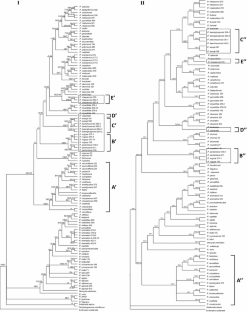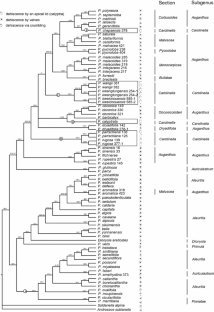 References
Alvarez IA, Wendel JF (2003) Ribosomal ITS sequences and plant phylogenetic inference. Molec Phylogen Evol 29:417–434

Baldwin BG, Sanderson MJ, Porter JM, Wojciechowski MF, Campbell CS, Donoghue MJ (1995) The ITS region of nuclear ribosomal DNA: a valuable source of evidence on angiosperm phylogeny. Ann Missouri Bot Gard 82:247–277

Chemisquy MA, Morrone O (2012) Molecular phylogeny of Gavilea (Chloraeinae: Orchidaceae) using plastid and nuclear markers. Molec Phylogen Evol 62:889–897

Cunningham CW (1997) Is congruence between data partitions a reliable predictor of phylogenetic accuracy? Empirically testing an iterative procedure for choosing among phylogenetic methods. Syst Bot 46:464–478

Darlu P, Lecointre G (2002) When does the incongruence length difference test fail? Molec Biol Evol 2:432–437

de Queiroz A (1993) For consensus (sometimes). Syst Biol 42:368–372

de Vos JM, Wüest RO, Conti E (2013) Small and ugly? Phylogenetic analyses of the "selfing syndrome" reveal complex evolutionary fates of monomorphic primrose flowers. Evolution 68:1042–1057

de Vos JM, Hughes CE, Schneeweiss GM, Moore BR, Conti E (2014) Heterostyly accelerates diversification via reduced extinction in primroses. Proc Roy Soc B 281:20140075

Degnan JH, Rosenberg NA (2009) Gene tree discordance, phylogenetic inference and the multispecies coalescent. Trends Ecol Evol 24:332–340

Degtjareva GV, Valiejo-Roman CM, Samigullin TH, Guara-Requena M, Sokoloff DD (2012) Phylogenetics of Anthyllis (Leguminosae: Papilionoideae: Loteae): Partial incongruence between nuclear and plastid markers, a long branch problem and implications for morphological evolution. Molec Phylogen Evol 62:693–707

Doyle JJ, Doyle JL (1987) A rapid DNA isolation method for small quantities of fresh tissues. Phytochem Bull 19:11–15

Fehrer J, Gemeinholzer B, Chrtek JC, Bräutigam S (2007) Incongruent plastid and nuclear DNA phylogenies reveal ancient intergeneric hybridization in Pilosella hawkweeds (Hieracium, Cichorieae, Asteraceae). Molec Phylogen Evol 42:347–361

Felsenstein J (1985) Confidence limits on phylogenies: an approach using the bootstrap. Evolution 39:783–791

Gong X, Fang RC (2003) Primula calyptrata, a new species in section Carolinella (Primulaceae) from Yunnan, China. Novon 13:193–195

Hipp AL, Hall JC, Sytsma KJ (2004) Congruence versus phylogenetic accuracy: revisiting the incongruence length difference test. Syst Bot 53:81–89

Hu CM (1990a) Primula. In: Chen FH, Hu CM (eds) Flora Reipublicae Popularis Sinicae, vol 59(2). Science Press, Beijing, pp 1–277

Hu CM (1990b) A new species of Primula from Thailand with critical notes on the section Carolinella. Nord J Bot 10:399–401

Hu CM, Kelso S (1996) Primulaceae. In: Wu ZY, Raven PH (eds) Flora of China, vol 15. Science Press/Missouri Botanical Garden Press, Beijing/St. Louis, pp 99–185

Källersjö M, Bergqvist G, Anderberg AA (2000) Generic realignment in Primuloid families of the Ericales s.l.: a phylogenetic analysis based on DNA sequences from three chloroplast genes and morphology. Amer J Bot 87:1325–1341

Kim ST, Donoghue MJ (2008) Incongruence between cpDNA and nrITS trees indicates extensive hybridization within Eupersicaria (Polygonaceae). Amer J Bot 95:1122–1135

Lewis PO (2001) A likelihood approach to estimating phylogeny from discrete morphological character data. Syst Biol 50:913–925

Maddison WP (1997) Gene trees in species trees. Syst Biol 46:523–536

Maddison WP, Knowles LL (2006) Inferring phylogeny despite incomplete lineage sorting. Syst Biol 55:21–30

Maddison WP, Maddison DR (2014) Mesquite: a modular system for evolutionary analysis. Version 3.01. Available at http://mesquiteproject.org

Mast AR, Richards AJ, Lang DJ, Feller DMS, Conti E (2001) Phylogenetic relationships in Primula L. and related genera (Primulaceae) based on noncoding chloroplast DNA. Int J Pl Sci 162:1381–1400

Mast AR, Kelso S, Conti E (2006) Are any primroses (Primula) primitively monomorphic? New Phytol 171:605–616

Nylander JA, Wilgenbusch JC, Warren DL, Swofford DL (2008) AWTY (are we there yet?): a system for graphical exploration of MCMC convergence in Bayesian phylogenetics. Bioinformatics 24:581–583

Pelser PB, Kennedy AH, Tepe EJ, Shidler JB, Nordenstam B, Kadereit JW, Watson LE (2010) Patterns and causes of incongruence between plastid and nuclear Senecioneae (Asteraceae) phylogenies. Amer J Bot 97:856–873

Posada D, Crandall KA (1998) MODELTEST: testing the model of DNA substitution. Bioinformatics 9:817–818

Potter D, Luby JJ, Harrison RE (2000) Phylogenetic relationships among species of Fragaria (Rosaceae) inferred from non-coding nuclear and chloroplast DNA sequences. Syst Bot 25:337–348

Rambaut A, Suchard M, Drummond A (2013) Tracer. Version 1.6. Available at http://tree.bio.ed.ac.uk/software/tracer/

Resetnik I, Satovic Z, Schneeweiss GM, Liber Z (2013) Phylogenetic relationships in Brassicaceae tribe Alysseae inferred from nuclear ribosomal and chloroplast DNA sequence data. Molec Phylogen Evol 69:772–786

Richards AJ (1993) Primula. B. T. Batsford Ltd., London, pp 1–299

Richards AJ (2002) Primula, 2nd edn. B.T. Batsford Ltd, London, pp 1–346

Ronquist F, Teslenko M, van der Mark P, Ayres DL, Darling A, Hohna S, Larget B, Liu L, Suchard MA, Huelsenbeck JP (2012) MrBayes 3.2: efficient Bayesian phylogenetic inference and model choice across a large model space. Syst Biol 61:539–542

Schmidt-Lebuhn AN, de Vos JM, Keller B, Conti E (2012) Phylogenetic analysis of Primula section Primula reveals rampant non-monophyly among morphologically distinct species. Molec Phylogen Evol 65:23–34

Shimodaira H, Hasegawa M (1999) Multiple comparisons of log-likelihoods with applications to phylogenetic inference. Molec Biol Evol 16:1114–1116

Smith WW, Fletcher HR (1946) The genus Primula: sections Obconica, Sinenses, Reinii, Pinnatae, Malacoides, Bullatae, Carolinella, Grandis and Denticulata. T Roy Soc Edin 61:415–478

Smith WW, Forrest G, Fletcher HR (1941–1949) (facsimile reprint 1977) The genus Primula. Plant Monograph Reprints 11:1–835

Swofford DL (2002) PAUP*. Phylogenetic analysis using parsimony (and other methods). Version 4.0b10. Sinauer Associates, Sunderland

Thomson JD, Gibson TJ, Plewniak F (1997) The Clustal X windows interface: flexible strategies for multiple sequence alignment aided by quality analysis tools. Nucl Acids Res 25:4876–4882

Trift I, Källersjö M, Anderberg AA (2002) The monophyly of Primula (Primulaceae). Syst Bot 27:396–407

Tsutsui K, Suwa A, Sawada K, Kato T, Ohsawa TA, Watano Y (2009) Incongruence among mitochondrial, chloroplast and nuclear gene trees in Pinus subgenus Strobus (Pinaceae). J Pl Res 122:509–521

Wen J, Zimmer EA (1996) Phylogeny and biogeography of Panax L. (the ginseng, Araliaceae): inferences from ITS sequences of nuclear ribosomal DNA. Molec Phylogen Evol 6:166–177

Wendel JF, Doyle JJ (1998) Phylogenetic incongruence: window into genome history and molecular evolution. In: Soltis PS, Soltis DE, Doyle JJ (eds) Molecular systematics of plants II: DNA sequencing. Kluwer Academic Publishers, Dordrecht, pp 265–296

Wendelbo P (1961) Studies in Primulaceae II. An account of Primula subgenus Sphondylia with a review of the subdivisions of the genus. Arbok for University of Bergen. Mat-Naturv Serie 11:1–49

Xu B, Wu N, Gao XF, Zhang LB (2012) Analysis of DNA sequences of six chloroplast and nuclear genes suggests incongruence, introgression, and incomplete lineage sorting in the evolution of Lespedeza (Fabaceae). Molec Phylogen Evol 62:346–358

Yan HF, He CH, Peng CI, Hu CM, Hao G (2010) Circumscription of Primula subgenus Auganthus (Primulaceae) based on chloroplast DNA sequences. J Syst Evol 48:123–132

Zhang LB, Comes HP, Kadereit JW (2004) The temporal course of quaternary diversification in the European high mountain endemic Primula sect. Auricula (Primulaceae). Int J Pl Sci 165:191–207

Zhang YX, Zeng CX, Li DZ (2012) Complex evolution in Arundinarieae (Poaceae: Bambusoideae): incongruence between plastid and nuclear GBSSI gene phylogenies. Molec Phylogen Evol 63:777–797
Acknowledgments
We thank Xue-Jun Ge and Hai-Fei Yan for technical assistances. We are grateful to the editor and the two anonymous reviewers for their valuable suggestions and comments. This study was financially supported by the National Natural Science Foundation of China (Grants No. 31270260, 31270009).
Additional information
Handling Editor: Karol Marhold.
Electronic supplementary material
Below is the link to the electronic supplementary material.
About this article
Cite this article
Liu, YJ., Liu, J., Hu, CM. et al. Non-monophyly of Primula subgenera Auganthus and Carolinella (Primlaceae) as confirmed by the nuclear DNA sequence variation. Plant Syst Evol 301, 2057–2071 (2015). https://doi.org/10.1007/s00606-015-1207-0
Received:

Accepted:

Published:

Issue Date:

DOI: https://doi.org/10.1007/s00606-015-1207-0
Keywords
ITS

Circumscription

Auganthus
Carolinella
Primula

Primulaceae