Abstract
Genera of Turneraceae differ notably in connation/adnation of calyx, corolla, and androecium. Floral and seed morphology were analyzed in all genera. Phylogenetic analyses were made using a matrix of 91 characters coded for 102 taxa including all genera of Turneraceae and all series of Turnera. Our goals were: assessing the impact of morphology in the cladistic analyses of Turneraceae and comparing our results with those based on molecular datasets. Our analyses suggest that all genera are monophyletic. The inclusion of seed micromorphology in the analyses increased resolution within Turnera, the strict consensus tree shows four main clades, each gathering two or more current series. A comparison of morphological and molecular trees is difficult to make due to the great differences in taxon sampling. However, some clades or subclades are consistent in both phylogenetic approaches. Apparently, the formation of a floral tube conferred an evolutionary advantage to the Turneraceae, because it developed in 66 % of the genera. The morphological complexity of the tube increased in several steps: (1) adnation of petal claws to calyx, developing a perianth tube; (2) partial adnation of stamens to the perianth tube; (3) fusion of sepal and petal veins, shaping a 10-veined perianth tube; (4) development of nectar pockets up to the throat turning the tube into an appendicular hypanthium. The reddish-orange aril, associated with ornitochory, is plesiomorphic in Turneraceae, represented only in Erblichia; the other genera have white/whitish aril, associated with mirmecochory, except Mathurina, with an aril divided into filaments as an adaptation to anemochory.
This is a preview of subscription content, log in to check access.
Access options
Buy single article
Instant access to the full article PDF.
US$ 39.95
Price includes VAT for USA
Subscribe to journal
Immediate online access to all issues from 2019. Subscription will auto renew annually.
US$ 199
This is the net price. Taxes to be calculated in checkout.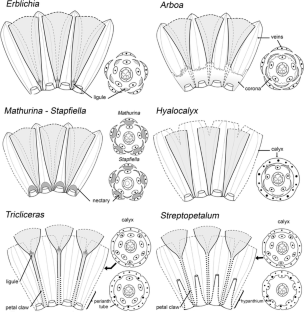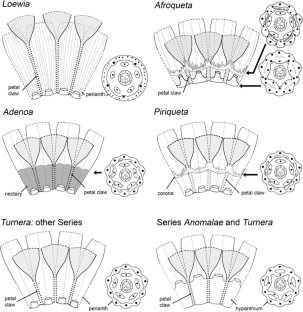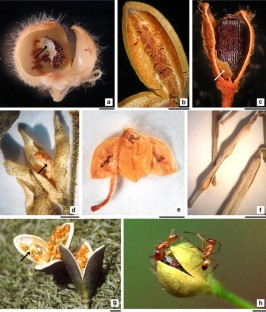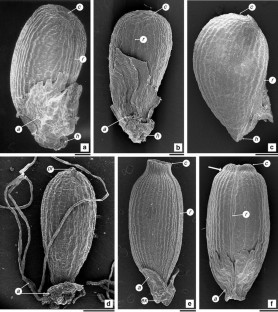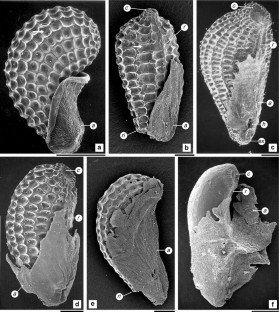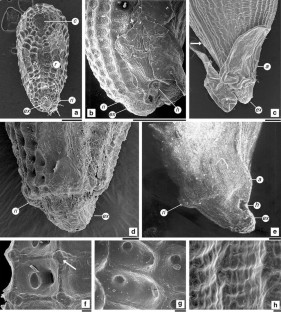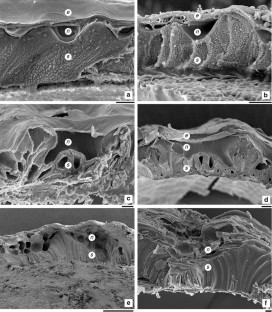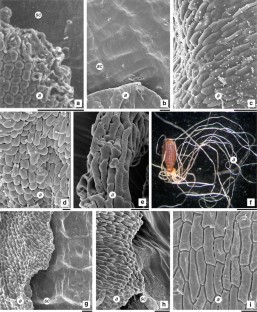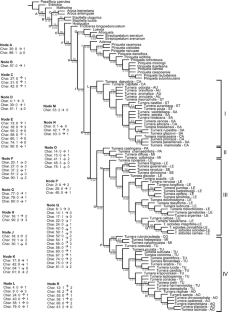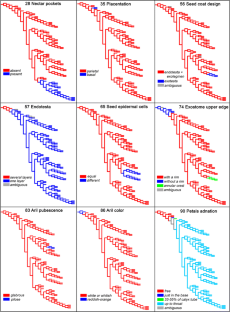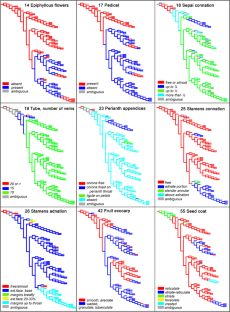 References
APG III (2009) An update of the Angiosperm Phylogeny Group classification for the orders and families of flowering plants: APG III. Bot J Linn Soc 161:105–121

Arbo MM (1977) Adenoa, nuevo género americano de Turneraceae. Hickenia 1:87–91

Arbo MM (1979) Revisión del género Erblichia (Turneraceae). Adansonia, sér 2, 18:459–482

Arbo MM (1986) Paraguay, centro importante de especiación en las Turneráceas. Candollea 41:211–218

Arbo MM (1990) Turnéracées. In: Bosser J, Cadet T, Julien HR, Marais W (eds) Flore des Mascareignes: La Reunion, Maurice, Rodrigues. Fascicle, vol 98, pp 1–6

Arbo MM (1995) Turneraceae Parte I. Piriqueta. Fl Neotrop monograph, vol 67, p 156

Arbo MM (1997) Estudios sistemáticos en Turnera (Turneraceae). I. Series Salicifoliae y Stenodictyae. Bonplandia 9:151–208

Arbo MM (2000) Estudios sistemáticos en Turnera (Turneraceae) II. Series Annulares, Capitatae, Microphyllae y Papilliferae. Bonplandia 10:1–82

Arbo MM (2005) Estudios sistemáticos en Turnera (Turneraceae) III. Series Anomalae y Turnera. Bonplandia 14:115–318

Arbo MM (2008) Estudios sistemáticos en Turnera (Turneraceae) IV. Series Leiocarpae, Sessilifoliae y Conciliatae. Bonplandia 17:107–334

Arbo MM, Espert SM (2009) Morphology, phylogeny and biogeography of Turnera (Turneraceae). Taxon 58:457–467

Barrett SCH (1978) Heterostyly in a tropical weed: the reproductive biology of the Turnera ulmifolia complex. Canad J Bot 56:1713–1725

Bremer K (1994) Branch support and tree stability. Cladistics 10:295–304

Chafe PDJ (2009) Molecular phylogenetics and breeding system evolution of the Turneraceae. Msc Thesis, York University, Toronto, Canada

Cuautle M, Rico-Gray V, Diaz-Castelazo C (2005) Effects of ant behaviour and presence of extrafloral nectaries on seed dispersal of the Neotropical myrmecochore Turnera ulmifolia L. (Turneraceae). Biol J Linn Soc 86:67–77

Deginani NB (2001) Las especies argentinas del género Passiflora (Passifloraceae). Darwiniana 39:43–129

Farris J, Albert V, Källersjö M, Lipscomb D, Kluge A (1996) Parsimony jackknifing outperforms neighbor joining. Cladistics 12:99–124

Fernández A (1987) Estudios cromosómicos en Turnera y Piriqueta (Turneraceae). Bonplandia 6(1):1–21

Goloboff PA (1993) Estimating character weights during tree search. Cladistics 9:83–89

Goloboff PA (1999) Analyzing large data sets in reasonable times: solutions for composite optima. Cladistics 15:415–428

Goloboff PA, Farris S, Nixon K (2008a) Tree analysis using new technology. Cladistics 24:774–786

Goloboff PA, Carpenter JM, Salvador Arias J, Miranda Esquivel DR (2008b) Weighting against homoplasy improves phylogenetic analysis of morphological data sets. Cladistics 24:758–773

Gonzalez AM (2001) Nectarios y Vascularización Floral en especies de Piriqueta y Turnera (Turneraceae). Bol Soc Argent Bot 36:47–68

Gonzalez AM, Arbo MM (2004) Trichome complement of Turnera and Piriqueta (Turneraceae). Bot J Linnean Soc 144:85–97

Gonzalez AM, Arbo MM (2013) Anatomía y ontogenia de las semillas en Turnera y Piriqueta. Bot Sci 91:399–416

Gonzalez AM, Salgado CR, Fernández A, Arbo MM (2012) Anatomy, pollen, and chromosomes of Adenoa (Turneraceae), a monotypic genus endemic to Cuba. Brittonia 64:208–225

Jaarsveld E (2012) Turnera oculata story var. oculata. Avaliable at: http://www.plantzafrica.com/planttuv/turnoculocul.htm. Accessed 27 August 2014

Shore JS, Arbo MM, Fernández A (2006) Breeding system variation, genetics and evolution in the Turneraceae. New Phytol 171:539–551

Thulin M, Razafimandimbison SG, Chafe P, Heidari N, Kool A, Shore JS (2012) Phylogeny of the Turneraceae clade (Passifloraceae s. l.): trans-Atlantic disjunctions and two new genera in Africa. Taxon 61:308–323

Tokuoka T (2012) Molecular phylogenetic analysis of Passifloraceae sensu lato (Malpighiales) based on plastid and nuclear DNA sequences. J Pl Res 125:489–497

Truyens S, Arbo MM, Shore JS (2005) Phylogenetic relationships, chromosome and breeding system evolution in Turnera (Turneraceae): inferences from ITS sequence data. Amer J Bot 92:1749–1758

Urban I (1883) Monographie der Familie Turneraceen. Jahrb Königl Bot Gart Berlin 2:1–152

Urban I (1896) Turneraceae, somalenses a D.Robecchi-Bricchetti lectae. Ann Ist Bot 6:189–190

van der Pijl L (1982) Principles of dispersal in higher plants, 3rd edn. Springer-Verlag, Berlin
Acknowledgments
We are grateful to Abisaí J. García Mendoza and T.S. Feldman for their kind permission to use photographs of the fruits of Erblichia odorata and Piriqueta cistoides subsp. caroliniana, illustrated in Fig. 3 and to all curators of the herbaria for allowing us to access collections.
Gordon Mc Pherson kindly sent us seeds of some genera. We are indebted to Brigitte Marazzi and one anonymous reviewer for useful suggestions that improved the manuscript. This study was possible thanks to the initial support from a J.S. Noyes Grant of the Missouri Botanical Garden to M.M.A., and a Grant from the Consejo Nacional de Investigaciones Científicas y Técnicas-Argentina (CONICET, Grant # PIP 112- 200801–01457).
Additional information
Handling editor: Ricarda Riina.
Electronic supplementary material
Below is the link to the electronic supplementary material.
About this article
Cite this article
Arbo, M.M., Gonzalez, A.M. & Sede, S.M. Phylogenetic relationships within Turneraceae based on morphological characters with emphasis on seed micromorphology. Plant Syst Evol 301, 1907–1926 (2015). https://doi.org/10.1007/s00606-015-1204-3
Received:

Accepted:

Published:

Issue Date:
Keywords
Adnation

Africa

America

Connation

Floral morphology

Seed micromorphology