Abstract
Vitis (Vitaceae) is a taxonomically complicated genus with ca. 60 taxa divided into two subgenera, Vitis and Muscadinia. We used population genetic approaches to gain insights into the genetic diversity, patterns of evolutionary differentiation and to decipher the taxonomic status of some of the controversial taxa within the genus Vitis. The distance- and model-based analyses were used to examine the phylogenetic structure within the genus Vitis using simple sequence repeat (SSR) and amplified fragment length polymorphism (AFLP) markers. The results closely matched the current classification, but some discrepancies in the identity of taxa at the specific and subspecific levels were still evident. The East Asia and the North American Vitis exhibited strong divergence and each group showed further differentiation into several subgroups with North American subgroups roughly matching the described series. The model based cluster analysis indicated 14 clusters as optimum to explain the genetic structure within the genus Vitis with most clusters containing a moderate frequency of admixed genotypes suggesting interspecific gene flow within the subgenus Vitis. Hierarchical partitioning of molecular variation indicated that a significant amount of the total variation (~74 % and ~69 % for SSRs and AFLPs, respectively) is accounted for by intraspecific variation as compared to the levels due to genetic differentiation among species within series (~17 % and ~20 % for SSRs and AFLPs, respectively) and among series within the genus Vitis (~9 % and ~10 % for SSRs and AFLPs, respectively). Overall, Vitis possesses mild genetic structure characterized by reticulation and incomplete lineage sorting of ancestral polymorphisms.
Access options
Buy single article
Instant access to the full article PDF.
USD 39.95
Price excludes VAT (USA)
Tax calculation will be finalised during checkout.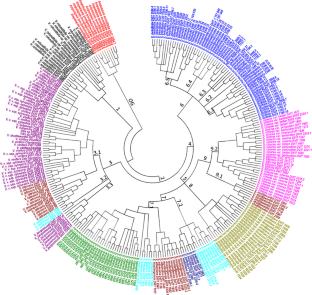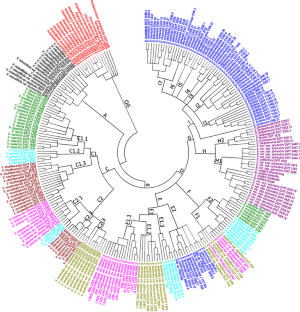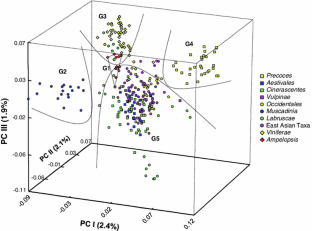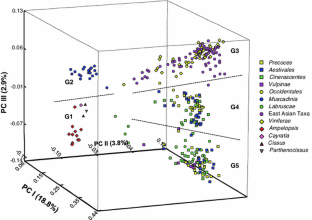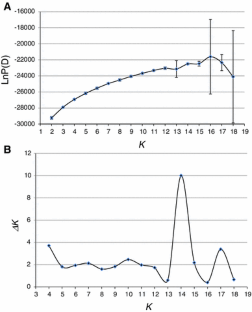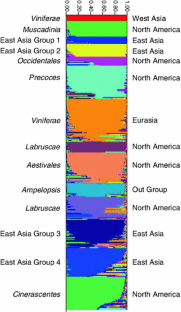 References
Althoff DM, Gitzendanner MA, Segraves KA (2007) The utility of amplified fragment length polymorphisms in phylogenetics: a comparison of homology within and between genomes. Sys Biol 56:477–484

Arroyo-Garcia R, Ruiz-Garcia L, Bolling L, Ocete R, Lopez MA, Arnold C, Ergul A, Soylemezoglu G, Uzun HI, Cabello F, Ibanez J, Aradhya MK, Atanassov A, Atanassov I, Balint S, Cenis JL, Costantini L, Goris-Lavets S, Grando MS, Klein BY, McGovern PE, Merdinoglu D, Pejic I, Pelsy F, Primikirios N, Risovannaya V, Roubelakis-Angelakis KA, Snoussi H, Sotiri P, Tamhankar S, This P, Troshin L, Malpica JM, Lefort F, Martinez-Zapater JM (2006) Multiple origins of cultivated grapevine (Vitis vinifera L. ssp. sativa) based on chloroplast DNA polymorphisms. Mol Ecol 15:3707–3714

Axelrod DI (1966) Origin of deciduous and evergreen habits in temperate forests. Evolution 20:1–15

Bailey LH (1934) The species of grapes peculiar to North America. Gentes Herbarum 3:151–244

Barrett HC, Carmer SG, Rhodes AM (1969) A taximetric study of interspecific variation in Vitis. Vitis 8:177–187

Bowcock AM, Ruiz-Linares A, Tomfohrde J, Minch E, Kidd JR, Cavalli-Sforza LL (1994) High resolution of human evolutionary trees with polymorphic microsatellites. Nature (London) 368:455–457

Bowers JE, Dangl GS, Vignani R, Meredith CP (1996) Isolation and characterization of new polymorphic simple sequence repeat loci in grape (Vitis vinifera L.). Genome 39:628–633

Bowers JE, Dangl GS, Meredith CP (1999) Development and characterization of additional microsatellite DNA markers for grape. Amer J Enol Viticulture 50:243–246

Brizicky GK (1965) The genera of Vitaceae in the southeastern United States. J Arnold Arbor 46:48–67

Bulgin NL, Gibbs HL, Vickery P, Baker AJ (2003) Ancestral polymorphisms in genetic markers obscure detection of evolutionarily distinct populations in the endangered Florida grasshopper sparrow (Ammodramus savannarum floridanus). Mol Ecol 12:831–844

Caballero A, Quesada H, Rolán-Alvarez E (2008) Impact of amplified fragment length polymorphism size homoplasy on the estimation of population genetic diversity and the detection of selective loci. Genetics 179:539–554

Charlesworth D (2010) Don't forget the ancestral polymorphisms. Heredity 105:509–510

Chen I (2009) History of Vitaceae inferred from morphology-based phylogeny and the fossil record of seeds. University of Florida, Gainesville

Chen I, Manchester SR (2007) Seed morphology of modern and fossil Ampelocissus (Vitaceae) and implications for phytogeography. Amer J Bot 94:1534–1553

Chen ZD, Ren H, Wen J (2007) Vitaceae. In: Wu Z-Y, Hong D-Y, Raven P (eds) Flora of China, Vol. 12, Science Press and Missouri Botanical Garden Press, Beijing, China and St. Louis, pp 210–222

Comeaux BL (1984) Taxonomic studies on certain native grapes of eastern North Carolina. North Carolina State University, Raleigh

De Lattin G (1939) Über den Ursprung und die Verbreitung der Reben. Der Züchter 11:217–225

Di Vecchi-Staraz M, Laucou V, Bruno G, Lacombe T, Gerber S, Bourse T, Boselli M, This P (2009) Low level of pollen-mediated gene flow from cultivated to wild grapevine: consequences for the evolution of the endangered subspecies Vitis vinifera L. subsp silvestris. J Heredity 100:66–75

Dopazo J (1994) Estimating errors and confidence intervals for branch lengths in phylogenetic trees by a bootstrap approach. J Mol Evol 38:300–304

Doyle JJ, Doyle JL (1987) A rapid DNA isolation procedure for small quantities of fresh leaf tissue. Phytochem Bull 19:11–15

Evanno G, Regnaut S, Goudet J (2005) Detecting the number of clusters of individuals using the software STRUCTURE: a simulation study. Mol Ecol 14:2611–2620

Excoffier L, Laval G, Schneider S (2005) Arlequin (version 3.0): an integrated software package for population genetics data analysis. Evol Bioinformatics Online 1:47–50

Falush D, Stephens M, Pritchard JK (2003) Inference of population structure using multilocus genotype data: linked loci and correlated allele frequencies. Genetics 164:1567–1587

Galet P (1967) Recherches sur les methodes d'identification et de classification des Vitacees des zones temperees. University of Montpellier, Montpellier

Galet P (2000) General viticulture. Oenoplurimedia, France

Garcia-Pereira MJ, Caballero A, Quesada H (2010) Evaluating the relationship between evolutionary divergence and phylogenetic accuracy in AFLP data sets. Mol Biol Evol 27:988–1000

Hu HH, Chaney RW (1940) A Miocene flora from Shantung Province. Chin. I, II. Palaeontol Sinica N S A 1:1–141

Ingrouille MJ, Chase MW, Fay MF, Bowman D, van der Bank M, Bruijn ADE (2002) Systematics of Vitaceae from the viewpoint of plastid rbcL DNA sequence data. Bot Linnean Soc 138:421–432

Jansen RK, Kaittanis C, Saski C, Lee S-B, Tomkins J, Alverson AJ, Daniell H (2006) Phylogenetic analyses of Vitis (Vitaceae) based on complete chloroplast genome sequences: effects of taxon sampling and phylogenetic methods on resolving relationships among rosids. BMC Evol Biol 6:32

Kirchheimer F (1939) Rhamnales. I. Vitaceae Fossilium catalogues, Vol. 2 (Plantae). Jongmans Faller, Neubrandenburg, pp 2–153

Klein J, Sato A, Nagl S, O'Huigin C (1998) Molecular trans-species polymorphism. Annu Rev Ecol Sys 29:1–21

Koopman WJM (2005) Phylogenetic signal in AFLP data sets. Syst Biol 54:197–217

Kropf M, Comes HP, Kadereit JW (2009) An AFLP clock for the absolute dating of shallow-time evolutionary history based on the intraspecific divergence of southwestern European alpine plant species. Mol Ecol 18:697–708

Levadoux L (1956) Les populations sauvages et cultivées de Vitis. Annales de Amélioration des Plantes 6:59–117

Levadoux L (1968) Essai de regroupement phylogénique des vignes varies d' Amérique. Revue de Horticulture et de Viticulture 6:31–128

Levadoux L, Boubals D, Rives M (1962) The genus Vitis and its species (English and German summ.). Ann Amelioration Plantes 12:19–44

McGovern PE (2003) Ancient wine: the search for the origins of viniculture. Princeton Univ Press, Princeton

Moore MO (1990) A systematic study of eastern North American (Vitaceae) north of Mexico. University of Georgia, Dissertation

Moore MO (1991) Classification and systematics of eastern North American Vitis L. (Vitaceae) north of Mexico. SIDA Contributions to Bot 14:339–367

Moore MO, Giannasi DE (1994) Foliar flavonoids of eastern North American Vitis (Vitaceae) north of Mexico. Plant Sys Evol 193:21–36

Muir G, Schloetterer C (2005) Evidence for shared ancestral polymorphism rather than recurrent gene flow at microsatellite loci differentiating two hybridizing oaks (Quercus spp.). Mol Ecol 14:549–561

Mullins MG, Bouquet A, Williams LE (1992) Biology of the grapevine. Cambridge University Press, Cambridge

Munson TV (1909) Foundations of American grape culture. T.V. Munson and Son, Texas

Negrul AM (1938) Evolution of cultivated forms of grapes. Compt Rend [Doklady] Acad Sci Urss 18:585–588

Nei M, Kumar S (2000) Molecular evolution and phylogenetics. Oxford University Press, Oxford

Nei M, Li WH (1979) Mathematical model for studying genetic variation in terms of restriction endonucleases. Proc Nat Acad Sci USA 76:5269–5273

Peros J-P, Berger G, Portemont A, Boursiquot J-M, Lacombe T (2011) Genetic variation and biogeography of the disjunct Vitis subg. Vitis (Vitaceae). J Biogeography 38:471–486

Planchon JE (1887) Monographie des ampélidées vrais. In: de Candolle AFPP, de Candolle C (eds) Monographiae phanaerogamarum, vol. 5(2), Masson, Paris, pp 305–368

Pritchard JK, Stephens M, Donnelly P (2000) Inference of population structure using multilocus genotype data. Genetics 155:945–959

Ren H, Lu L-M, Soejima A, Luke Q, Zhang D-X, Chen Z-D, Wen J (2011) Phylogenetic analysis of the grape family (Vitaceae) based on the noncoding plastid trnC-petN, trnH-psbA, and trnL-F sequences. Taxon 60:629–637

Renfrew JM (1973) Paleoethnobotany. The prehistoric food plants of the near east and europe. Methuen, London

Richard M, Thorpe RS (2001) Can microsatellites be used to infer phylogenies? Evidence from population affinities of the western Canary Island lizard (Gallotia galloti). Mol Phylogenet Evol 20:351–360

Rivera Nunez D, Walker MJ (1989) A review of paleobotanical findings of early Vitis in the Mediterranean and of the origins of cultivated grapevines with special reference to new pointers to prehistoric exploitation in the western Mediterranean. Rev of Palaeobot Palyn 61:205–238

Schaefer H (1982) Failure of distinguishing Vitis species and hybrids by protein and isoenzyme analysis of roots. Biochem Sys Ecol 10:349

Sefc KM, Regner F, Turetschek E, Gloessl J, Steinkellner H (1999) Identification of microsatellite sequences in Vitis riparia and their applicability for genotyping of different Vitis species. Genome 42:367–373

Sneath PHA, Sokal RR (1973) Numerical taxonomy: the principles and practices of numerical classification. W.H. Freeman, San Francisco

Soejima A, Wen J (2006) Phylogenetic analysis of the grape family (Vitaceae) based on three chloroplast markers. Amer J Bot 93:278–287

Thomas MR, Scott NS (1993) Microsatellite repeats in grapevine reveal DNA polymorphisms when analysed as sequence-tagged sites (STSs). Theor Appl Genet 86:985–990

Troendle D, Schroeder S, Kassemeyer H–H, Kiefer C, Koch MA, Nick P (2010) Molecular phylogeny of the genus Vitis (Vitaceae) based on plastid markers. Amer J Bot 97:1168–1178

Turner C (1968) A note on the occurrence of Vitis and other new plant records from the Pleistocene deposits at Hoxne, Suffolk. New Phytol 67:333–334

Vekemans X, Beauwens T, Lemaire M, Roldan-Ruiz I (2002) Data from amplified fragment length polymorphism (AFLP) markers show indication of size homoplasy and of a relationship between degree of homoplasy and fragment size. Mol Ecol 11:139–151

Vergilino R, Markova S, Ventura M, Manca M, Dufresne F (2011) Reticulate evolution of the Daphnia pulex complex as revealed by nuclear markers. Mol Ecol 20:1191–1207

Vos P, Hogers R, Bleeker M, Reijans M, Van De Lee T, Hornes M, Frijters A, Pot J, Peleman J, Kuiper M, Zabeau M (1995) AFLP: a new technique for DNA fingerprinting. Nucleic Acids Res 23:4407–4414

Wan Y, Schwaninger H, Li D, Simon CJ, Wang Y, Zhang C (2008a) A review of taxonomic research on Chinese wild grapes. Vitis 47:81–88

Wan Y, Schwaninger H, Simon CJ, Wang Y, He P (2008b) The ecogeographic distribution of wild grape germplasm in China. Vitis 47:77–80

Wen J (2007) Vitaceae. In: Kubitzki K (ed) Families and genera of vascular plants, vol 9. Springer, Berlin, pp 467–479

Willyard A, Cronn R, Liston A (2009) Reticulate evolution and incomplete lineage sorting among the ponderosa pines. Mol Phylo Evol 52:498–511

Zecca G, Abbott JR, Sun W-B, Spada A, Sala F, Grassi F (2012) The timing and the mode of evolution of wild grapes (Vitis). Mol Phylogenet Evol 62:736–747

Zhukovsky PM (1965) Main gene centers of cultivated plants and their wild relations within territory of the USSR. Euphytica 14:177–188
Acknowledgments
This research is supported by the grant 5306-21000-018-00D from the U.S. Department of Agriculture, Agricultural Research Service. We are grateful to Dr. Peter Cousins for providing the plant samples of some of the grape genotypes from his rootstock breeding program.
Electronic supplementary material
Below is the link to the electronic supplementary material.
About this article
Cite this article
Aradhya, M., Wang, Y., Walker, M.A. et al. Genetic diversity, structure, and patterns of differentiation in the genus Vitis . Plant Syst Evol 299, 317–330 (2013). https://doi.org/10.1007/s00606-012-0723-4
Received:

Accepted:

Published:

Issue Date:

DOI: https://doi.org/10.1007/s00606-012-0723-4
Keywords