Abstract
Stelis, one of the largest genera within Pleurothallidinae, was recently recircumscribed to include a few hundred more species, most of which had previously been assigned to Pleurothallis. Here, a new phylogenetic analysis of Stelis and closely related genera based on DNA sequences from nuclear ITS and chloroplast matK, based on a much larger sample, is presented; it includes more than 100 species assigned to Stelis and covers all proposed groupings within the genus, many of which have not previously been represented. Clades are proposed to enable easier discussion of groups of closely related species; each clade is characterized morphologically, ecologically, and geographically to explain the evidence found in the molecular analysis. Discussion of the evolutionary trends of character states found in the genus in its broad sense is given. The current taxonomy of the group is given and the possible taxonomical implications of the findings presented here are discussed.
Access options
Buy single article
Instant access to the full article PDF.
US$ 39.95
Tax calculation will be finalised during checkout.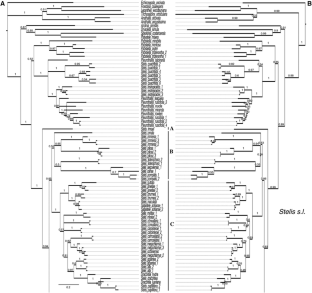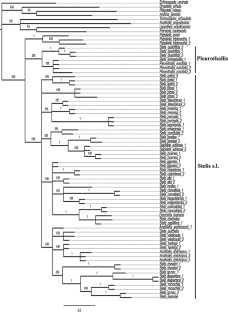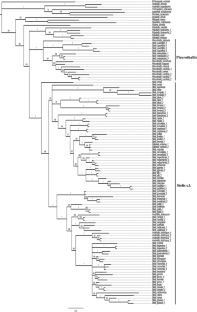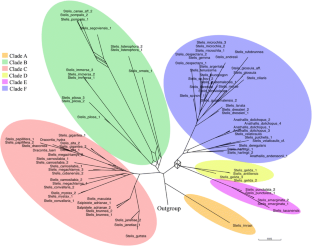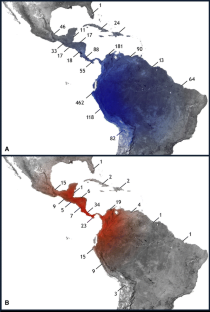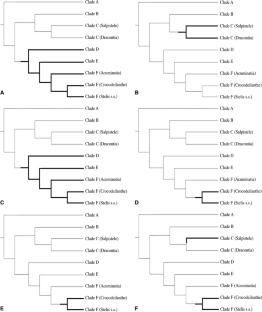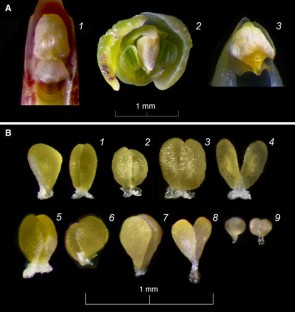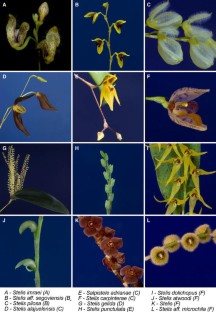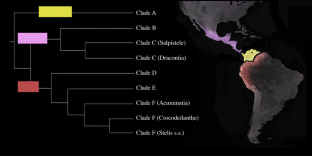 References
Brieger F, Senghas K (1976) Pabstiella, eine neue Orchideengattung aus Brasilien. Die Orchidee 27:193–196

Dressler RL, Bogarín D (2007) A new and bizarre species in the genus Condylago (Orchidaceae: Pleurothallidinae) from Panama. Harvard Pap. Bot. 12(1):1–5

Drummond AJ, Rambaut A (2007) BEAST: Bayesian evolutionary analysis by sampling trees. BMC Evol Biol 7:214

Duque O (2008) Orchidaceae Stelis Swartz—Compendium. Editorial Universidad de Antioquía, Colección de Ciencia y Tecnología

Edwards SV, Liu L, Pearl DK (2007) High-resolution species trees without concatenation. PNAS 104(14):5936–5941

Garay LA (1953) Orchidaceae Austro-Americanae I. Svensk Bot. Tidskr. 47:190–234

Garay LA (1979) Systematics of the genus Stelis Sw. Bot. Mus. Leafl. 27:167–259

Govaerts R, Pfahl J, Campacci MA, Holland Baptista D, Tigges H, Shaw J, Cribb P, George A, Kreuz K, Wood J (2011) World checklist of Orchidaceae. The Board of Trustees of the Royal Botanic Gardens, Kew. http://www.kew.org/wcsp/. Accessed 30 June 2011

Hágsater E, Soto MA (2003) Icones Orchidacearum 5–6: orchids of Mexico 2–3. Herbario AMO, México City

Hall TA (1999) BioEdit: a user-friendly biological sequence alignment editor and analysis program for Windows 95/98/NT. Nucleic Acids Symp Ser 41:95–98

Holland BR, Moulton V (2003) Consensus networks: a method for visualizing incompatibilities in collections of trees. In: Benson G, Page R (eds) Algorithms in bioinformatics, WABI (2003). Springer, Germany, pp 165–176

Holland BR, Delsuc F, Moulton V (2005) Visualizing Conflicting Evolutionary Hypotheses in Large Collections of Trees: Using Consensus Networks to Study the Origins of Placentals and Hexapods. Syst Biol 54(1):66–76

Huelsenbeck JP, Ronquist F (2001) MrBayes: Bayesian inference of phylogeny. Bioinformatics 17:754–755

Huson DH, Bryant D (2006) Application of Phylogenetic Networks in Evolutionary Studies. Mol Biol Evol 23(2):254–267

Karremans AP (2010) Phylogenetics of Stelis (Orchidaceae: Pleurothallidinae) and closely related genera, based on molecular data, morphological characteristics and geographical distribution in the Central American and Andean Cordilleras. MSc Thesis, Plant Sciences Group and Biosystematics Group, Wageningen University

Karremans AP (2011) Dracontia, little known dragon orchids. Orchids, Mag. Amer. Orchid Soc. 80(9):560–566

Karremans AP (2012) Illustrations and studies in Neotropical Orchidaceae. 3. On the identity of Dracontia pachyglossa and D. ramonensis; with a new species, D. lueriana (Pleurothallidinae). Ann. Naturhist Mus. Wien, B 113:119–132

Karremans AP, Smith CM (2012) A note on Dracontia (Orchidaceae: Pleurothallidinae), with a new species. Harv. Pap. Bot. 17(1):13–17

Kubatko LS, Degnan JH (2007) Inconsistency of phylogenetic estimates from concatenated data under coalescence. Systems Biology 56(1):17–24

Luer CA (1977) Icones Pleurothallidinarum Miscellaneous species in the Pleurothellidinae. Addenda et corrigenda. Selbyana 3(3–4):203–412

Luer CA (1986) Systematics of the genus Pleurothallis (Orchidaceae). Monogr. Syst. Bot. Missouri Bot. Gard. 20

Luer CA (1991) Icones Pleurothallidinarum VIII Systematics of Lepanthopsis, Octomeria Subgenus Pleurothallopsis, Restrepiella, Restrepiopsis, Salpistele, and Teagueia (Orchidaceae). Monogr. Syst. Bot. Missouri Bot. Gard. 39

Luer CA (1994) Icones Pleurothallidinarum XI Systematics of Lepanthes Subgenus Brachycladium and Pleurothallis Subgenus Aenigma, Subgenus Elongatia, Subgenus Kraenzlinella (Orchidaceae). Monogr. Syst. Bot. Missouri Bot. Gard. 52

Luer CA (1998) Icones Pleurothallidinarum XVI Systematics of Pleurothallis subgenera Crocodeilanthe, Rhynchopera, Talpinaria (Orchidaceae). Monogr. Syst. Bot. Missouri Bot. Gard. 65

Luer CA (1999) Icones Pleurothallidinarum XVIII Systematics of Pleurothallis Subgen. Pleurothallis Sect. Pleurothallis Subsect. Antenniferae, Subsect. Longiracemosae, Subsect. Macrophyllae-Racemosae, Subsect. Perplexae, Subgen. Pseudostelis, Subgen. Acuminatia. Monogr. Syst. Bot. Missouri Bot. Gard. 76

Luer CA (2000) Icones Pleurothallidinarum XX. Systematics of Jostia, Andinia, Barbosella, Barbrodia, and Pleurothallis Subgen. Antilla, Subgen. Effusia, Subgen. Restrepioidia. Monogr. Syst. Bot. Missouri Bot. Gard. 79

Luer CA (2003) Pleurothallis. In: Hammel BE, Grayum MH, Herrera C, Zamora N (eds) Manual de plantas de Costa Rica, vol III. Missouri Botanical Garden Press, Missouri, pp 386–452

Luer CA (2004) Icones Pleurothallidinarum XXVI Pleurothallis subgenus Acianthera and three allied subgenera. A second century of new species of Stelis of Ecuador. Epibator, Ophidion, Zootrophion. Monogr. Syst. Bot. Missouri Bot. Gard. 95

Luer CA (2006) Icones Pleurothallidinarum XXVIII Reconsideration of Masdevallia, and the Systematics of Specklinia and vegetatively similar genera (Orchidaceae). Monogr. Syst. Bot. Missouri Bot. Gard. 105

Luer CA (2007) Icones Pleurothallidinarum XXIX. A third century of Stelis of Ecuador and Systematics of Apoda-Prorepentia and Systematics of Miscellaneous small genera, addenda: new genera, species, and combinations (Orchidaceae). Monogr. Syst. Bot. Missouri Bot. Gard. 112

Luer CA (2009) Icones Pleurothallidinarum XXX. Lepanthes of Jamaica and Systematics of Stelis, Stelis of Ecuador, part four and addenda: systematics of Masdevallia, new species of Lepanthes from Ecuador, and miscellaneous new combinations. Monogr. Syst. Bot. Missouri Bot. Gard. 115

Luer CA (2010) Icones Pleurothallidinarum XXXI: Lepanthes of Bolivia. Systematics of Octomeria Species North and West of Brazil; Addenda and Corrigenda. Monogr. Syst. Bot. Missouri Bot. Gard. 120

Luer CA (2011) Miscellaneous new species in the Pleurothallidinae (Orchidaceae) excluding species from Brazil. Harv. Pap. Bot. 16(2):311–360

Maddison WP, Maddison DR (2007) Mesquite: a modular system for evolutionary analysis. Mesquite v. 2.72. http://mesquiteproject.org

Miller D, Warren R, Moura Miller I, Seehawer H (2011) The Organ mountain range its history and its orchids: Río de Janeiro. Editora Scart, Nova Friburgo/RJ, Brazil

Posada D, Crandall KA (1998) ModelTest: Testing the model of DNA substitution. Bioinformatics 14:817–818

Pridgeon AM (2005) Subtribe Pleurothallidinae. In: Pridgeon AM, Cribb PJ, Chase MW, Rasmussen FN (eds) Genera Orchidacearum, vol 4, Epidendroideae (Part One), pp 405–412

Pridgeon AM, Chase MW (2001) A phylogenetic reclassification of Pleurothallidinae (Orchidaceae). Lindleyana 16(4):235–271

Pridgeon AM, Solano-Gómez R, Chase MW (2001) Phylogenetic relationships in Pleurothallidinae (Orchidaceae): combined evidence from nuclear and plastid DNA sequences. Am J Bot 88(12):2286–2308

Pupulin F (2002) Catálogo revisado y anotado de las Orchidaceae de Costa Rica. Lankesteriana 4:1–88

Rambaut A (2009) FigTree v1.3.1. http://tree.bio.ed.ac.uk/software/

Rambaut A, Drummond AJ (2007) Tracer v1.4. http://tree.bio.ed.ac.uk/software/

Ronquist F, Huelsenbeck JP (2003) MrBayes 3: Bayesian phylogenetic inference under mixed models. Bioinformatics 19:1572–1574

Schlechter R (1922) Orchidaceae Bradeanae Paulenses. Anexos Mem. Inst. Butantan 1(4):6–82

Solano-Gómez R, Salazar GA (2007) A new species of Stelis (Orchidaceae, Pleurothallidinae) from Guerrero. Mexico. Revista Mex. Biodivers. 78(2):253–285

Staden R, Judge DP, Bonfield JK (2003) Analysing Sequences Using the Staden Package and EMBOSS. In: Krawetz SA, Womble DD (eds) Introduction to Bioinformatics. A Theoretical and Practical Approach. Human Press Inc., Totawa, NJ 07512

Stenzel H (2004) Systematics and evolution of the genus Pleurothallis R Br. (Orchidaceae) in the Greater Antilles. Dissertation. Mathematisch-Naturwissenschaftlichen Fakultät I der Humboldt- Universität zu Berlin

Sun Y, Skinner DZ, Liang GH, Hulbert H (1994) Phylogenetic analysis of Sorghum and related taxa using internal transcribed spacers of nuclear ribosomal DNA. Theor Appl Genet 89:26–32

Szlachetko DL, Margonska HB (2001) Genera et species orchidalium. 3. Polish Bot. J. 46(2):113–121
Acknowledgments
We are indebted to J. Wieringa, M. Sosef, and T. Damen at the herbarium Vadense in Wageningen, for access to the collections, for sharing their knowledge, and for their support. We are very grateful to Antonius Sijm and Jacobus Wubben for free access to their collections and their openness. We are very much indebted to Linda Kodde for her collaboration and knowledge on DNA extraction and sequencing; without her this paper would not have been possible. We thank Stephen Kirby and Mark Wilson for revising the manuscript and for their help throughout this study. Hagen Stenzel was kind enough to allow us to use some of his DNA sequences. Diego Bogarín helped with several of the photographs and specimen collections. Federico Albertazzi kindly helped with the sequencing of a few species in his laboratory. We are especially thankful to the scientific services of Costa Rican Ministry of Environment, Energy and Telecommunications (MINAET) and its National System of Conservation Areas (SINAC) for issuing the Scientific Passports under which wild species treated in this study were collected. We thank the Vice-Presidency of Research of the University of Costa Rica for providing support under projects 814-A7-015 "Inventario y taxonomía de la flora epífita de la región Mesoamericana", 814-BO-052, "Flora Costaricensis: Taxonomía y Filogenia de la subtribu Pleurothallidinae (Orchidaceae) en Costa Rica", and 814-B1-239 "Filogenia molecular de las especies de Orchidaceae endémicas de Costa Rica". We are grateful to the personnel at CR, INB, JBL, L, USJ, and WAG for granting full access to their collections. Finally, Jorge Warner, director of Lankester Botanical Garden, opened up the living plant collection at JBL to us and helped with transfer of plant material.
About this article
Cite this article
Karremans, A.P., Bakker, F.T., Pupulin, F. et al. Phylogenetics of Stelis and closely related genera (Orchidaceae: Pleurothallidinae). Plant Syst Evol 299, 151–176 (2013). https://doi.org/10.1007/s00606-012-0712-7
Received:

Accepted:

Published:

Issue Date:
Keywords
Stelis

Pleurothallidinae

Orchidaceae

Molecular phylogeny

Morphology

Evolutionary trends