Abstract
The European wild strawberry species Fragaria vesca L., Fragaria viridis Weston, and Fragaria moschata Weston are sympatric and bloom concurrently, introducing the possibilities of cooperation and competition for pollinators. We studied the pollination biology of strawberries that were grown in rectangular plots at a field site near Vilnius city in Lithuania. The number of open flowers, the number of insects visiting flowers, and the plot area covered by strawberry plants were recorded. Wild strawberries were visited by solitary bees (38.5%), flies (31.4%), and other hymenopterans (21%; ants accounted for approximately 98% of this group). Coleopterans, lepidopterans and honey bees together represented less than 10% of the insects recorded on strawberries. Fragaria viridis and F. moschata flowers were more attractive to pollinators than those of F. vesca. The main visitors of F. viridis were small solitary bees; those of F. moschata were ants, while F. vesca flowers were visited by solitary bees, ants and flies in comparable numbers. We discuss competition for pollinators and the possible impact of climate fluctuation on strawberry-pollinator interactions.
Access options
Buy single article
Instant access to the full article PDF.
US$ 39.95
Tax calculation will be finalised during checkout.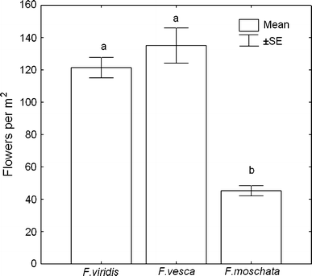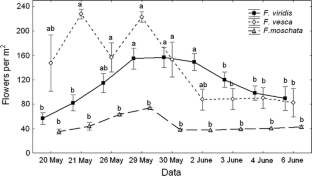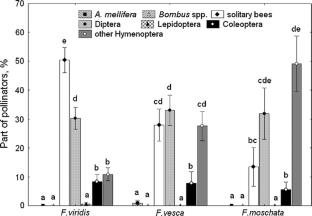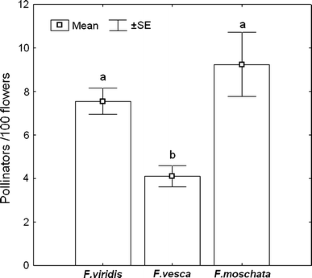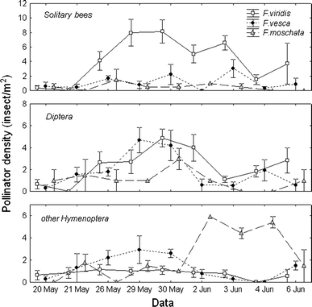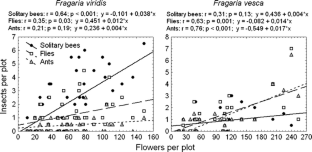 References
Ashman T-L (2000) Pollinator selectivity and its implications for the evolution of dioecy and sexual dimorphism. Ecology 81:2577–2591

Ashman T-L, King EA (2005) Are flower-visiting ants mutualists or antagonists? A study in a gynodioecious wild strawberry. Am J Bot 92:891–895

Ashman T-L, Shivitz S, Swetz J (2000) Understanding the basis of pollinator selectivity in sexually dimorphic Fragaria virginiana. Oikos 90:347–356

Baturin SO (2009) Agamospermy in outbred crosses of Fragaria vesca L. (Rosaceae). Russ J Genet 45: 322–326 (Article in Russian)

Boros RH, Sullivan JA (2005) Interspecific hybridization of Fragaria moschata with two diploid species F. nubicola and F. viridis. Euphytica 143:201–207

Campbell DR (1985) Pollen and gene dispersal: the influence of competition for pollination. Evolution 39:418–431

Caruso CM (2000) Competition for pollination influences selection on floral traits of Ipomopsis aggregata. Evolution 54:1546–1557

Čekanavičius V, Murauskas G (2002) Statistika ir jos taikymai 2. Vilnius, Leidykla TEV

Celedón-Neghme C, Gonzáles WL, Gianoli E (2007) Cost and benefits of attractive floral traits in the annual species Madia sativa (Asteraceae). Evol Ecol 21:247–257

Chagnon M, Gingras J, De Oliveira D (1993) Complementary aspects of strawberry pollination by honey and indigenous bees (Hymenoptera). J Econ Ent 86:416–420

Chittka L, Thomson JD, Waser NM (1999) Flower constancy, insect psychology, and plant evolution. Naturwissenschaften 86:361–377

Cnaani J, Thompson JD, Papaj DR (2006) Flower choice and learning in foraging bumblebees: Effects of variation in nectar volume and concentration. Ethology 112:278–285

Darrow GM (1966) The Strawberry: History, Breeding and Physiology. http://www.nal.usda.gov/pgdic/Strawberry. Accessed 22 March 2011

Fenster CB, Cheely G, Dudash MR, Reynolds RJ (2006) Nectar reward and advertisement in hummingbird-pollinated Selene virginica (Caryophyllaceae). Am J Bot 93:1800–1807

Free JB (1968) The pollination of strawberries by honeybees. Jour Hort Sci 43:107–111

Fritz RS, Morse DH (1981) Nectar parasitism of Asclepias syriaca by ants: effect of nectar levels, pollinia insertion, pollinaria removal and pod production. Oecologia 50:316–319

Galen C, Butchart B (2003) Ants in your plants: effects of nectar thieves on pollen fertility and seed-siring capacity in the alpine wild flower, Polemonium viscosum. Oikos 101:521–528

Germplasm (2009) Resources Information Network (GRIN) Taxonomy for Plants http://www.ars-grin.gov. Accessed 22 March 2011

Ghazoul J (2006) Floral diversity and the facilitation of pollination. J Ecol 94:295–304

Gross A (2009) Hybridisation potential of cultivated strawberries and their wild relatives. MSc Thesis, University of Basel, Switzerland

Gross CL, Mackay DA, Whalen MA (2000) Aggregated flowering phenologies among three sympatric legumes. Plant Ecol 148:13–21

Gudžinskas Z (1999) Lietuvos induočiai augalai. Vilnius, Botanikos instituto leidykla

Hardwicke K (2003) Implications for angiosperm-insect coevolution: differential thermoregulation abilities of pollinators due to behavior and morphology (Coleoptera, Diptera, Hymenoptera, and Lepidoptera) affect distribution, community composition, and floral visitation behavior in a range of environments. Insect Behavior EN507, pp 1–13; Colorado State University. http://www.colostate.edu/Depts/Entomology/courses/en507/papers_2003/index.htm. Accessed 22 March 2011

Heide OM, Sønsteby A (2007) Interactions of temperature and photoperiod in the control of flowering of latitudinal and altitudinal populations of wild strawberry (Fragaria vesca). Physiol Plant 130:280–289

Herrera CM (1995) Floral biology, microclimate, and pollination by ectothermic bees in an early-blooming herb. Ecology 76:218–228

Hummer KE (2007) A Global Conservation Strategy for Strawberries. Acta Hortic 760:49–54

Hummer K (2008) Global conservation strategy for Fragaria (strawberry). Scripta Horticulturae 6. International Society for Horticultural Science, Leuven, Belgium

Ishii HS, Harder LD (2006) The size of individual Delphinium flowers and the opportunity for geitonogamous pollination. Funct Ecol 20:1115–1123

Jennersten O, Kwak MM (1991) Competition for bumblebee visitation between Melampyrum pratense and Viscaria vulgaris with healthy and Ustilago-infected flowers. Oecologia 86:88–89

Kakutani T, Inoue T, Maeta Tezuka T, Y, (1993) Pollination of strawberry by the stingless bee, Trigona minangkabau, and the honey bee, Apis mellifera: An experimental study of fertilization efficiency. Res Popul Ecol 35:95–111

Knuth P (1898) Handbuch der Blutenbiologie, Band II, 1.Teil, Leipzig: Wilhelm Engelmann

Labokas J, Bagdonaitė E (2005) Phenotypic diversity of Fragaria vesca and F. viridis in Lithuania. Biologija 3:19–22

Mangelsdorf AJ, East EM (1927) Studies on the genetics of Fragaria. Genetics 12:307–339

McGregor SE (1976) Insect Pollination of Cultivated Crop Plants. The First and Only Virtual Beekeeping Book Updated Continuously. www.beeculture.com/content/pollination_handbook. Accessed 10 February 2009

Memmott J, Craze PG, Waser NM, Price MV (2007) Global warming and the disruption of plant-pollinator interactions. Ecol Lett 10:710–717

Moeller DA (2004) Facilitative interactions among plants via shared pollinators. Ecology 85:3289–3301

Munger GT (2006) Fragaria vesca. In: Fire Effects Information System [Online]. U.S. Department of Agriculture, Forest Service, Rocky Mountain Research Station, Fire Sciences Laboratory. http://www.fs.fed.us/database/feis/plants/forb/fraves/all.html. Accessed 26 February 2009

Nakano C, Washitani I (2003) Variability and specialization of plant–pollinator systems in a northern maritime grassland. Ecol Res 18:221–246

Ostler WK, Harper KT (1978) Floral ecology in relation to plant species diversity in the Wasatch Mountains of Utah and Idaho. Ecology 59:848–861

Parrish J (2004) Pollination ecology: field studies of insect visitation and pollen transfer rates. Teaching issues and experiments in Ecology, vol 2 (tiee.ecoed.net). Accessed 20 February 2009

Ssymank A, Kearns CA, Pape T, Thompson FC (2008) Pollinating flies (Diptera): a major contribution to plant diversity and agricultural production. Biodiversity 9:86–89

Stone GN (1994) Activity patterns of females of the solitary bee Anthophora plumipes in relation to temperature, nectar supplies and body size. Ecol Ent 19:177–189

USDA (2011) ARS, National Genetic Resources Program. Germplasm Resources Information Network - (GRIN) [Online Database]. National Germplasm Resources Laboratory, Beltsville, Maryland. http://www.ars-grin.gov/cgi-bin/npgs/html/tax_search.pl?Fragaria. Accessed 24 October 2011

Wagner D, Kay A (2002) Do extraloral nectaries distract ants from visiting flowers? An experimental test of an overlooked hypothesis. Evol Ecol Res 4:293–305

Waser NM (1983) Competition for pollination and floral character differences among sympatric plant species: a review of evidence. In:Jones CE, Little RJ (eds) Handbook of experimental pollination biology. Van Nostrand Reinhold, New York, New York, USA, pp 277–293

Willmer PG (1985) Thermal constraints on activity patterns in nectar-feeding insects. Ecol Ent 8:455–469

Wilson EO (1999) Diversity of Life. W.W. Norton and Company, New York

Wyatt R (1980) The impact of nectar-robbing ants on the pollination system of Asclepias curassavica. Bulletin of the Torrey Botanical Club 107:24–28

Zaitoun ST, Al-Ghzawi AA, Shannag HK, Rahman A, Al-Tawahaa RM (2006) Comparative study on the pollination of strawberry by bumble bees and honey bees under plastic house conditions in Jordan valley. J Food Agr Environ 4:237–240
Acknowledgments
We thank Ms Laima Monkienė and Edanz Group Limited for correcting the English. We are grateful to two anonymous referees for valuable suggestions that improved earlier version of the manuscript.
About this article
Cite this article
Blažytė-Čereškienė, L., Būda, V. & Bagdonaitė, E. Three wild Lithuanian strawberry species and their pollinators. Plant Syst Evol 298, 819–826 (2012). https://doi.org/10.1007/s00606-012-0593-9
Received:

Accepted:

Published:

Issue Date:
Keywords
Ants

Fragaria

Hymenoptera

Pollination

Solitary bees