Abstract
The interaction between Ficus spp. (Moraceae) and their pollinating wasps (Chalcidoidae: Agaonidae) is a highly co-evolved mutualism. Approximately half of all fig species are monoecious and produce a mixture of wasps and seeds within the same fig. In functionally dioecious fig trees male and female functions are separate. Figs on male trees produce wasps and pollen, whereas figs borne on female plants produce only seeds. Dioecious fig phenology provides an excellent opportunity to investigate the effect of sexual specialization on the obligate fig–fig wasp interaction and the non-pollinators associated with the system. Here we describe laboratory studies of phenological variation between two sexes in terms of vegetative growth and fig production in a dioecious fig tree Ficus montana. We also describe reproductive output in terms of wasp production in males and seeds in females. Intrasexual asynchrony was observed for the plants, with synchrony between the sexes with year-round production of figs. Male plants grew more rapidly, but leaf phenology was very similar. Crop sizes and development times were the same for males and females. Seasonal effects were strong for leaf phenology and fig initiation, but had a very limited effect on fig composition. The results show that the phenological differences described for other dioecious figs do not apply to all species.
Access options
Buy single article
Instant access to the full article PDF.
US$ 39.95
Tax calculation will be finalised during checkout.
Subscribe to journal
Immediate online access to all issues from 2019. Subscription will auto renew annually.
US$ 119
Tax calculation will be finalised during checkout.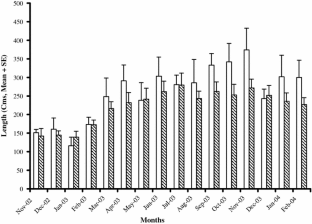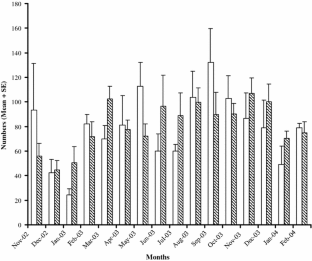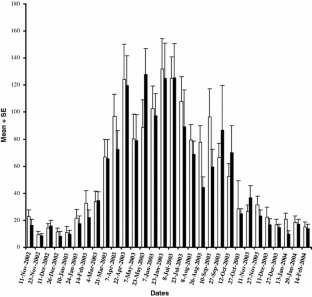 References
Berg CC (2003) Flora Malesiana precursor for the treatment of Moraceae 1: the main subdivision of Ficus: the subgenera. Blumea 48:167–178

Chou LS, Yeh HM (1995) The pollination ecology of Ficus aurantiaca var. parvifolia. Acta Zool Taiwanica 6:1–12

Compton SG (1993) One way to be a fig. Afr Entomol 1:151–158

Compton SG, Ellwood MDF, Davis AJ, Welch K (2000) The flight heights of chalcid wasps (Hymenoptera, Chalcidoidea) in a lowland Bornean rain forest: fig wasps are the high fliers. Biotropica 32:515–522

Corlett RT (1987) The Phenology of Ficus Fistulosa in Singapore. Biotropica 19:122–124

Corlett RT (1993) Sexual dimorphism in the reproductive phenology of Ficus grossularioides Burm. F. in Singapore. Mal Nat J 46:149–155

Damstra KSJ, Richardson S, Reeler B (1996) Synchronized fruiting between trees of Ficus thonningii in seasonally dry habitats. J Biogeogr 23:495–500

Davidson CG, Remphery WR (1990) An analysis of architectural parameters of male and female Fraxinus pennsylvanica in relation to crown shape and crown location. Can J Bot 68:2035–2043

Espírito-Santo MM, Madeira BG, Neves FS, Faria ML, Fagundes M, Fernandes GW (2003) Sexual differences in reproductive phenology and their consequences for the demography of Baccharis dracunculifolia (Asteraceae), a dioecious tropical shrub. Ann Bot 91:13–19

Galil J, Eisikowitch D (1968) Flowering cycles and fruit types in Ficus sycamorus in Israel. New Phytol 67:745–758

Harrison RD, Yamamura N, Inoue T (2000) Phenology of a common roadside fig in Sarawak. Ecol Res 15:47–61

Herre EA (1996) An overview of studies on a community of Panamanian figs. J Biogeogr 23:593–607

Hill DS (1967) Figs (Ficus spp.) and fig wasps (Chalcidoidea). J Nat Hist 1:413–434

Janzen DH (1979) How to be a fig. Ann R Ecol Sys 10:13–51

Kjellberg F, Maurice S (1989) Seasonality in the reproductive phenology of Ficus: its evolution and consequences. Experientia 45:653–660

Kjellberg F, Gouyon PH, Ibrahim M, Raymond M, Valdeyron G (1987) The stability of the symbiosis between dioecious figs and their pollinators: a study of Ficus carica L and Blastophaga psenes L. Evolution 41:693–704

Leigh A, Nicotra AB (2003) Sexual dimorphism in reproductive allocation and water use efficiency in Maireana pyramidata. Aust J Bot 51:509–514

Milla R, Castro-Diez P, Maestro-Martinez M, Montserrat-Martí G (2006) Costs of reproduction as related to the timing of phenological phases in the dioecious Shrub Pistacia lentiscus L. Plant Biol 8:103–111

Mizuki I, Ishida K, Kikuzawa K (2005) Sexual and vegetative reproduction in the aboveground part of a dioecious clonal plant, Dioscorea japonica (Dioscoreaceae). Ecol Res 20:387–393

Moore JC (2001) The ecology and evolution of gynodioecious figs (Ficus: Moraceae) and their pollinators (Agaoninae: Agaonidae). PhD thesis, University of Leeds, UK

Obeso JR (2002) The costs of reproduction in plants. New Phytol 155:321–348

Obeso JR, Santullano A, Retuerto R (1998) Sex ratios, size distributions and sexual dimorphism in the dioecious tree Ilex aquifolium (Aquifoliaceae). Am J Bot 85:1602–1608

Patel A (1996) Variation in a mutualism: phenology and the maintenance of gynodioecy in two Indian fig species. J Ecol 84:667–680

Patel A (1997) Phenological patterns of Ficus in relation to other forest trees in southern India. J Trop Ecol 13:681–695

Patel A (1998) Wasp composition in inflorescences of two dioecious fig species-implications for the Fig-wasp mutualism. Biotropica 30:474–480

Patel A, Hossaert-Mckey M (2000) Components of reproductive success in two dioecious fig species, Ficus exasperata and Ficus hispida. Ecology 81:2850–2866

Patel A, Mckey D (1998) Sexual specialization in two tropical dioecious figs. Oecologia 115:391–400

Patel A, Hossaert-Mckey M, Mckey D (1993) Ficus-pollinator research in India: past, present and future. Curr Sci Ind 653:243–253

Peng Y-Q, Compton SG, Yang D-R (2010) The reproductive success of Ficus altissima and its pollinator in a strongly seasonal environment: Xishuangbanna, South–western China. Plant Ecol 209:227–236

Pickering CM (2000) Sex specific differences in floral display and resource allocation in Australian alpine dioecious Aciphylla glacialis. Aust J Bot 48:81–91

Pickering CM, Hill W (2002) Reproductive ecology and the effect of altitude on sex ratios in the dioecious herb Aciphylla simplicifolia (Apiaceae). Aust J Bot 50:1–12

Pickering CM, Kirkwood A, Arthur JM (2003) Habitat and sex specific differences in the dioecious weed Acetosella vulgaris (Polygonacceae). Austral Ecol 28:396–403

Purrington CB, Schmitt J (1998) Consequences of sexually dimorphic timing of emergence and flowering in Silene latifolia. J Ecol 86:397–404

Putz FE, Romano GB, Holbrook NM (1995) Comparative phenology of epiphytic and tree-phase strangler figs in a Venezuelan palm savanna. Biotropica 27:183–189

Shaltout KH (1987) Pattern, phenology and sex ratio of Egyptian Thymelaea hirsute populations. Plant Ecol (Historical Archive) 72:67–73

Shanahan MS, Compton SG, Corlett R (2001) Fig-eating by vertebrate frugivores: a global review. Biol Rev 76:531–572

Smith CM, Bronstein JL (1996) Site variation in reproductive synchrony in three neotropical figs. J Biogeogr 23:477–486

Spencer H, Weiblen G, Flick B (1996) Phenology of Ficus variegata in a seasonal wet tropical forest at Cape Tribulation, Australia. J Biogeogr 23:467–475

Valdeyron G, Lloyd DG (1979) Sex differences and flowering phenology in the common fig, Ficus carica L. Evolution 33:673–685

Vasiliauskas SA, Aarssen LW (1992) Sex ratio and neighbour effects in monospecific stands of Juniperus virginiana. Ecology 73:622–632

Vaughton G, Ramsey M (1998) Floral display, pollinator visitation and reproductive success in the dioecious perennial herb Wurmbea dioica (Liliaceae). Oecologia 115:93–101

Waelti MO, Page PA, Widmer A, Schiestl FP (2009) How to an attractive male: floral dimorphism and attractiveness to pollinators in a dioecious plant. BMC Evol Biol 9:190

Wang R, Yang J, Yang D (2005) Seasonal changes in the trade-off among fig-supported wasps and viable seeds in figs and their evolutionary implications. J Integr Plant Biol 47:144–152

Ware AB, Compton SG (1994) Responses of fig wasps to host plant volatile cues. Chem Ecol 24:785–802

Windsor D, Morrison DW, Estribi Ma, De Leon B (1989) Phenology of fruit and leaf production by strangler figs on Barro Colorado Island. Panama Experientia 45:647–653

Zluvova J, Zak J, Janousek B, Vyskot B (2010) Dioecious Silene latifolia plants show sexual dimorphism in the vegetative stage. BMC Plant Biol 10:208
Acknowledgments
Thanks to Martin Lappage for invaluable support at the Leeds University Experimental Gardens. Financial support to NS and SR was provided by The Ministry of Education, Government of Pakistan. Two anonymous referees provided thoughtful insights and suggestions after reading our initial submission.
About this article
Cite this article
Suleman, N., Raja, S. & Compton, S.G. A comparison of growth and reproduction, under laboratory conditions, of males and females of a dioecious fig tree. Plant Syst Evol 296, 245 (2011). https://doi.org/10.1007/s00606-011-0491-6
Received:

Accepted:

Published:
Keywords
Dioecy

Ficus montana

Glasshouse studies

Liporrhopalum

Pollination

Phenology