Abstract
Comparison of leaf morphometric variation and phylogenetic analyses based on nrITS and partial trnC-D cpDNA sequences were conducted for samples of Lysionotus pauciflorus sensu lato collected from China, Japan and Taiwan. In the morphometric comparison, leaves of plants from Japan proper and those from Taiwan proper were not significantly distinguishable by their leaf length to width ratio. In phylogenetic analyses, monophyly of L. pauciflorus s. l. samples was strongly supported, and Japanese and Taiwanese samples fell into a clade separate from Chinese samples. In the Japan–Taiwan clade, plants from Japan proper formed a sister clade to those from Okinawa Island (Japan) and Taiwan. The present results suggest that (1) the L. pauciflorus s. l. samples from China, Japan and Taiwan must be treated as a single species; (2) L. pauciflorus s. l. originated in China; (3) a single dispersal event, dispersal via a land-bridge during low sea levels in a Pleistocene glacial maximum, from China to Taiwan and Japan is proposed; (4) three oversea dispersal events, probably through anemochory, to Japan proper, across the Tokara Gap, to Okinawa islands crossing the Kerama Gap, and from Taiwan to Lanyu Island are proposed. The study gives further insight into the biogeographical dynamics between the Ryukyus and surrounding areas.
Access options
Buy single article
Instant access to the full article PDF.
US$ 39.95
Tax calculation will be finalised during checkout.
Subscribe to journal
Immediate online access to all issues from 2019. Subscription will auto renew annually.
US$ 119
Tax calculation will be finalised during checkout.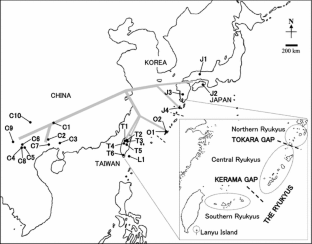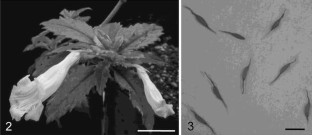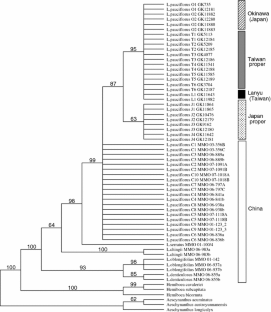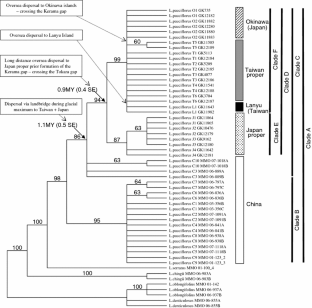 References
Boggs S, Wang W, Lewis FS, Chen J (1979) Sediment properties and water characteristics of the Taiwan shelf and slope. Acta Oceanogr Taiwanica 10:10–49

Douzery EJP, Pridgeon AM, Kores P, Linder HP, Kurzweil H, Chase MW (1999) Molecular phylogenetics of Diseae (Orchidaceae): a contribution from nuclear ribosomal ITS sequences. Am J Bot 86:887–899

Farris JS, Källersjö M, Kluge AG, Bult C (1994) Testing significance of incongruence. Cladistics 10:315–319

Felsenstein J (1985) Confidence-limits on phylogenies – an approach using the bootstrap. Evolution 39:783–791

Hatusima S (1970) An enumeration of the plants collected by G. Ikeda in Botel Tobago Island. Mem Fac Agri Kagoshima Univ 7:295–341

Hatusima S (1975) Flora of the Ryukyus, added & corrected. Okinawa Association of Biology Education Naha (in Japanese)

Hatusima S, Amano T (1994) Flora of the Ryukyus. The Biological Society of Okinawa South of Amami Island, Nishihara (in Japanese)

Hiramatsu M, Li K, Okubo H, Huang K, Huang C (2001) Biogeography and origin of Lilium longiflorum and L. formosanum (Liliaceae) endemic to the Ryukyu Archipelago and Taiwan as determined by allozyme diversity. Am J Bot 88:1230–1239

Hotta M (1974) History and Geography of Plants. Sanseido, Tokyo (in Japanese)

Hughes M, Möller M, Bellstedt DU, Edwards TJ, De Villiers M (2005) Refugia, dispersal and divergence in a forest archipelago: a study of Streptocarpus in eastern South Africa. Mol Ecol 14:4415–4426

Kao M, Devol CE (1978) Gesneriaceae. In: Editorial Committee Fl. Taiwan (ed) Flora of Taiwan, vol 4. Editorial Committee Fl. Taiwan, Taipei, pp 664–687

Kay KM, Whittall JB, Hodges SA (2006) A survey of nuclear ribosomal internal transcribed spacer substitution rates across angiosperms: an approximate molecular clock with life history effects. BMC Evol Biol 6:36

Kitamura A, Takano O, Takana H, Omote H (2001) Late Pliocene–early Pleistocene paleoceanographic evolution of the Sea of Japan. Palaeogeography 172:81–98

Kizaki K, Oshiro I (1977) Palaeogeography of the Ryukyu Islands. Mar Sci Month 9:542–549 (in Japanese with English abstract)

Kokubugata G, Nakamura K, Shinohara W, Saito Y, Peng C, Yokota M (2009) Evidence of three parallel evolutions of leaf dwarfism and phytogeography in Lysimachia sect. Nummularia in Japan and Taiwan. Mol Phylogenet Evol 54:657–663

Li Z, Kao M (1998) Gesneriaceae. In: Editorial Committee of the Flora of Taiwan (ed) Flora of Taiwan, vol 4, 2nd edn. Editorial Committee of the Flora of Taiwan, Taipei, pp 688–712

Maximowicz CJ (1874) Diagnoses plantarum novarum Japonicae et Mandshuriae XVII-XVIII. Bul L'Acad Imper Sci St.-Pétersbourg 19:475–540

Möller M, Pfosser M, Jang C, Mayer V, Clark A, Hollingsworth ML, Barfuss MHJ, Wang Y, Kiehn M, Weber A (2009) A preliminary phylogeny of the 'Didymocarpoid Gesneriaceae' based on three molecular data sets: incongruence with available tribal classifications. Am J Bot 96:989–1010

Nakamura K, Chung S, Kokubugata G, Denda T, Yokota M (2006) Phylogenetic systematics of the monotypic genus Hayataella (Rubiaceae) endemic to Taiwan. J Plant Res 119:657–661

Nakamura K, Suwa R, Denda T, Yokota M (2009) Geohistorical and current environmental influences on floristic differentiation in the Ryukyu Archipelago, Japan. J Biogeogr 36:919–928

Ohwi J (1984) Flora of Japan. Smithsonian Institution, Washington D.C

Ota H (1998) Geographic patterns of endemism and speciation in amphibians and reptiles of the Ryukyu Archipelago, Japan, with special reference to their paleogeographical implications. Res Popul Ecol 40:189–204

Sanderson MJ (2002) Estimating absolute rates of molecular evolution and divergence time: a penalized likelihood approach. Mol Biol Evol 19:101–109

Sauer JD (1998) Plant migration. University of California Press, Berkeley

Setoguchi H, Yukawa T, Tokuoka T, Momohara A, Sogo A, Takaso T, Peng C (2006) Phylogeography of the genus Cardiandra based on genetic variation in cp DNA sequences. J Plant Sci 119:401–405

Setoguchi H, Watanabe W, Maeda Y, Peng C (2008) Molecular phylogeny of the genus Pieris (Ericaceae) with special reference to phylogenetic relationships of insular plants on the Ryukyus Islands. Plant Syst Evol 270:217–230

Shaw J, Lickey EB, Beck JT, Farmer SB, Liu W, Miller J, Siripun KC, Winder CT, Schilling EE, Small RL (2005) The tortoise and the hare II: relative utility of 21 noncoding chloroplast DNA sequences for phylogenetic analysis. Am J Bot 92:142–166

Shen H, Tsai C (2002) Earthworm fauna of the Lanyu Island (Botel Tobago). Endemic Species Res 4:1–8

Sibuet J, Hsu K (2004) How was Taiwan created? Tectonophysics 379:159–181

Swofford DL (2002) PAUP*: phylogenetic analysis using parsimony (*and other methods), ver 4. Sinauer, Sunderland

Tagawa H, Miyagi Y (1991) Vegetation of the southwest islands and its features and conservation. In: Nature Conservation Bureau, Environment Agency (ed) Report on essential conditions for conservation of wild species in southwest Islands in Fiscal 1990. WWF Japan, Tokyo, pp 122–183 (in Japanese)

The Japanese Ministry of Environment (2007) Red Data List (Plants). http://www.biodic.go.jp/rdb/rdb_f.html. Accessed 7 Jan 2011

Thompson JD, Higgins DG, Gibson TJ (1994) CLUSTAL W: improving the sensitivity of progressive multiple sequence alignment through sequence weighting, position specific gap penalties and weight matrix choice. Nucleic Acids Res 22:4673–4680

Ujiié H (1990) Geological history of the Ryukyu Island arc. In: Ujiié H (ed) Nature of Okinawa; geomorphology and geology. Hirugisha, Naha, pp 251–255

Wang W, Pan K, Li Z (1990) Gesneriaceae. In: Wang W (ed) Flora reipublicae popularis sinicae, vol 69. Science Press, Beijing, pp 125–581

Wang W, Pan K, Li Z, Weitzman AL, Skog LE (1998) Gesneriaceae. In: Wu Z, Raven PH (eds) Flora of China, vol 18. Missouri Botanical Garden Press, St. Louis, pp 244–401

Yamazaki T (1993) Lysionotus warleyensis Willmott newly found in the Ryukyus. J Jpn Bot 69:114–115

Yamazaki T (1994) Gesneriaceae. In: Iwatsuki K, Yamazaki T, Boufford DE, Ohba H (eds) Flora of Japan vol IIIa. Kodansha, Tokyo, pp 376–379

Yang TA (2006) Type specimens of Taiwanese plants named by Dr. C.J. Maximowicz and housed at the Herbarium, Komarov Botanical Institute of the Russian Academy of Sciences, St. Petersburg, Russia (LE). National Museum of Natural History, Taichung

Yokota M, Tomiyama H (2006) Lysionotus apicidens (Hance) Yamazaki. In: Okinawa Prefecture (ed) Red Data Okinawa, revised ver. Okinawa Prefecture, Naha, pp 166–167

Yokota M, Kanemoto T, Kokubugata G (2007) Endangered plant species in the Ryukyu Archipelago I. What endangered species in the Ryukyus. In: Ishida G, Iwashina T, Konishi T Shigekura Y, Oikawa J, Yukawa T (eds) Conservation of plant diversity in Japanese botanic gardens. Japanese Association of Botanical Gardens, Tokyo/Tsukuba Botanical Garden, Ibaraki/Botanic Gardens Conservation International, Richmond, pp 220–225
Acknowledgments
We thank C.-I Huang (HAST), T. Minamitani, M. Morimoto, the Motobu Municipal Museum and S. Azuma for providing plant materials. We also thank K. Nakamura (HAST) for valuable suggestions. This study was conducted in connection with projects on the "Integration of Systematics and Molecular Phylogenetics in All Groups of Organisms" and "Taxonomic and Conservation Studies on Endangered Plant Species in Japan" managed by the National Museum of Nature and Science, and supported in part by a Grant-in-Aid for Scientific Research Program C (JSPS; no. 20510220; G.K.) and 21st Century COE program of the University of the Ryukyus (M.Y.). RBGE is supported by the Scottish Government Rural and Environment Research and Analysis Directorate (RERAD). The field work of M.M. was supported by the Percy Sladen Memorial Fund, Oleg Polunin Memorial Fund, and Davis Expedition Fund of the University of Edinburgh.
Electronic supplementary material
Below is the link to the electronic supplementary material.
Phylogram of one of eight most parsimonious trees for 56 samples of five species of Lysionotus species based on ITS and partial trnC-D spacer sequences, with suggested dispersal routes and means (PDF 62 kb)
About this article
Cite this article
Kokubugata, G., Hirayama, Y., Peng, CI. et al. Phytogeographic aspects of Lysionotus pauciflorus sensu lato (Gesneriaceae) in the China, Japan and Taiwan regions: phylogenetic and morphological relationships and taxonomic consequences. Plant Syst Evol 292, 177–188 (2011). https://doi.org/10.1007/s00606-010-0410-2
Received:

Accepted:

Published:

Issue Date:
Keywords
Gesneriaceae

Lysionotus

Leaf morphology

Phytogeography

Ryukyus