Abstract
Fertilization and embryogeny in Agapanthus praecox ssp. orientalis are described for the first time, and embryogenic characters of Agapanthus are discussed. The main results are: (1) The pollen tube enters the embryo sac and discharges two sperm 44–48 h after pollination. (2) The sperm fuse with the egg cell and polar nuclei, forming zygote and primary endosperm nucleus, approximately 50 h after pollination. The zygote then enters a short period of dormancy. (3) Seven days after pollination, the zygote starts division. The first division of the zygote is transversal. (4) The embryo undergoes globular stage, rod-shaped stage, and finally forms a monocotyledonous embryo. (5) The suspensor cells are ephemeral and degenerate at the globular embryo stage. (6) Endosperm cells contain massive starch grains as nutrition for embryo development. (7) Embryogeny conforms to the Onagrad type, and endosperm formation is of the nuclear type; the whole process of embryogeny and endosperm development needs approximately 60 days in A. praecox ssp. orientalis. (8) Dicotyledonous together with monocotyledonous forms of embryo morphogenesis in Agapanthus supports the concept of homology of monocots and dicot cotyledons.
Access options
Buy single article
Instant access to the full article PDF.
US$ 39.95
Tax calculation will be finalised during checkout.
Subscribe to journal
Immediate online access to all issues from 2019. Subscription will auto renew annually.
US$ 119
Tax calculation will be finalised during checkout.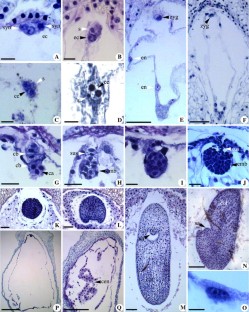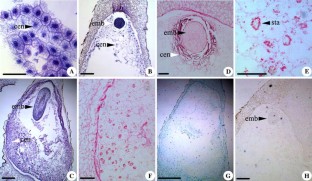 References
Bloor SJ, Falshaw R (2000) Covalently linked anthocyanin–flavonol pigments from blue Agapanthus flowers. Phytochemistry 53:575–579

Burger WC (1998) The question of cotyledon homology in angiosperms. Bot Rev 64:356–371

Chen JH (2003) Research on forestry development based on the urban ecology environment construction (in Chinese with English abstract). Northeast Forestry University, China

Duncan GD (1985) Agapanthus species–their potential, and the introduction of ten selected forms. Veld Flora 71–4:122–125

Duncan AC, Jäger AK, Staden J (1999) Screening of Zulu medicinal plants for angiotensin converting enzyme (ACE) inhibitors. J Ethnopharmacol 68:63–70

Feijó JA, Malhó R, Pais MSS (1992) A cytochemical study on the role of ATPases during pollen germination in Agapanthus umbelatus L'Her. Sex Plant Reprod 5:138–145

Hu SY (2005) Reproductive biology of angiosperms. China Higher Education Press, Beijing

Hu SY, Xu LY (1990) A cytochemical technique for demonstration of lipid, polysaccharides and protein bodies in thick resin sections. Acta Bot Sin 32:841–846

Johri BM (ed) (1984) Embryology of angiosperms. Springer, Berlin

Kaido TL, Veale DJH, Havlik I, Rama DBK (1997) Preliminary screening of plants used in South Africa as traditional herbal remedies during pregnancy and labour. J Ethnopharmacol 55:185–191

Kamara BI, Manong DTL, Brandt EV (2005) Isolation and synthesis of a dimeric dihydrochalcone from Agapanthus africanus. Phytochemistry 66:1126–1132

Leighton FM (1965) The genus Agapanthus L'Héritier. J S African Bot Suppl 4:1–50

Lima-de-Faria A (1953) The regions of special cycle of division of Agapanthus chromosomes. Chromosoma 6:33–44

Lima-de-Faria A (1954) Chromosome gradient and chromosome field in Agapanthus. Chromosoma 6:330–370

Lima-de-Faria A (1965) Labeling of the cytoplasm and the meiotic chromosomes of Agapanthus with H3-thymidine. Hereditas 53:1–11

Nakamura O, Mimaki Y, Sashida Y, Nikaido T, Ohmoto T (1993) Agapanthussaponins A–D, new potent cAMP phosphodiesterase inhibitors from the underground parts of Agapanthus inapertus. Chem Pharm Bull (Tokyo) 41:1784–1789

Nakano M, Tanaka S, Oota M, Ookawa E, Suzuki S, Saito H (2003) Regeneration of diploid and tetraploid plants from callus-derived protoplasts of Agapanthus praecox ssp orientalis (Leighton) Leighton. Plant Cell Tiss Org 72:63–69

Singh DN, Verma N, Raghuwanshi S, Shukla PK, Kulshreshtha DK (2008) Antifungal activity of Agapanthus africanus extractives. Fitoterapia 79:298–300

Suzuki S, Oota M, Nakano M (2002) Embryogenic callus induction from leaf explants of the Liliaceous ornamental plant, Agapanthus praecox ssp. orientalis (Leighton) Leighton: Histological study and response to selective agents. Sci Hortic 95:123–132

Titova GE (2003) Algorithms of embryo morphogenesis in Agapanthus praecox Willd. (Alliaceae) in monocotyly, dicotyly and transitional forms. Acta Biol Cracov Bot 45:161–165

Veale DJH, Havlik I, Oliver DW, Dekker TG (1999) Pharmacological effects of Agapanthus africanus on the isolated rat uterus. J Ethnopharmacol 66:257–262

Xi XY (1987) The development of green onion (Allium fistulosum L.) embryo and endosperm. J Integr Plant Biol 29:459–464

Zhang D, Zhuo LH, Shen XH (2010) Sporogenesis and gametogenesis in Agapanthus praecox Willd. orientalis (Leighton) Leighton and their systematic implications. Plant Syst Evol 288:1–11

Zonneveld BJM, Duncan GD (2003) Taxonomic implications of genome size and pollen colour and vitality for species of Agapanthus L' Héritier (Agapanthaceae). Plant Syst Evol 241:115–123
Acknowledgments
The authors are highly grateful to the School of Agriculture and Biology of Shanghai Jiaotong University for providing field and laboratory facilities. This study enjoyed generous support from the Research Fund for the Doctoral Program of Higher Education of China (200802250010), the National Science Fund of China (30571475) and the Key Project of the Shanghai Agricultural Committee (2006-4-9).
About this article
Cite this article
Zhang, D., Ren, L., Shen, XH. et al. Fertilization and embryogeny in Agapanthus praecox ssp. orientalis (Leighton) Leighton. Plant Syst Evol 293, 25–30 (2011). https://doi.org/10.1007/s00606-010-0378-y
Received:

Accepted:

Published:

Issue Date:
Keywords
Agapanthus praecox ssp. orientalis

Fertilization

Embryogeny

Endosperm development