Abstract
A new strategy has been developed for the determination of trace lead ions (Pb2+) based on hexagonal boron nitride (h-BN) laden with point defect. The defect-laden boron nitride (D-BN) was synthesized by a thermal polymerization route, in which melamine borate was used as a precursor. The defect microstructure was confirmed by photoluminescence (PL) and x-ray diffraction (XRD) techniques. As compared with h-BN, the D-BN-modified glassy carbon electrode (GCE) showed an enhanced electrochemical response towards Pb2+ peaking at − 0.551 V (vs. SCE), which was evidenced by linear sweep anodic stripping voltammetry (LSASV) results. The point defect plays a pivotal role in the electrocatalytic reaction process, which can mediate the electronic structure and surface properties of h-BN. Accordingly, the sensor presented a low detection limit of 0.15 μg/L towards Pb2+ and a wide linear response concentration range from 0.5 to 400 μg/L (correlation coefficient = 0.995). In view of its superior selectivity, stability, and reproducibility, the proposed method was applied for Pb2+ determination in real samples and exhibited satisfactory results. This work provides insight for the construction of electrochemical sensor with high-performance by engineering defects of modifying materials.
Graphical abstract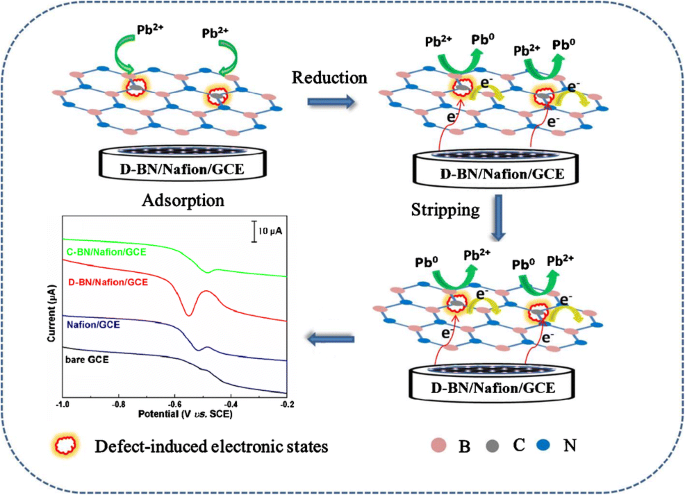 Access options
Buy single article
Instant access to the full article PDF.
US$ 39.95
Tax calculation will be finalised during checkout.
Subscribe to journal
Immediate online access to all issues from 2019. Subscription will auto renew annually.
US$ 119
Tax calculation will be finalised during checkout.




Funding
This work is supported by the National Natural Science Foundation of China (21005053), the Priority Academic Program Development of Jiangsu Higher Education Institutions, and the Project of Scientific and Technologic Infrastructure of Suzhou (SZS201708).
Ethics declarations
Conflict of interest
The authors declare that they have no competing interests.
Additional information
Publisher's note
Springer Nature remains neutral with regard to jurisdictional claims in published maps and institutional affiliations.
Supplementary information
About this article
Cite this article
Shen, Y., Ouyang, H., Li, W. et al. Defect-enhanced electrochemical property of h-BN for Pb2+ detection. Microchim Acta 188, 40 (2021). https://doi.org/10.1007/s00604-020-04691-z
Received:

Accepted:

Published:
Keywords
Boron nitride

Defect-laden electrode

Lead ions

Voltammetry

Electrochemical sensor