Abstract
A colorimetric microplate assay for determination of Staphylococcus aureus DNA is described. Linear padlock probes were designed to recognize target sequences. After DNA binding, the linear padlock probes were circularized by ligation and then hybridize with biotin-labeled capture probes. Biotin-labeled capture probes act as primers to initiate the RCA. The biotin-labeled RCA products hybridize with digoxin-labeled signal probes fixed on streptavidin-functionalized wells of a 96-well plate. To enhance sensitivity, an AuNP-anti-digoxigenin-POx-HRP conjugate was added to the wells and then bound to digoxin-labeled signalling probes. The oxidation of tetramethylbenzidine (TMB) by H2O2 produces a color change from colorless to blue via HRP catalysis. After the reaction was terminated, absorbance is measured at 450 nm. For target sequences of Staphylococcus aureus, the detection limit is 1.2 pM. For genomic DNA, the detection limit is 7.4 pg.μL−1. The potential application of the method was verified by analyzing spiked food samples.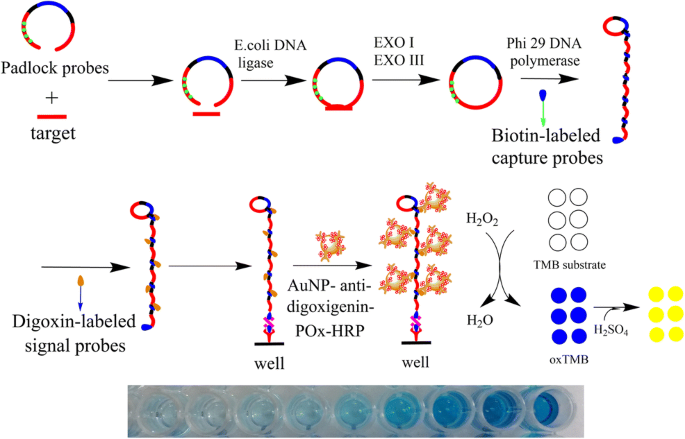 Access options
Buy single article
Instant access to the full article PDF.
US$ 39.95
Tax calculation will be finalised during checkout.
Subscribe to journal
Immediate online access to all issues from 2019. Subscription will auto renew annually.
US$ 119
Tax calculation will be finalised during checkout.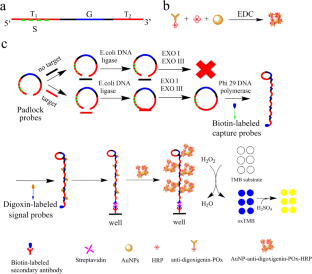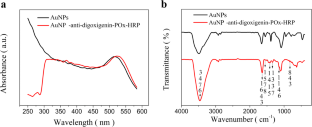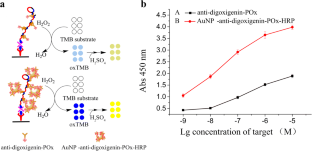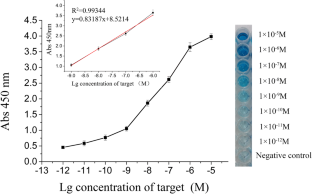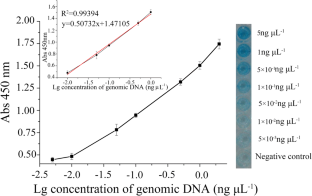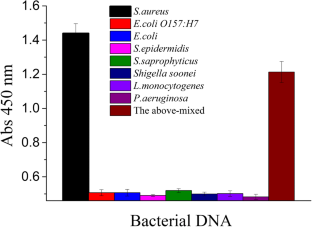 Acknowledgements
The authors are grateful for providing language help from the American Journal Experts.
Funding
This work was supported by "The National Key R&D Program of China" (No.2016YFD0401202), Special Project of Tianjin Innovation Platform (No.17PTGCCX00230), Tianjin science and technology planning project(No. 18PTSYJC00130).
Ethics declarations
Conflict of interest
The author(s) declare that they have no conflict of interest.
Human and Animal Rights
This article does not contain any studies with laboratory animals or human participants performed by any of the authors.
Additional information
Publisher's note
Springer Nature remains neutral with regard to jurisdictional claims in published maps and institutional affiliations.
Electronic supplementary material
About this article
Cite this article
Li, Y., Wang, J., Wang, S. et al. Rolling circle amplification based colorimetric determination of Staphylococcus aureus. Microchim Acta 187, 119 (2020). https://doi.org/10.1007/s00604-019-4082-5
Received:

Accepted:

Published:
Keywords
Rolling circle amplification (RCA)

Colorimetric microplate assay

Multifunctional gold nanoparticles

Biotin–streptavidin system

Staphylococcus aureus