Abstract
A net-like mesoporous carbon nanocomposite (MCN) was hydrothermally prepared by using filter paper as the raw material. The MCN contains magnetic nanoparticles of type Fe3O4 which result from the addition of Fe(NO3)3·9H2O during synthesis. The MCN was characterized by X-ray diffraction, Fourier transform infrared spectroscopy, scanning electron microscopy, transmission electron microscopy, Raman spectra, Brunauer-Emmett-Teller methods and vibrating sample magnetometry. The MCN is shown to be a viable material for magnetic solid-phase extraction of trace sulfonamides (SAs) including sulfadiazine, sulfapyridine, sulfamerazine, sulfamethazine, sulfamethizole, sulfamethoxypridazine, sulfachloropyridazine and sulfadimethoxine. Following desorption with acetone containing 0.5% ammonia, the SAs were quantified by UPLC with high-resolution mass spectrometric detection. With sulfamethazine as an example, the adsorption equilibrium configurations and the major interaction mechanism between SAs and the MCN were calculated by using density functional theory. Under the optimal conditions, the calibration plots are linear in the 0.05–10 ng·mL−1 SA concentration ranges. The limits of detection are between 7.2 and 13.6 ng·L−1. The recoveries from spiked samples ranged from 79 to 107%, with relative standard deviations of <9.9%.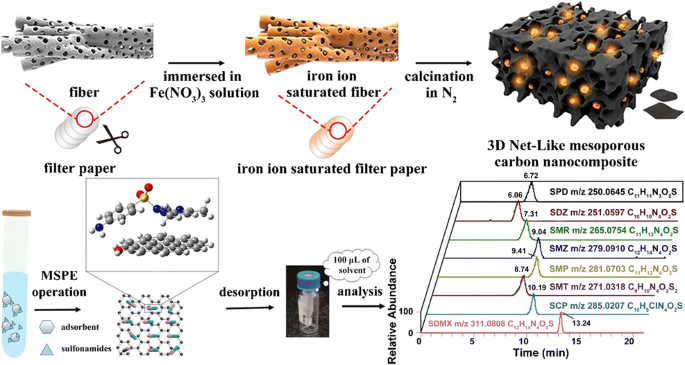 Access options
Buy single article
Instant access to the full article PDF.
US$ 39.95
Tax calculation will be finalised during checkout.
Subscribe to journal
Immediate online access to all issues from 2019. Subscription will auto renew annually.
US$ 119
Tax calculation will be finalised during checkout.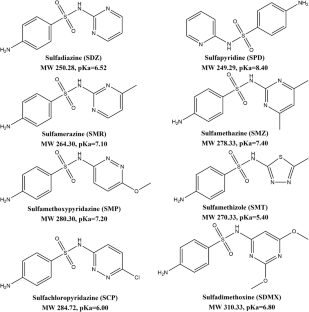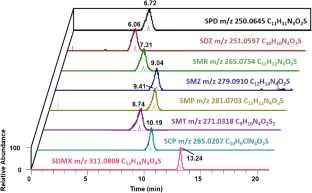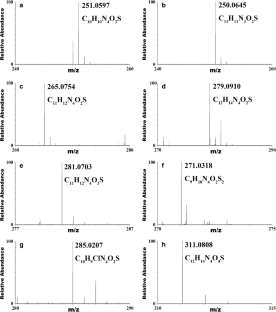 Acknowledgments
The study was supported by grants from Environmental Protection Department of Hubei Province (No. 2017HB04) and the Fundamental Research Funds for the Central Universities, China University of Geosciences (Wuhan) (No. CUG170102). We kindly thank Peng Yue' e, Faculty of Materials Science and Chemistry, China University of Geosciences, for the UPLC-HRMS technology support.
Ethics declarations
The author(s) declare that they have no competing interests.
Additional information
Publisher's note
Springer Nature remains neutral with regard to jurisdictional claims in published maps and institutional affiliations.
Electronic supplementary material
About this article
Cite this article
Di, S., Yu, J., Chen, P. et al. Net-like mesoporous carbon nanocomposites for magnetic solid-phase extraction of sulfonamides prior to their quantitation by UPLC-HRMS. Microchim Acta 187, 112 (2020). https://doi.org/10.1007/s00604-019-4072-7
Received:

Accepted:

Published:
Keywords
Carbon-based composite

Magnetic nanomaterials

Adsorbent

One-pot synthesis

Adsorption mechanism

π interaction

Hydrogen bonds

Sample preparation

Milk analysis

Antibiotics