Abstract
Gold nanoclusters (Au NCs) using fibrinogen (FBG) protein as template are fabricated via one-pot reduction strategy, and applied for fluorometric detections of cysteine (Cys) and mercury(II). The modified FBG-Au NCs exhibit red fluorescence, with excitation/emission maxima at 360/620 nm, a 7% quantum yield, and a 2.2 μs decay time. The fluorescence of the nanoprobe is quenched by Cys and Hg(II). Cys can be determined by fluorometry in the 0.01 to 150 μmol L−1 concentration range and with a detection limit of 0.79 μmol L−1. Due to the oxidation of Hg(II), it can be detected in the 0.01 to 10 μmol L−1 concentration range. The properties of the FBG-Au NCs and the analytical performance are comparable with previously reported peptide/protein-templated Au NCs, supplying a promising candidate for Au NCs nanoprobes synthesis and applications.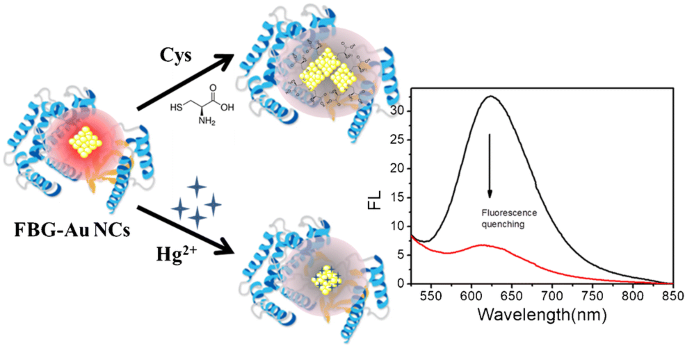 Access options
Buy single article
Instant access to the full article PDF.
USD 39.95
Price includes VAT (USA)
Tax calculation will be finalised during checkout.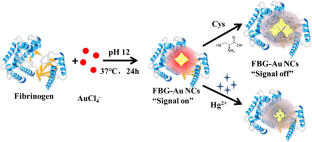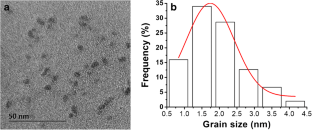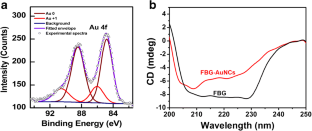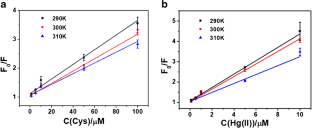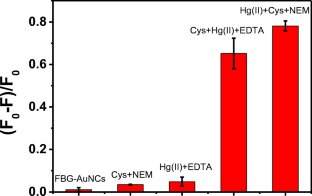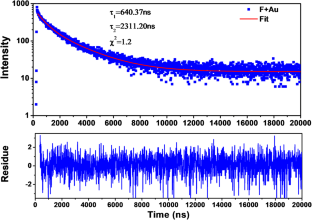 Acknowledgements
The authors gratefully acknowledge Shanghai Sailing Program (17YF1405700), the National Natural Science Foundation of China (Grant No. 21705106), as well as the support of the Program for Professor of Special Appointment (Eastern Scholar) at the Shanghai Institution of Higher Learning (No. TP2016023) and Shanghai Natural Science Foundation (No. 18ZR1415400).
Additional information
Publisher's note
Springer Nature remains neutral with regard to jurisdictional claims in published maps and institutional affiliations.
Electronic supplementary material
About this article
Cite this article
Suo, Z., Hou, X., Hu, Z. et al. Fibrinogen-templated gold nanoclusters for fluorometric determination of cysteine and mercury(II). Microchim Acta 186, 799 (2019). https://doi.org/10.1007/s00604-019-3919-2
Received:

Accepted:

Published:
Keywords
Fluorescent nanoprobes

Au NCs

Static quenching

Ultra-stability

Quantum yield