Abstract
A luminescent metal organic framework (LMOF) of type UiO-66-NH2 was chosen for specific and sensitive detection of trace levels of hypochlorite. Hypochlorite causes the quenching of the blue fluorescence of nano-UiO-66-NH2 (with excitation/emission maxima at 325/430 nm), and this finding forms the basis for a fluorometric assay for hypochlorite. The method overcomes disadvantages of conventional redox-probes which are interfered by oxidants with oxidation capability stronger than that of hypochlorite. Compared with other fluorescent probes for sensing hypochlorite, UiO-66-NH2 has a comparable detection limit of 0.3 μmol L−1 and a broad linearity relationship in the range of 1–8 μmol L−1. The probe was successfully applied to the detection of hypochlorite in complex water samples and living Hela cells.

This is a preview of subscription content, log in to check access.
Access options
Buy single article
Instant access to the full article PDF.
US$ 39.95
Tax calculation will be finalised during checkout.
Subscribe to journal
Immediate online access to all issues from 2019. Subscription will auto renew annually.
US$ 119
Tax calculation will be finalised during checkout.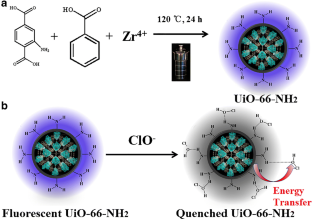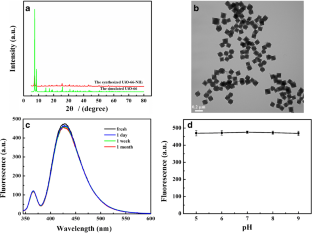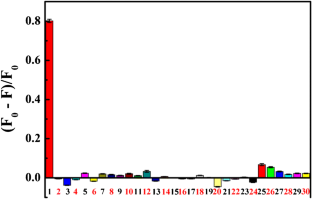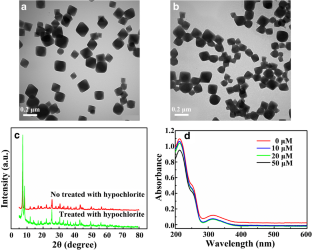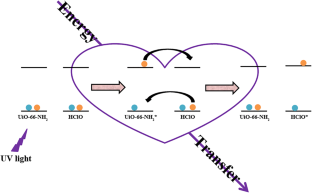 Acknowledgements
The authors thank Dr. Kathryn R. Williams for manuscript review. This work is supported by grants awarded by the National Institute of Health (GM079359 and CA133086) and the National Natural Science Foundation of China (No. 21505084, 21775089).
Ethics declarations
Conflict of interest
The authors declare that they have no conflict of interest.
Additional information
Publisher's note
Springer Nature remains neutral with regard to jurisdictional claims in published maps and institutional affiliations.
Electronic supplementary material
About this article
Cite this article
Guo, L., Liu, Y., Qu, F. et al. Luminescent metal organic frameworks with recognition sites for detection of hypochlorite through energy transfer. Microchim Acta 186, 740 (2019). https://doi.org/10.1007/s00604-019-3806-x
Received:

Accepted:

Published:
Keywords
UiO-66-NH2

Zr-based MOFs

Amino functionalized MOF

Non-redox mechanism

Fluorescence quenching

Porous materials

Water samples

DPD method