Molecularly imprinted gelatin nanoparticles for DNA delivery and in-situ fluorescence imaging of telomerase activity
Abstract
DNA-loaded molecularly imprinted gelatin nanoparticles (GDMI-NPs) were prepared to deliver the Cy3- and Cy5-labelled DNA probe to a tumor region. This allows the activity of telomerase can be detected over 3–400 cells with a low detection limit (3 cells). Fluorescence images were acquired at an excitation wavelength of 535 nm and the emission from the green channel (550–580 nm; label Cy3) and the red channel (650–680 nm; label Cy5). HeLa cells and HepG2 cells were both used to test the performance of GDMI-NPs. Experimental results confirmed the GDMI-NPs has hardly retained in liver and spleen tissue, and its circulated time was longer than that of non-imprinted nanoparticles in blood. The ability of GDMI-NPs to resist immuno stress and anti-macrophage phagocytosis shows great potential for cancer diagnosis and as a drug carrier.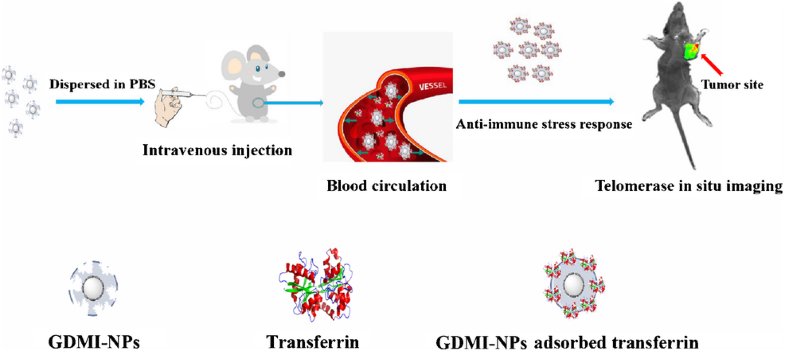 Keywords
Transferrin 
Molecular imprinting 
Gene delivery 
Protein coronas 
Immunological stress 
Notes
Acknowledgements
This research was financially supported by the National Natural Science Foundation of China (No. 21575055) and the Research Funds for the Central Universities (lzujbky-2017-k09).
Compliance with ethical standards
The study using mice as sample has been approved by the Lanzhou University Ethics Committee, and has been performed in accordance with the ethical standards.
Informed consent was obtained from all individual participants included in the study.
The author(s) declare that they have no competing interests.
Copyright information
© Springer-Verlag GmbH Austria, part of Springer Nature 2019