Fluorometric detection of silver(I) using cytosine-Ag(I)-cytosine pair formation, DNA assembly and the AND logic operation of a multiple-component DNAzyme
Abstract
A nonenzymatic fluorometric assay is described for highly sensitive and selective detection of silver ion. It is making use of a controlled DNA assembly and an AND logic operation of a multiple-component DNAzyme (MNAzyme). It corresponds to an Ag(I)-responsive three-way junction (3-WJ) assembly. The tailored probes of the 3-WJ architecture were designed with complementary domains for subsequent assembly. Cytosine (C)-cytosine mismatches at one-way junction were set as the sensing element for Ag(I). Upon exposure to Ag(I) as an input, C-Ag(I)-C pairs are being formed. This enhances the binding energy between these separate probes and thus promotes the formation of a nanostructure that represents an AND logic assembly of MNAzyme with an amplified output signal. This results in an Ag(I)-induced increase in fluorescence which is measured best at excitation/emission maxima of 645/670 nm. The method displays high selectivity and sensitivity, has a 5 pM detection limit at 3σ and a dynamic range that extends from 10 pM to 100 nM.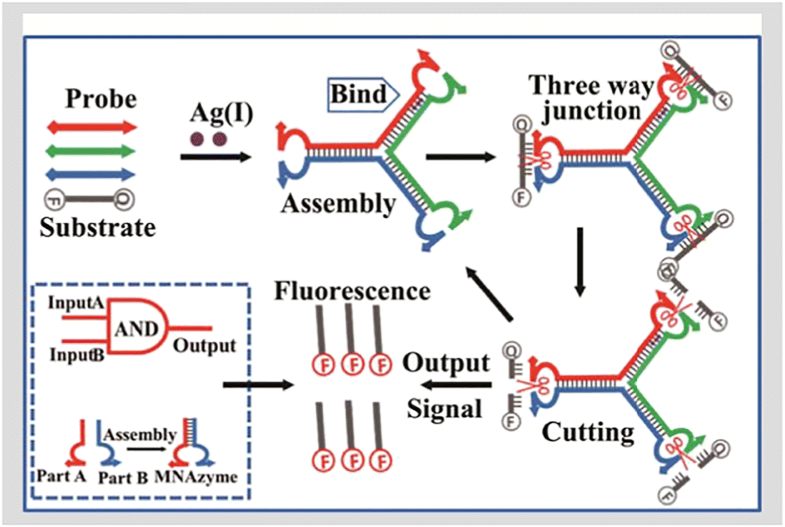 Keywords
Heavy metals 
DNA nanotechnology 
MNAzyme 
DNA probe 
Molecular computing 
Building materials 
Catalytic nucleic acids 
Three-way junction 
Nonenzymatic system 
Notes
Acknowledgements
This work was funded by Wanzhou District Science and Technology Project (wzstc-2018008), Ph.D. Programs Foundation of Chongqing Three Gorges Central Hospital (2017BSKYQDJJ06), National Natural Science Foundation of China (81860380) and Fund of Guizhou Provincial Chinese Medicine Administration (QZYY-2018-084); special thanks for the advice from Lan Lin and Yong Luo on our manuscript.
Author contributions
The manuscript was written through contributions of all authors.
Compliance with ethical standards
The author(s) declare that they have no competing interests.
Copyright information
© Springer-Verlag GmbH Austria, part of Springer Nature 2019