Organosilane-functionalized carbon quantum dots and their applications to "on-off-on" fluorometric determination of chromate and ascorbic acid, and in white light-emitting devices
Abstract
Organosilane-functionalized carbon quantum dots (Si-CQDs) were synthesized by reacting glucosamine and 3-[2-(2-aminoethylamino)ethylamino]propyl-trimethoxysilane in acetone. The surface morphology, crystal structure, functional groups, elemental composition, and optical properties of the Si-CQDs were characterized using TEM (HRTEM), XRD, FT-IR, XPS, UV-vis absorption and fluorescence spectroscopy. They show that N-containing groups including C=N and C-N, and Si-containing groups including Si-O-C and Si-O-Si have been formed on the surface of Si-CQDs. The element doping and surface functionalization of Si-CQDs endow their novel chemical, physical and optical properties. The Si-CQDs dispersed in acetone are almost monodisperse with an average particle diameter of 3.6 nm. The Si-CQDs dispersed in acetone display blue fluorescence (excitation/emission maxima of 380/460 nm). In contrast, the solid-state Si-CQDs exhibited yellow fluorescence (with excitation/emission maxima of 470/595 nm). The fluorescence emission spectra of acetone-suspended Si-CQDs are concentration-dependent, and the emission peak becomes red-shifted as the concentration is increased. The Si-CQDs are sensitive and selective fluorescent "on off on" nanoprobes for chromate [Cr(VI)] and ascorbic acid (AA). Fluorescence is quenched by Cr(VI) via an inner filter effect from the absorption of Si-CQDs excitation at 380 nm by Cr(VI). Upon addition of AA, fluorescence is restored because of reduction of Cr(VI) by AA. Under optimal conditions (excitation/emission wavelength of 380/460 nm), the response is linear in the 0.4–160 μM Cr(VI) concentration range, and the detection limit is 34 nM. The respective data for AA are 1–80 μM and 84.6 nM. The practical use of the nanoprobe for Cr(VI) determination in real river water samples is also demonstrated successfully. Their concentration-dependent fluorescence, good thermal stability and self-crosslinking behavior also make the Si-CQDs a candidate material for white light-emitting diodes that displays color conversion and can act as an encapsulation layer in a blue light-emitting diode (LED) chip.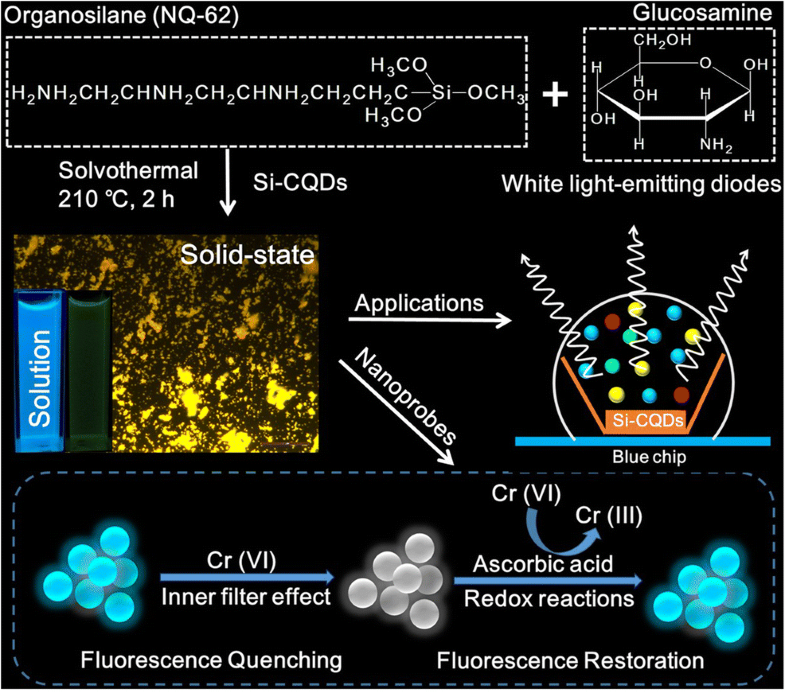 Keywords
Solid-state fluorescence 
Concentration-dependent fluorescence 
"On off on" nanoprobe 
Fluorescence detection 
Detection mechanism 
Inner filter effect 
Self-cross linking 
Good thermal stability 
Solvothermal 
Notes
Acknowledgments
This study was supported by the National Nature Science Foundation of China (Nos. 31890773, 31570567), Fundamental Research Funds for the Central Universities (Nos. 2572018AB02).
Compliance with ethical standards
Conflict of interest
The author(s) declare that they have no competing interests.
Copyright information
© Springer-Verlag GmbH Austria, part of Springer Nature 2019