Amperometric sandwich immunoassay for determination of myeloperoxidase by using gold nanoparticles encapsulated in graphitized mesoporous carbon
Abstract
An ultrasensitive sandwich-type electrochemical immunosensor was developed for the amperometric determination of serum myeloperoxidase (MPO). The method is making use of (a) gold nanoparticles encapsulated in graphitized mesoporous carbons (AuNP@GMC); and (b) horseradish peroxidase (HRP) labeled secondary antibody (HRP@Ab2) immobilized on AuNP@GMC. MPO capture antibody (Ab1) was immobilized on the electrode modified with an AuNP-graphene oxide nanocomposite. The sandwich immunoreaction leads to the formation of the complex composed of Ab1, MPO, and HRP@Ab2. An amplified electrochemical signal is produced by electrocatalytic reduction of H2O2 (at a typical voltage of −0.18 V vs. Ag/AgCl) in the presence of enzymatically oxidized thionine. The peak current of thionine was measured using differential pulse voltammetry. Under optimized steady-state conditions, the reduction peak increases in the 1 to 300 pg.mL−1 MPO concentration range, and the detection limit is 0.1 pg.mL−1 (at S/N = 3).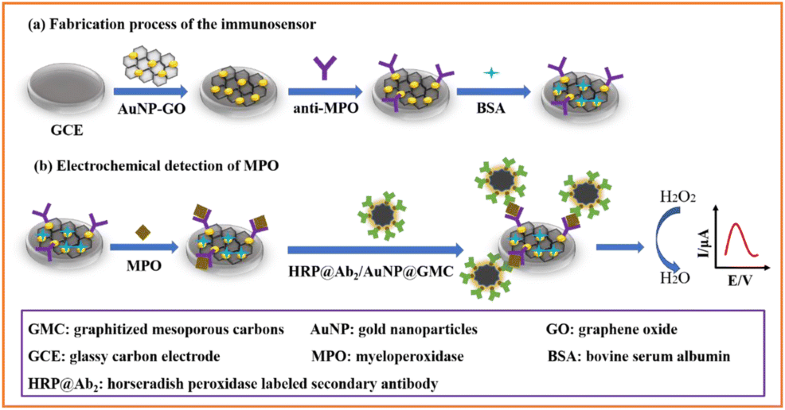 Keywords
Myeloperoxidase 
Sandwich-type immunosensor 
Graphene oxide 
Graphitized mesoporous carbons 
Gold nanoparticles 
Notes
Acknowledgments
This work was financially supported by Medical Scientific Research Foundation of Zhejiang Province (2018PY022 and 2017PY024), Public Welfare from Science and Technology Department of Zhejiang Province (2017C33201), Zhejiang Provincial Natural Science Foundation of China (LQ19H090019) and the National Natural Science Foundation of China (81301514).
Compliance with ethical standards
The author(s) declare that they have no competing interests.
Copyright information
© Springer-Verlag GmbH Austria, part of Springer Nature 2019