Photodeposition of palladium nanoparticles on a porous gallium nitride electrode for nonenzymatic electrochemical sensing of glucose
Abstract
A nonenzymatic electrochemical glucose sensor is described that was obtained by in situ photodeposition of high-density and uniformly distributed palladium nanoparticles (PdNPs) on a porous gallium nitride (PGaN) electrode. Cyclic voltammetric and chronoamperometric techniques were used to characterize the performance of the modified electrode toward glucose. In 0.1 M NaOH solution, it has two linear detection ranges, one from 1 μM to 1 mM, and another from 1 to 10 mM, and the detection limit is 1 μM. The electrode is repeatable, highly sensitive, fast and long-term stable. It was applied to the quantitation of serum glucose where it displayed accurate current responses.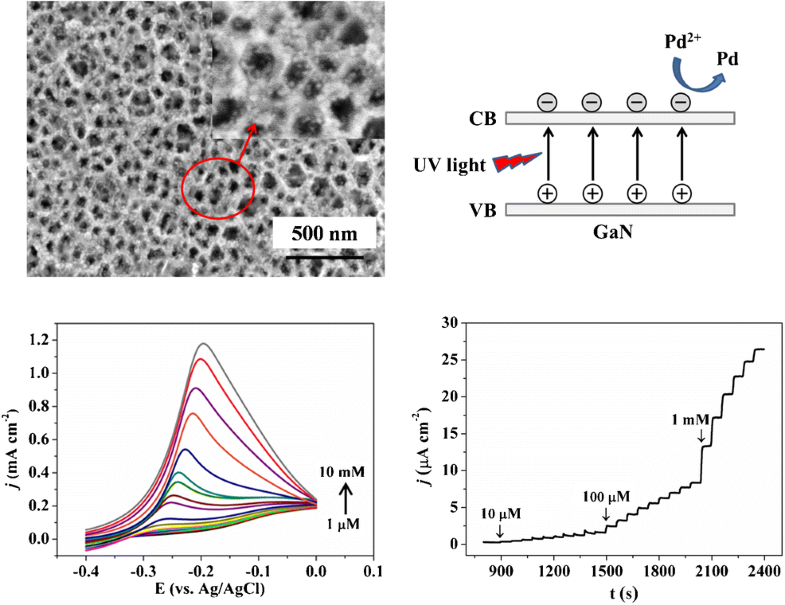 Keywords
Gallium nitride 
Porous materials 
Palladium nanoparticles 
Photodeposition 
Electrochemical sensing 
Glucose detection 
Notes
Acknowledgements
I would like to take this opportunity to thank my doctoral supervisor Ge-Bo Pan, he is a very nice advisor. This work was supported by National Natural Science Foundation of China (51703104), Shandong Provincial Natural Science Foundation (ZR2017BEM035) and China Postdoctoral Science Foundation (2017 M612198).
Compliance with ethical standards
The author(s) declare that they have no competing interests.
Copyright information
© Springer-Verlag GmbH Austria, part of Springer Nature 2019