Orange, yellow and blue luminescent carbon dots controlled by surface state for multicolor cellular imaging, light emission and illumination
Abstract
Three kinds of carbon dots (CDs) with different photoluminescence (PL) (blue, yellow or orange) were synthesized by microwave heating. They display wavelength-independent excitation wavelengths (in the range from 444 to 574 nm), similar average particle size (from 3.7 to 4.2 nm), and fluorescence lifetimes (from 2.7 to 3.1 ns). Color and quantum yields (from 8 to 45% in ethanol) are related to the oxidation degree and the number of N-functional groups on their surface. The CDs are shown to be viable nanoprobes for multicolor imaging of cells. Three composite phosphors were obtained by coating the various CDs on starch particle. The resulting nanomaterials emit solid-state fluorescence with a quantum yield of ≥16%. They were used to fabricate luminescent blocks and light-emitting diodes with controllable color temperature.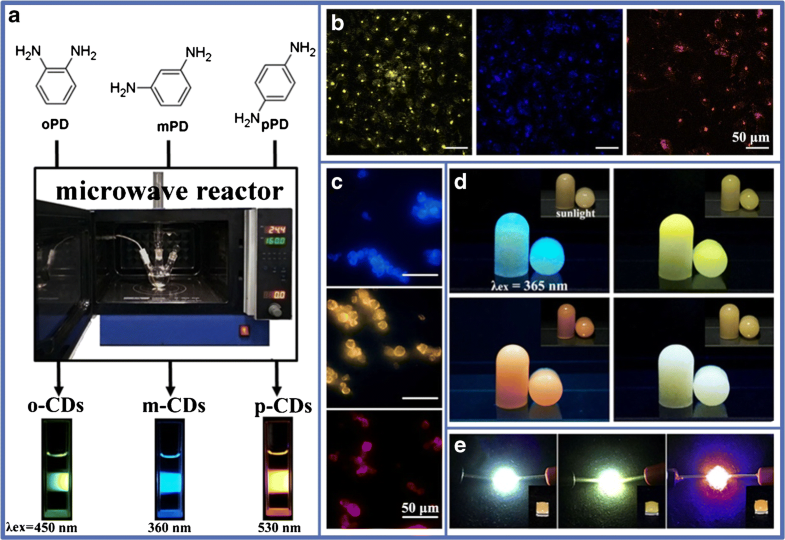 Keywords
Isomers 
Microwave 
Wavelength-independent excitation 
Fluorescent lifetime 
Fluorescent mechanism 
Cell nucleus 
Solid-state fluorescence 
Composite phosphors 
Starch particle 
Light-emitting diodes 
Notes
Acknowledgments
We gratefully acknowledge to the financial support by the China Postdoctoral Science Foundation (2016 M602627), Chongqing Postdoctoral Science Special Foundation (Xm2016032), Transformative Project for Excellent Scientific and Technological Achievements in University (KJZH17108) and Special Program for Chongqing Social Business and People's Livelihood Guarantee of Science and Technology (cstc2017shmsA30001).
Compliance with ethical standards
The author(s) declare that they have no competing interests.
Copyright information
© Springer-Verlag GmbH Austria, part of Springer Nature 2018