A silica fiber coated with a ZnO-graphene oxide nanocomposite with high specific surface for use in solid phase microextraction of the antiepileptic drugs diazepam and oxazepam
Abstract
A novel ZnO-graphene oxide nanocomposite was prepared and is shown to be a viable coating on fused silica fibers for use in solid phase microextraction (SPME) of diazepam and oxazepam from urine, this followed by thermal desorption and gas chromatographic quantitation using a flame ionization detector. A central composite design was used to optimize extraction time, salt percentage, sample pH and desorption time. Limits of detection are 0.5 μg·L−1 for diazepam and 1.0 μg·L−1 for oxazepam. Repeatability and reproducibility for one fiber (n = 4), expressed as the relative standard deviation at a concentration of 50 μg·L−1, are 8.3 and 11.3% for diazepam, and 6.7 and 10.1% for oxazepam. The fiber-to-fiber reproducibility is <17.6%. The calibration plots are linear in the 5.0–1000 μg·L−1 diazepam concentration range, and from 1.0–1000 μg·L−1 in case of oxazepam. The fiber for SPME has high chemical and thermal stability (even at 280 °C) after 50 extractions, and does not suffer from a reduction in the sorption capacity.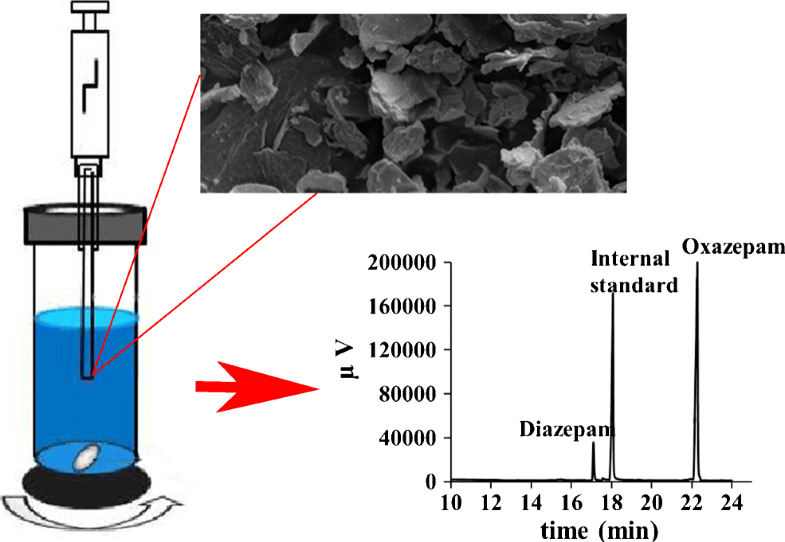 Keywords
Nanosorbent 
Nanorods 
Nanosheets 
Urine sample 
Response surface methodology 
Experimental design 
Notes
Acknowledgments
The author would like to thank from Iran Nanotechnology Initiative Council.
Compliance with ethical standards
The author(s) declare that they have no competing interests.
Copyright information
© Springer-Verlag GmbH Austria, part of Springer Nature 2018