Double signal enhancement strategy based on rolling circle amplification and photoinduced electron transfer for ultrasensitive fluorometric detection of methylated DNA
Abstract
The authors describe a novel assay for the detection of methylated DNA site. Rolling circle amplification and CdSe/ZnS quantum dots with high fluorescence efficiency are applied in this method. The CdSe/ZnS quantum dots act as electron donors, and hemin and oxygen (derived from hydrogen peroxide act as acceptors in photoinduced electron transfer. The assay, best performed at excitation/emission peaks of 450/620 nm, is sensitive and specific. Fluorometric response is linear in the 1 pM to 100 nM DNA concentration range, and the lowest detectable concentration of methylated DNA is 142 fM (S/N = 3). The method is capable of recognizing 0.01% methylated DNA in a mixture of methylated/unmethylated DNA.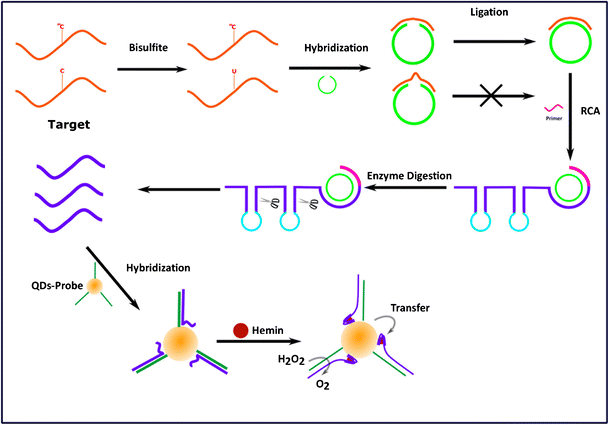 Keywords
Quantum dots 
p16 gene 
Fluorescence quenching 
Isothermal amplification 
G-quadruplex/hemin 
DNAzyme 
DNA methylation 
Notes
Acknowledgements
This work was financially supported by the Chongqing Municipal Education Commission science and technology research project Foundation of China (KJ1400211).
Compliance with ethical standards
The author(s) declare that they have no competing interests.
Copyright information
© Springer-Verlag GmbH Austria, part of Springer Nature 2018