Preconcentration and speciation of arsenic by using a graphene oxide nanoconstruct functionalized with a hyperbranched polyethyleneimine
Abstract
A column sorbent for arsenic was obtained through immobilization of highly branched polyethylenimine (PEI) on graphene oxide (GO). The composite material enables speciation of arsenic by tuning the pH of the sample solution which governs the surface charge of the sorbent, depending on whether amino groups (-NH2) are present (at high pH) or ammonium groups (-NH3+; at low pH). The composite can be applied to improved speciation of arsenic (compared to unmodified GO). There is no need for oxidation or reduction of arsenic. A column procedure was applied for the sequestered extraction and speciation of As(III) and As(V) from environmental water samples before their determination by hydride generation-microwave induced plasma-atomic emission spectrometry. The method has a preconcentration factor of 440 for As(III) and of 400 for As(V). The limits of detection (at 3 S/N) are extremely low, being 1.8 ± 0.2 ngL−1 for As(III) and 1.3 ± 0.08 ngL−1 for As(V). This is much lower than the arsenic guideline value of 10 μgL−1 as given by the WHO.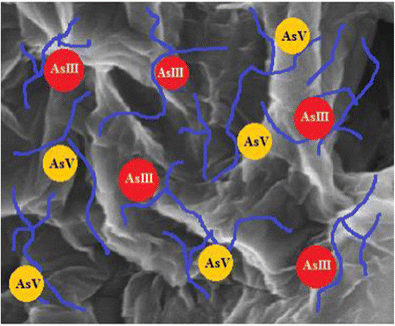 Keywords
Adsorption 
Selectivity 
Solid phase extraction 
Removal 
Wastewater 
Remediation 
Toxicity 
Nanosorbent 
Notes
Acknowledgments
The author (Dr. Hilal Ahmad) is grateful to Science and Engineering Research Board (SERB) to provide fund under "National Postdoctoral Fellowship" program for the year 2017-2018, project No. NPDF-000995.
Compliance with ethical standards
The authors declare no conflicts of interest.
Copyright information
© Springer-Verlag GmbH Austria, part of Springer Nature 2018