Polydopamine-based molecularly imprinting polymers on magnetic nanoparticles for recognition and enrichment of ochratoxins prior to their determination by HPLC
Abstract
A polydopamine-based molecularly imprinted polymer was deposited on the surface of magnetite (ferroferric oxide) nanoparticles (Fe3O4@PDA MIPs) and is shown to be an efficient and fairly specific sorbent for the extraction of various ochratoxins. The MIPs were characterized by IR spectroscopy and transmission electron microscopy. The adsorption capacities, evaluated through the langmuir adsorption isotherm model, are 1.8, 0.23 and 0.17 mg·g−1 for ochratoxin A, ochratoxin B and ochratoxin C, respectively. Parameters such as the amount of magnetic MIPs, pH value, time for ultrasonication, elution solvent and volume were optimized. Following desorption from the MIP with acetonitrile, the ochratoxins were quantified by HPLC with fluorometric detection. Under optimal experimental conditions, the calibration plots are linear in the range of 0.01–1.0 ng·mL−1 of OTA, 0.02–2.0 ng·mL−1 of OTB, and 0.002–0.2 ng·mL−1 of OTC. The LODs are between 1.8 and 18 pg·mL−1, and the recoveries from spiked samples are 71.0% - 88.5%, with RSDs of 2.3–3.8% in case of rice and wine samples. The MIPs can be re-used for at least 7 times.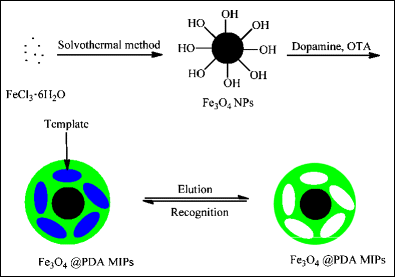 Keywords
Rice 
Wine 
Separation 
Fe3O4 
Template 
Langmuir adsorption isotherm 
Toxin 
Notes
Acknowledgements
We greatly acknowledge the National Natural Science Foundation of China (No. 21765014 and 21505067) for financial support.
Compliance with ethical standards
The authors declare that they have no competing interests.
Copyright information
© Springer-Verlag GmbH Austria, part of Springer Nature 2018