Amperometric determination of As(III) and Cd(II) using a platinum electrode modified with acetylcholinesterase, ruthenium(II)-tris(bipyridine) and graphene oxide
Abstract
The authors describe an amperometric biosensor for the determination As(III) and Cd(II) based on the inhibition of the enzyme acetylcholineesterase (AChE). A platinum electrode was modified with ruthenium(II)-tris(bipyridyl), graphene oxide and AChE and then showed redox peaks at 0.06 and 0.2 V vs Ag/AgCl in the presence of acetylthiocholine chloride (ATChCl). Amperometry unveiled a steady-state turnover rate with the release of thiocholine. In the presence of arsenic(III) and cadmium(II), AChE showed an inhibitive response at 0.214 and 0.233 V vs Ag/AgCl, respectively. The electrode exhibits a detection limit and linear range of 0.03 μM and 0.05–0.8 μM for As(III) and 0.07 μM and 0.02–0.7 μM for Cd(II), respectively. Type of inhibition and inhibition constants induced by As(III) and Cd(II) on the catalytic sites of AChE were determined from Dixon and Lineweaver-Burk plots. The modified electrode was applied to the determination of As3+ and Cd2+ in river, tap and waste water, and the results proved that the method is sensitive and can be an alternative to chromatographic and spectroscopic techniques.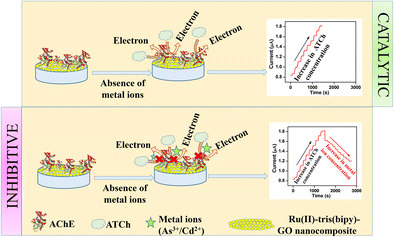 Keywords
Biosensor 
Electron transfer 
Competitive inhibition 
Mixed inhibition 
Dixon plot 
Lineweaver-Burk plot 
Ethylene diamine tetraacetic acid 
Notes
Acknowledgements
This work is supported by Department of Science & Technology, New Delhi (DST/TM/WTI/2 K14/197(a)(G)), (SR/FST/ETI-284/2011 (C)), SASTRA (Deemed to be University), Thanjavur. Dr. Manju Bhargavi Gumpu expresses sincere thanks to Science and Engineering Research Board, Department of Science and Technology for Post-Doctoral Fellowship (PDF/2017/001206).
Compliance with ethical standards
The author(s) declare that they have no competing interests.
Copyright information
© Springer-Verlag GmbH Austria, part of Springer Nature 2018