Fluorometric determination of Vibrio parahaemolyticus using an F0F1-ATPase-based aptamer and labeled chromatophores
Abstract
An F0F1-ATPase-based aptasensor is described for the fluorometric determination of Vibrio parahaemolyticus. Chromatophores containing F0F1-ATPases were first prepared from Rhodospirillum rubrum cells. Then, an aptamer-functionalized chromatophore acts as the capture probe, and a chromatophore labeled with the pH probe fluorescein acts as the signalling probe. In the presence of V. parahaemolyticus, the rotation rate of F0F1-ATPase is decreased due to the formation of the aptamer-chromatophore complex. This leads to a retarded proton flux out of the chromatophores. As a result, the pH value inside the chromatophores is reduced, and the fluorescence of the pH probe F1300 is accordingly decreased. The relative fluorescence varies linearly over the 15 to 1.5 × 106 cfu·mL−1 Vibrio parahaemolyticus concentration range, and the limit of detection is 15 cfu·mL−1. The method was applied to analyze artificially contaminated salmon samples where it showed excellent perfomance.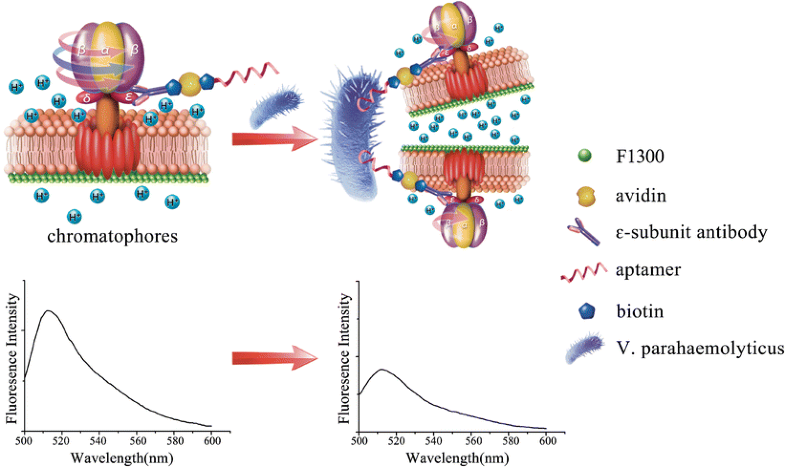 Keywords
Pathogenic bacteria 
Motor 
Proton flux 
F1300 
Fluorescence 
Salmon 
Notes
Acknowledgements
This work was partially supported by National Nature Science Foundation of China (NSFC 31401575), Key Research and Development Program of Jiangsu Province BE2016306, the natural science foundation of Jiangsu Province BK20140155, and Project funded by China Postdoctoral Science Foundation (2017 M610299, 2016 T90430).
Compliance with ethical standards
The author(s) declare that they have no competing interests.
Copyright information
© Springer-Verlag GmbH Austria, part of Springer Nature 2018