Poly(3,4-ethylenedioxythiophene) doped with engineered carbon quantum dots for enhanced amperometric detection of nitrite
Abstract
An electrochemical sensor for nitrite was fabricated by modifying a glassy carbon electrode (GCE) with the conducting polymer poly(3,4-ethylenedioxythiophene) (PEDOT) that is doped with carbon quantum dots (CQDs). The negatively charged CQDs were doped into PEDOT via electrodeposition to form a conducting polymer nanocomposite on the GCE. The electrode surface has a flake-like nanostructure and a large specific surface area. The elemental mapping analysis revealed that the CQDs are uniformly distributed across the whole nanocomposite. As a result of the superior catalytic activity of CQDs and the good conductivity of PEDOT, the modified GCE displays excellent electrocatalytic activity towards the oxidation of nitrite, and the oxidation peak current is ten times higher than that of a PEDOT modified GCE without CQDs. Under optimum conditions and at a working voltage of 0.80 V (vs. Ag/AgCl), the sensor has a linear response in the 0.5–1110 μM nitrite concentration range, and an 88 nM limit of detection (at S/N = 3). Three different electrodes prepared under the same experimental conditions were applied for the detection of nitrite, and the RSD was 3.1%. The same sensor was employed to quantify nitrite in three replicate measurements, and the RSD was 2.2%.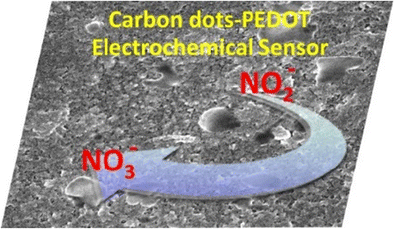 Keywords
Carbon quantum dots 
Conducting polymer 
PEDOT 
Nanocomposite 
Electrodeposition 
Electrochemical sensor 
Amperometry 
Nitrite determination 
Electrocatalysis 
Notes
Acknowledgements
The authors would like to acknowledge the financial support from Natural Science Foundation of Shandong Province of China (ZR2017BB009), China Postdoctoral Science Foundation (2017M622151), Postdoctoral Innovation Project Special Foundation of Shandong Province of China (201703033) and the Taishan Scholar Program of Shandong Province of China (ts20110829).
Compliance with ethical standards
The authors declare that they have no competing interests.
Copyright information
© Springer-Verlag GmbH Austria, part of Springer Nature 2018