Study of carbon nanotube-rich impedimetric recognition electrode for ultra-low determination of polycyclic aromatic hydrocarbons in water
Abstract
Carbon nanotubes (CNTs) have been studied as an electrochemical recognition element for the impedimetric determination of priority polycyclic aromatic hydrocarbons (PAHs) in water, using hexocyanoferrate as a redox probe. For this goal, an indium tin oxide (ITO) electrode functionalized with a silane-based self-assembled monolayer carrying CNTs has been engineered. The electroanalytical method, which is similar to an antibody-antigen assay, is straightforward and exploits the high CNT–PAH affinity obtained via π–interactions. After optimizing the experimental conditions, the resulting CNT-based impedimetric recognition platform exhibits ultra-low detection limits (1.75 ± 0.04 ng·L−1) for the sum of PAHs tested, which was also validated by using a certified reference PAH mixture.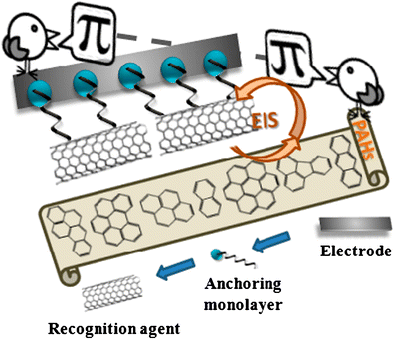 Keywords
Indium tin oxide 
Electrochemical impedance spectroscopy 
Self-assembled monolayers 
Environmental pollutants 
Surface engineering 
Notes
Acknowledgments
This work was funded by the ERC StG 2012-306826 e-GAMES. The authors also thank the DGI (Spain) project FANCY CTQ2016-80030-R, the Generalitat de Catalunya (2017-SGR-918) and the Spanish Ministry of Economy and Competitiveness, through the "Severo Ochoa" Programme for Centers of Excellence in R&D (SEV-2015-0496). Dr. J. Muñoz gratefully acknowledges the "Juan de la Cierva" programme.
Compliance with ethical standards
The authors declare that they have no competing interests.
Copyright information
© Springer-Verlag GmbH Austria, part of Springer Nature 2018