Amperometric determination of L-cysteine using a glassy carbon electrode modified with palladium nanoparticles grown on reduced graphene oxide in a Nafion matrix
Abstract
An amperometric sensor for L-Cys is described which consists of a glassy carbon electrode (GCE) that was modified with reduced graphene oxide placed in a Nafion film and decorated with palladium nanoparticles (PdNPs). The film was synthesized by a hydrothermal method. The PdNPs have an average diameter of about 10 nm and a spherical shape. The modified GCE gives a linear electro-oxidative response to L-Cys (typically at +0.6 V vs. SCE) within the 0.5 to 10 μM concentration range. Other figures of merit include a response time of less than 2 s, a 0.15 μM lower detection limit (at signal to noise ratio of 3), and an analytical sensitivity of 1.30 μA·μM−1·cm−2. The sensor displays selectivity over ascorbic acid, uric acid, dopamine, hydrogen peroxide, urea, and glucose. The modified GCE was applied to the determination of L-Cys in human urine samples and gave excellent recoveries.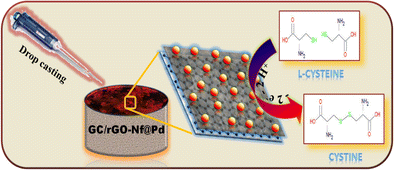 Keywords
Graphene materials 
Nanocomposites 
Metal nanoparticles 
Hydrothermal synthesis 
Electrochemical sensor 
Cyclic voltammetry 
Urine sample 
Notes
Acknowledgements
The authors gratefully acknowledge the financial support from the Postgraduate Research Fund (PG122-2014b) from the University of Malaya and Fundamental Research Grant Scheme (R/FRGS/A08.00/00648A/001/2016/000368) from Ministry of Higher Education.
Compliance with ethical standards
Conflicts of interest
The author(s) declare that they have no competing interests.
Copyright information
© Springer-Verlag GmbH Austria, part of Springer Nature 2018