Silver microspheres coated with a molecularly imprinted polymer as a SERS substrate for sensitive detection of bisphenol A
Abstract
An efficient approach is demonstrated for preparing particles consisting of a silver core and a shell of molecularly imprinted polymer (Ag@MIP). The MIP is prepared by using bisphenol A (BPA) as the template and 4-vinylpyridine as the functional monomer. The Ag@MIP fulfills a dual function in that the silver core acts as a SERS substrate, while the MIP allows for selective recognition of BPA. The Ag@MIP is characterized by scanning electron microscopy, transmission electron microscopy, X-ray powder diffraction, thermogravimetric analysis and Raman spectroscopy. The Raman intensity of Ag@MIP is higher than that of bare silver microspheres. The detection limit for BPA is as low as 10−9 mol·L−1.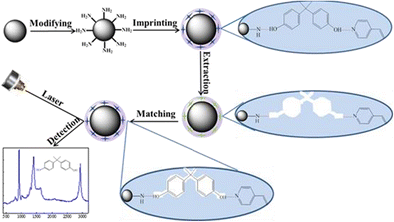 Keywords
Core-shell system 
Chemical enhancement 
Electromagnetic enhancement 
Endocrine-disrupting chemicals 
Molecular imprinting 
Notes
Acknowledgements
We are grateful for the financial support of this research from the National Natural Science Foundation of China (51579057, 51379052), and State Key Laboratory of Urban Water Resource and Environment, Harbin Institute of Technology (2016DX07).
Compliance with ethical standards
The author(s) declare that they have no competing interests.
Copyright information
© Springer-Verlag GmbH Austria, part of Springer Nature 2018