Water-soluble MoS2 quantum dots are a viable fluorescent probe for hypochlorite
Abstract
A method is described for the fluorometric determination of hypochlorite. It is making use of molybdenum disulfide quantum dots (MoS2 QDs) as a fluorescent probe. The QDs are prepared by hydrothermal reaction of sodium molybdate with glutathione. They possess diameters typically ranging from 1.4 to 3.8 nm, excellent stability in water, and blue photoluminescence (with excitation/emission peaks located at 315/412 nm and a quantum yield of 3.7%). The fluorescence of the QDs is statically quenched by hypochlorite, and the Stern-Volmer plot is linear. Hypochlorite can be detected in the 5–500 μM concentration range with a 0.5 μM detection limit. The method has been successfully applied to the determination of hypochlorite in spiked samples of tap water, lake water, and commercial disinfectants.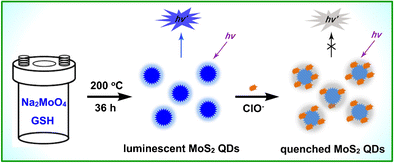 Keywords
Photoluminescence 
Nanoparticles 
Molybdenum disulfide 
Hypochlorous acid 
Anion detection 
Disinfectant 
Notes
Acknowledgements
This work was supported by the National Natural Science Foundation of China (No. 21775014, 21505012, and 81501837), Chongqing Research Program of Basic Research and Frontier Technology (No. cstc2017jcyjAX0368), Program for Top-Notch Young Innovative Talents of Chongqing Normal University (No. 02030307-00026), and Chongqing Research Program on Teaching Reform of Higher Education (No. 153062). Y.W. (Yue Wang), Q.T. and W.L. are also supported by Chongqing Undergraduate Training Program for Innovation and Entrepreneurship (No. 201710637007).
Compliance with ethical standards
The author(s) declare that they have no competing interests.
Copyright information
© Springer-Verlag GmbH Austria, part of Springer Nature 2018