Enantiomeric separation of adrenaline, noradrenaline, and isoprenaline by capillary electrophoresis using streptomycin-modified gold nanoparticles
Abstract
Enantiomeric separations of the adrenergic compounds adrenaline, noradrenaline, and isoprenaline were studied. Electromigrative separations were performed in uncoated fused silica capillaries using streptomycin-modified gold nanoparticles (ST-AuNPs) as an additive to the background electrolyte. The ST-AuNPs are shown to serve as an effective chiral selector. The modified AuNPs were characterized in terms of size and zeta potential, and by IR and UV-vis spectra. The effects of ST-AuNP concentration, pH value, temperature, and separation voltage on the separations were systematically studied. Under optimized experimental conditions, racemic mixtures of the respective adrenergic drugs were baseline-separated within 7 min with a resolution of up to 7.5. The relative standard deviations of the resolution in inter-day and intra-day studies (n = 5) were generally <5%.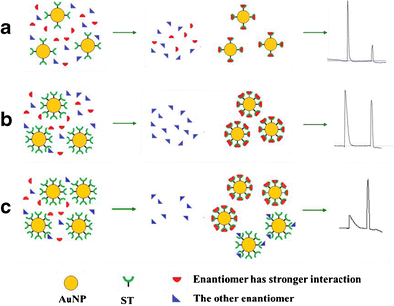 Keywords
Gold nanoparticles 
Enantioseparation 
Capillary electrophoresis 
Adrenergic drugs 
Chiral selector 
Abbreviations
AH

Adrenaline hydrochloride

AuNPs

Gold nanoparticles

BGE

Background electrolyte

CE

Capillary electrophoresis

HPLC

High performance liquid chromatography

IH

Isoprenaline hydrochloride

NB

Noradrenaline bitartrate

SiNPs

Silica nanoparticles

CNTs

Carbon nanotubes

MOFs

Graphene and metal-organic frameworks

Rs

Resolution

ST

Streptomycin

ST-AuNPs

Streptomycin modified gold nanoparticles

t1

The retention time of the first enantiomer

N

Plate number
Notes
Acknowledgements
This work was financially supported by the National Natural Science Foundation of China (81202492), the Foundation of Shaanxi Technology Committee of China (2014 K02-11-01), Provincial Pharmacy Key Discipline (1007) of Xi'an Medical University of China (2016YXXK02), and Natural Science Foundation of Shaanxi Educational Committee of China (17JK0664, 2016JK1652).
Compliance with ethical standards
The authors declare that they have no conflict of interest. All procedures performed in studies do not involve human participants. This article does not contain any studies with animals performed by any of the authors.
Copyright information
© Springer-Verlag GmbH Austria, part of Springer Nature 2018