Voltammetric determination of 5-hydroxytryptamine based on the use of platinum nanoparticles coated with molecularly imprinted silica
Abstract
The authors describe an electrochemical sensor for the determination of 5-hydroxytryptamine (5-HT; serotonin). It is based on the use of platinum nanoparticles (PtNPs) coated with molecularly imprinted silica (MIS). The MIS-coated PtNPs were prepared from 5-HT, PtNPs, phenyltrimethoxysilane and tetraethoxysilane that act as template, support, functional monomer and cross-linker, respectively. The MIS-coated PtNPs were characterized by Fourier transfer infrared spectroscopy and transmission electron microscopy. The MIS-coated PtNPs were drop-cast onto a glassy carbon electrode (GCE) to obtain an electrochemical sensor for 5-HT which exhibited fast response and high recognition ability for 5-HT. The imprinting factor of this electrode for 5-HT is 4.12, which is higher than that for its analogs. Under optimized conditions and at a typical working potential of 0.29 V (vs. Hg/Hg2Cl2), the electrode has a linear response in the 0.05–80 μM 5-HT concentration range and a 0.02 μM detection limit. The electrode was successfully applied to the determination of 5-HT in human serum samples.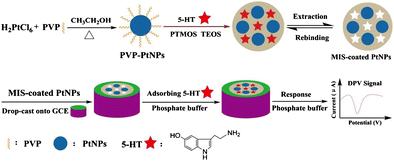 Keywords
Platinum nanoparticles 
Silica; surface molecular imprinting 
Molecularly imprinted polymer 
Sol-gel 
5-Hydroxytryptamine 
Serotonin 
Electrochemical assay 
Notes
Acknowledgments
This work was supported by the National Natural Science Foundation of China (No. 21507041, 21677060), the Zhejiang Provincial Natural Science Foundation of China under Grant No. LY16B050007 and LQ14B050002, the Program for Public technology of Zhejiang Province (No. LGF18B050004), and the Program for Science and Technology of Jiaxing (2017AY33034).
Compliance with ethical standards
The author(s) declare that they have no competing interests.
Copyright information
© Springer-Verlag GmbH Austria, part of Springer Nature 2018