Abstract
The authors have synthesized molybdenum disulfide nanosheets (MoS2 nanosheets) by using a bottom-up hydrothermal method. The nanosheets display strong catalytic (enzyme mimetic) activity in catalyzing the oxidation of peroxidase substrate of 3,3′,5,5′-tetramethylbenzidine (TMB) in presence of H2O2 to produce a blue product. The peroxidase mimicking properties of MoS2 nanosheets depend on temperature, H2O2 concentration and pH value. A choline assay was worked out where choline was oxidized by choline oxidase in presence of oxygen to produce H2O2 which is colorimetrically detected, best at 652 nm. The method works in the 1 to 180 μM choline concentration range with a 0.4 μM detection limit. Color changes may also be detected visually. The assay is simple, highly sensitive, selective and rapid. It was applied in the determination of choline in (spiked) milk and serum.
This is a preview of subscription content, log in to check access.
Access options
Buy single article
Instant access to the full article PDF.
US$ 39.95
Price includes VAT for USA
Subscribe to journal
Immediate online access to all issues from 2019. Subscription will auto renew annually.
US$ 199
This is the net price. Taxes to be calculated in checkout.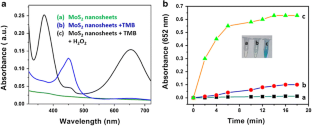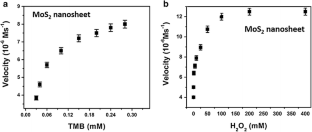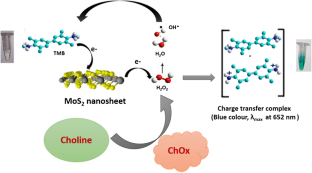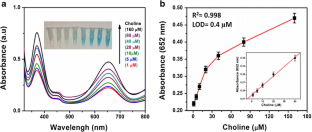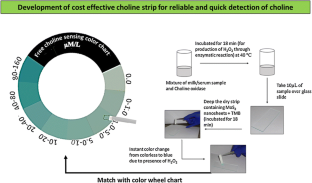 Acknowledgements
The first author is grateful to SERB N-PDF (PDF/2016/000243) for fellowship. The authors are also thankful to CIF, IIT (BHU) Varanasi for providing characterization facilities.
Ethics declarations
The author(s) declare that they have no competing interests. Narsingh R. Nirala and Vinita have been carried out experiments and responsible for raw data if required.
Electronic supplementary material
About this article
Cite this article
Nirala, N.R., Vinita & Prakash, R. Quick colorimetric determination of choline in milk and serum based on the use of MoS2 nanosheets as a highly active enzyme mimetic. Microchim Acta 185, 224 (2018). https://doi.org/10.1007/s00604-018-2753-2
Received:

Accepted:

Published:
Keywords
Molybdenum disulfide nanosheets

Choline

Tetramethylbenzidine

Dip test strip

Visual detection