A review on chemiresistive room temperature gas sensors based on metal oxide nanostructures, graphene and 2D transition metal dichalcogenides
Abstract
Room-temperature (RT) gas sensing is desirable for battery-powered or self-powered instrumentation that can monitor emissions associated with pollution and industrial processes. This review (with 171 references) discusses recent advances in three types of porous nanostructures that have shown remarkable potential for RT gas sensing. The first group comprises hierarchical oxide nanostructures (mainly oxides of Sn, Ni, Zn, W, In, La, Fe, Co). The second group comprises graphene and its derivatives (graphene, graphene oxides, reduced graphene oxides, and their composites with metal oxides and noble metals). The third group comprises 2D transition metal dichalcogenides (mainly sulfides of Mo, W, Sn, Ni, also in combination with metal oxides). They all have been found to enable RT sensing of gases such as NOx, NH3, H2, SO2, CO, and of vapors such as of acetone, formaldehyde or methanol. Attractive features also include high selectivity and sensitivity, long-term stability and affordable costs. Strengths and limitations of these materials are highlighted, and prospects with respect to the development of new materials to overcome existing limitations are discussed.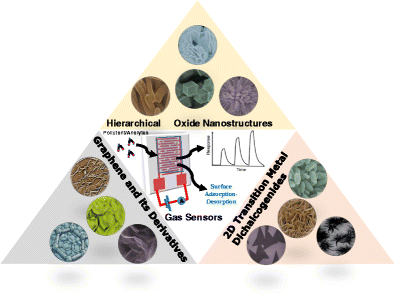 Keywords
Nanosensors, 2D Materials 
Thin Films 
Selectivity 
Sensitivity 
Surface reaction 
Gas sensors 
Semiconductors 
Chemiresistive gas sensors 
Notes
Acknowledgements
This work had financial support in part from FAPESP (2014/23546-1, 2016/23474-6), in part from Midea Group, and in part by a National Science Foundation grant (ECCS 1711227). The authors are also thankful to Berkeley Sensor and Actuator Centre (BSAC). Professor Liwei Lin is a core-principal investigator of the Tsinghua-Berkeley Shenzhen Institute (TBSI) and acknowledge the funding support of TBSI.
Compliance with ethical standards
The authors declare that they have no competing interests.
Copyright information
© Springer-Verlag GmbH Austria, part of Springer Nature 2018