A voltammetric immunosensor for clenbuterol based on the use of a MoS2-AuPt nanocomposite
Abstract
An ultrasensitive immunosensor for the direct detection of the illegally used livestock feed clebuterol (CLB) is described. It is based on the use of a glassy carbon electrode modified with an MoS2-AuPt nanocomposite and on biotin-streptavidin interaction. The use of MoS2-AuPt accelerates electron transfer, and this leads to a sharp increase in the electrochemical signal for the electrochemical probe hydrogen peroxide. Differential pulse voltammetry was used to record the current signal at a peak potential of −0.18 V (vs SCE). Under optimal conditions, the electrode has a linear response in the 10 pg·mL−1 to 100 ng·mL−1 CLB concentration range and a 6.9 pg·mL−1 detection limit (based on the 3σ criterium). This immunosensor is sensitive, highly specific and acceptably reproducible, and thus represents a valuable tool for the determination of CLB in pork.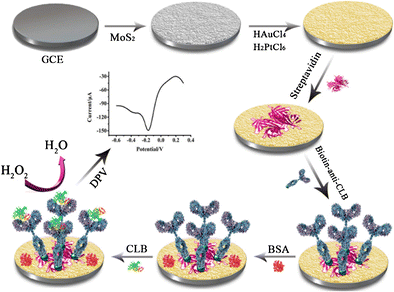 Keywords
β-Adrenergic agents 
Biotin-streptavidin system 
Differential pulse voltammetry 
Food safety 
Signal amplification 
Notes
Acknowledgements
This research was supported by the National Natural Science Foundation of China (Grant Nos. 31071093, 31170129, and 31200064) and the Science and Technology Planning Project of Yuzhong District of Chongqing City, China (No. 20140119).
Compliance with ethical standards
The author(s) declare that they have no competing interests.
Copyright information
© Springer-Verlag GmbH Austria, part of Springer Nature 2018