An "off-on" colorimetric and fluorometric assay for Cu(II) based on the use of NaYF4:Yb(III),Er(III) upconversion nanoparticles functionalized with branched polyethylenimine
Abstract
The authors describe an "off-on" colorimetric and fluorometric assay for the determination of Cu(II). It is based on the use of upconversion nanoparticles (UCNPs) of type NaYF4:Yb(III),Er(III) that were functionalized with branched polyethylenimine (BPEI). A color change from colorless to blue occurs within 2 s after addition of Cu(II) to a solution of the modified UCNPs. The color change can be visually detected at Cu(II) concentrations down to 80 μM. The upconversion fluorescence of the modified UCNPs, measured at excitation wavelength of 980 nm, is reduced due to the predominant inner filter effect caused by the formation of the BPEI-Cu(II) complex. Normalized fluorescence intensity drops linearly in the 50 nM to 10 μM Cu(II) concentration range, and the fluorometric detection limit is 45 nM. Both the color and the fluorescence are recovered on addition of EDTA. Excellent selectivity over other metal ions and anions is achieved.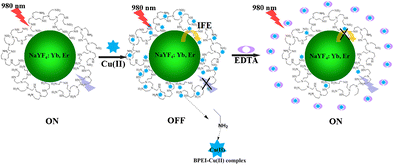 Keywords
Multimode detection 
Absorption spectrum 
Upconversion quenching 
BPEI-Cu(II) complex 
Inner filter effect 
Notes
Acknowledgements
This work was supported by the National Natural Science Foundation of China (Grants No. 51272040 and 11604043), Thirteenth Five-Year Science and Technology Research Project of Education Department of Jilin Province (No. JJKH20170910KJ), the 111 project (No. B13013), and Project funded by China Postdoctoral Science Foundation (No. 2017 M611294).
Compliance with ethical standards
The authors declare that they have no conflict of interest.
Copyright information
© Springer-Verlag GmbH Austria, part of Springer Nature 2018